Daily Crunch Snacks is a brand new line of sprouted almond snacks, available in 3 varieties: Just Sprouted Almonds, Coffee-Soaked, and a Nut-Berry Medley. The products are currently available at a number of retailers and independent stores across the nation. Sprouting is a process of soaking nuts to reduce phytic acid, making the nuts more easily digestible while maintaining all nutritional value.
Daily Crunch goes beyond the normal soaking process and follows it up with a dehydration of the nuts. This creates a Uniquely Crunchy™ texture, making the product stand out amongst the other nuts on the shelf, not to mention its bright branding which is sure to catch your eye.
Was it a lightbulb moment or gradual moment to start Daily Crunch Snacks?
We all have ideas, but acting on them is a different story. After a corporate career working for the #2 largest advertiser in the world, for the first time in my career I felt lost. I thought I didn't know anything but corporate culture life, but I didn't realize that feeling vulnerable was actually what led me to finding my path as co-founder of Daily Crunch Snacks. I knew I wanted to start my own company, but needed to figure out what that was. I kept going back to my husband's aunt's sprouted nuts that she's been gifting to friends and family the past 10+ years. There was nothing like them in the mainstream market. I called Diane back in November, 2018 asked if she wanted to be business partners. The rest is history!
How did you validate the idea? Did you have any experience/expertise in the area?
After more than a year in the pre-launch phase, we were finally ready to start selling Daily Crunch. Our go-to-launch strategy was to go big in Nashville and Detroit, where Diane and I are based, before expanding nationally. I set up a lot of meetings in Nashville, where I was connected to the owner of Citizen Market in East Nashville. I remember having the meeting with her and her placing our 1st order. I wanted to jump on the table and scream. I was so excited, but instead tried to act as professional as possible. There is such a great feeling getting orders from people who aren't friends and family and truly love your product. After meeting with her, I started to get more confident reaching out to local Nashville stores and pitching Daily Crunch.
Who is your target demographic?
Our target are Women 25-54+, primarily busy moms with kids 3-12 and millennials who are on the go. I learned very quickly that if we were not very specific about targeting our key consumers of slightly older millennials and busy moms, then we would lose sight of who we are. The former COO of RXBar told me that we need to find a micro target and build off of that - the same way they started with targeting Crossfit members. We are currently building micro-targets in the FOODmap, KETO and gut healthy world with our nutritionist to educate these targets on the benefits of sprouting.
Where did you meet your co-founder/founding team?
Diane Orley, my co-founder has been perfecting the sprouting process for 15 years, after discovering the process in India. I'm a mother of three and CPG vet with 13 years of advertising experience working with Unilever. COO Dan Stephenson is an entrepreneur that came from the finance world and gained experience in the natural CPG space with his line of frozen artisan mac & cheeses under the Dan's Gourmet brand. I found Dan through EO (entrepreneurs Organization) during our pre-launch phase when we needed a consultant to help us.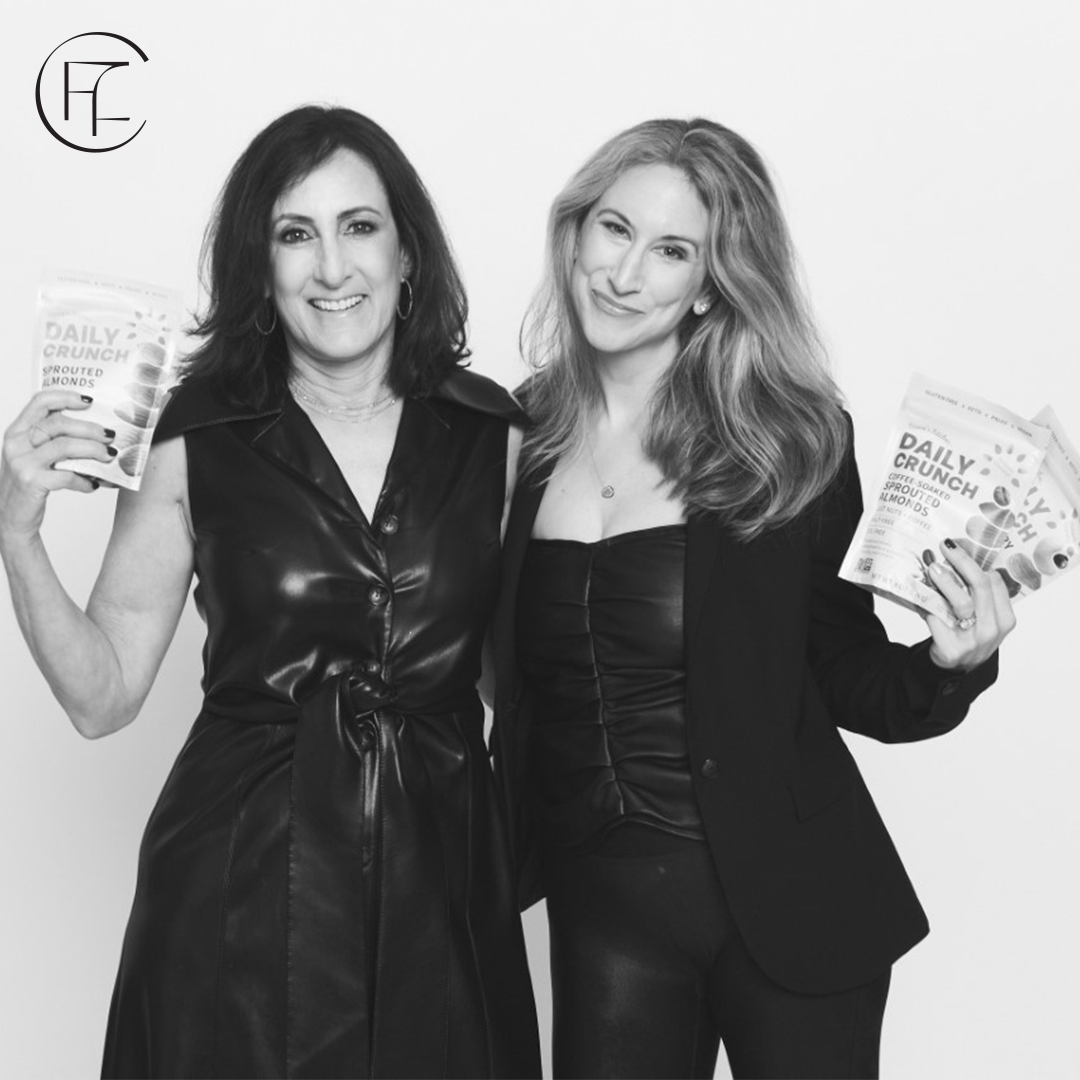 We worked really well together and he had so much expertise in the grocery world that Diane and I didn't have, that asking him to become our 3rd partner was only the natural fit.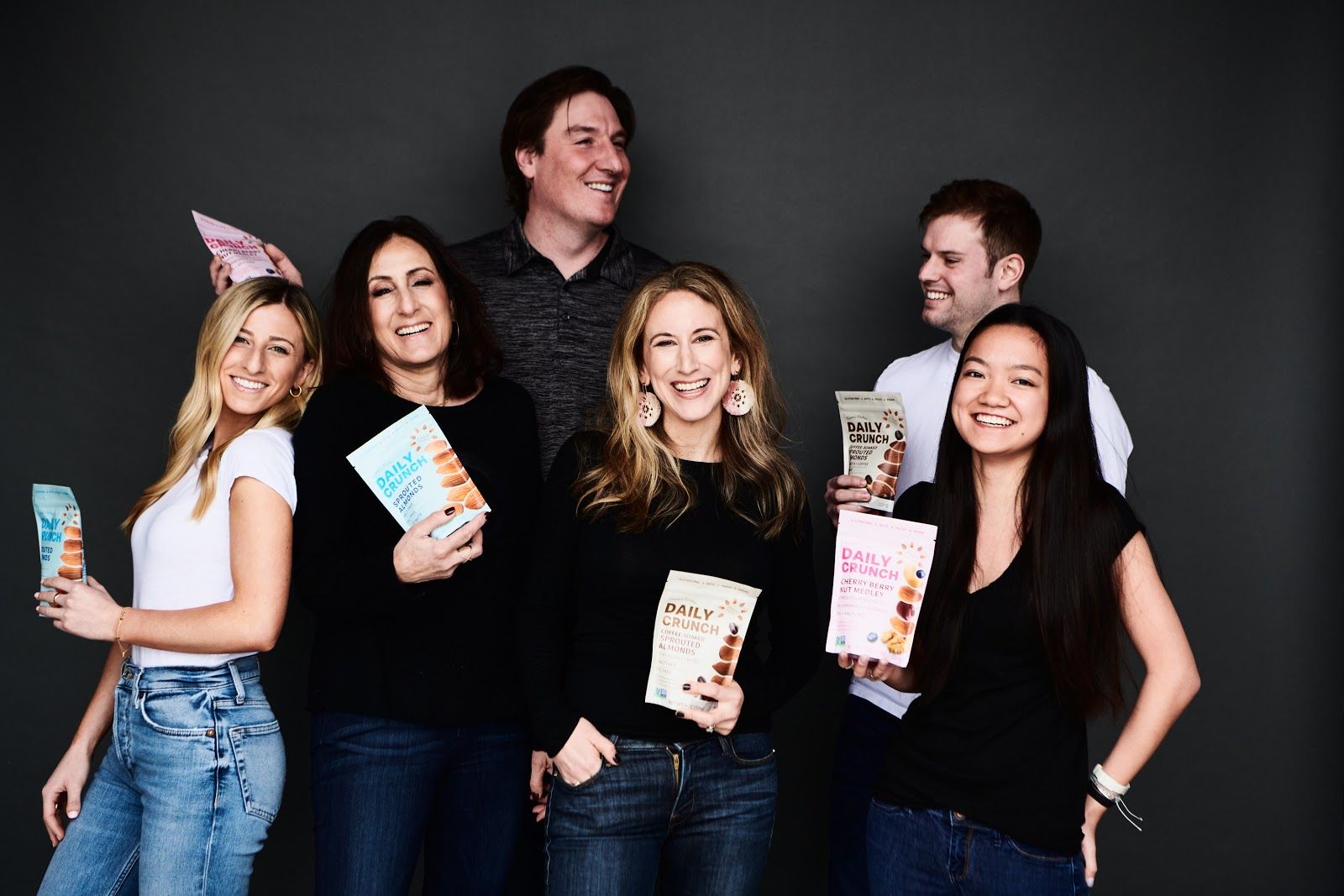 With most of our team in Nashville, we've worked with the Vanderbilt University Undergrad Entrepreneurial Program and the Owen Business School where we've have 6 undergrads and MBAs working for Daily Crunch either for college credit and for their summer internships. It's been invaluable working with students who want to learn about startups. Our current intern had a summer internship lined up at Mattel which was canceled due to Covid-19. She's already acknowledged that she's learned far more with Daily Crunch than she probably would have otherwise because of all the projects we have her leading (including getting us launched on Amazon).
What motivated you to start your own business?
I came from 100% corporate culture before starting my own business with Diane and Dan. After working 13 years at Mindshare on the Unilever business, I found myself loving the consumer-packaged goods world, but wanted to work for a brand I could create from the ground up. While on Unilever, I was the operations lead and worked on flagship billion dollar brands such as the Dove Campaign for Real Beauty and staple brands Dove Men+Care, Hellman's, Lipton Tea and the Suave portfolio. Working on these brands gave me the building blocks to launch my own brand. While on maternity leave, I kept finding myself reflecting on how I was so inspired by Diane's snacks and their differentiating factor in the marketplace.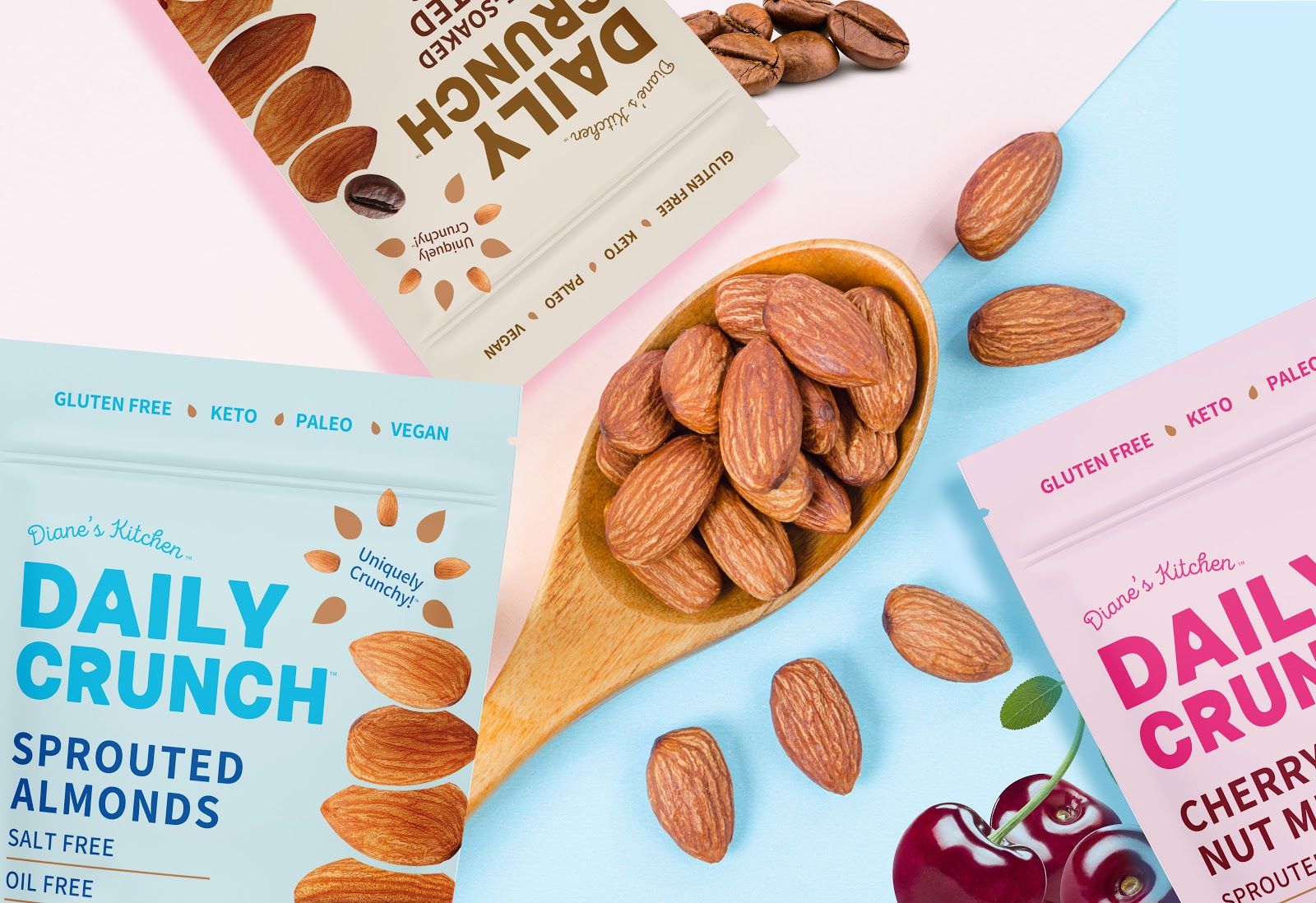 I then joined my aunt, and founder of Diane's Snacks, Diane Orley, to launch Daily Crunch Snacks.
Do you have any advice for someone just starting out?
Here is my top 5 advice and what I learned for anyone launching a startup:
Remember it's ALWAYS going to be 2 steps forward and 1 step back. Don't let this get you discouraged.
Packaging of your product (see our packaging below) and creating a brand identity are imperative before you launch. Don't rush the pre-launch process and make sure you go through all the steps no matter how big or small your company is (ie consumer insights, competitive research, understanding your target, etc
Ask people for advice, even CEO's and advisors you wouldn't think would speak to you otherwise. You will be surprised how many people want to mentor and give you advice. We joined the Female Founder Collective early on, which is a network of businesses led by women, supporting women and helped connect us to a lot of women business leaders we wouldn't otherwise have the opportunity to speak to. We also now use the Female Founder Collective watermark on all our photos for added brand credibility (see image below). Remember, you can't do this alone and will need help from everyone including your 1,000 true fans who want to be a part of your company every step of the way - let them, they are your brand ambassadors for life!
If you have other co-founders, make sure you all have the same short term and long term goals for your company. Sit down and go through an exercise together to make sure you are on the same page.
If you have a wife/husband or partner, make sure they support your endeavor. There were many times during pre-launch that I wanted to give up and my husband reminded me why I wanted to do this in the first place and helped keep me on track.
How do you protect yourself from competition? Do you have any trademarks/IP/patents?
While we have a special multi-step sprouting process where our nuts are soaked in purified water, activating germination or 'sprouting' (visual which is on our packaging is below), it's not just IP/patents, but also having a unique brand identity and packaging.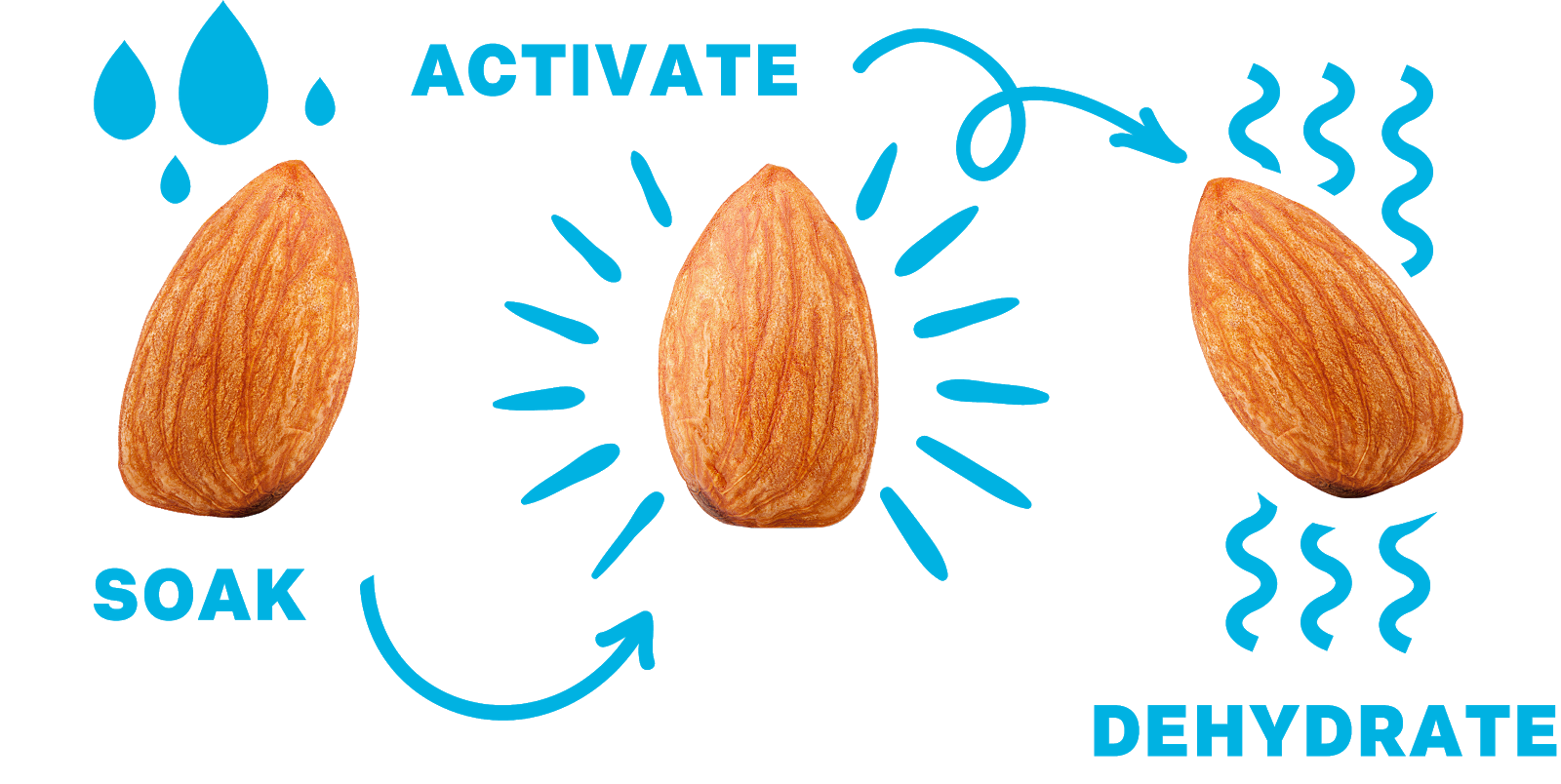 Our bright, bold breakthrough packaging and pastel colors really speaks to our target consumer, and will help set Daily Crunch apart from the competition in a very trusty, but dusty category.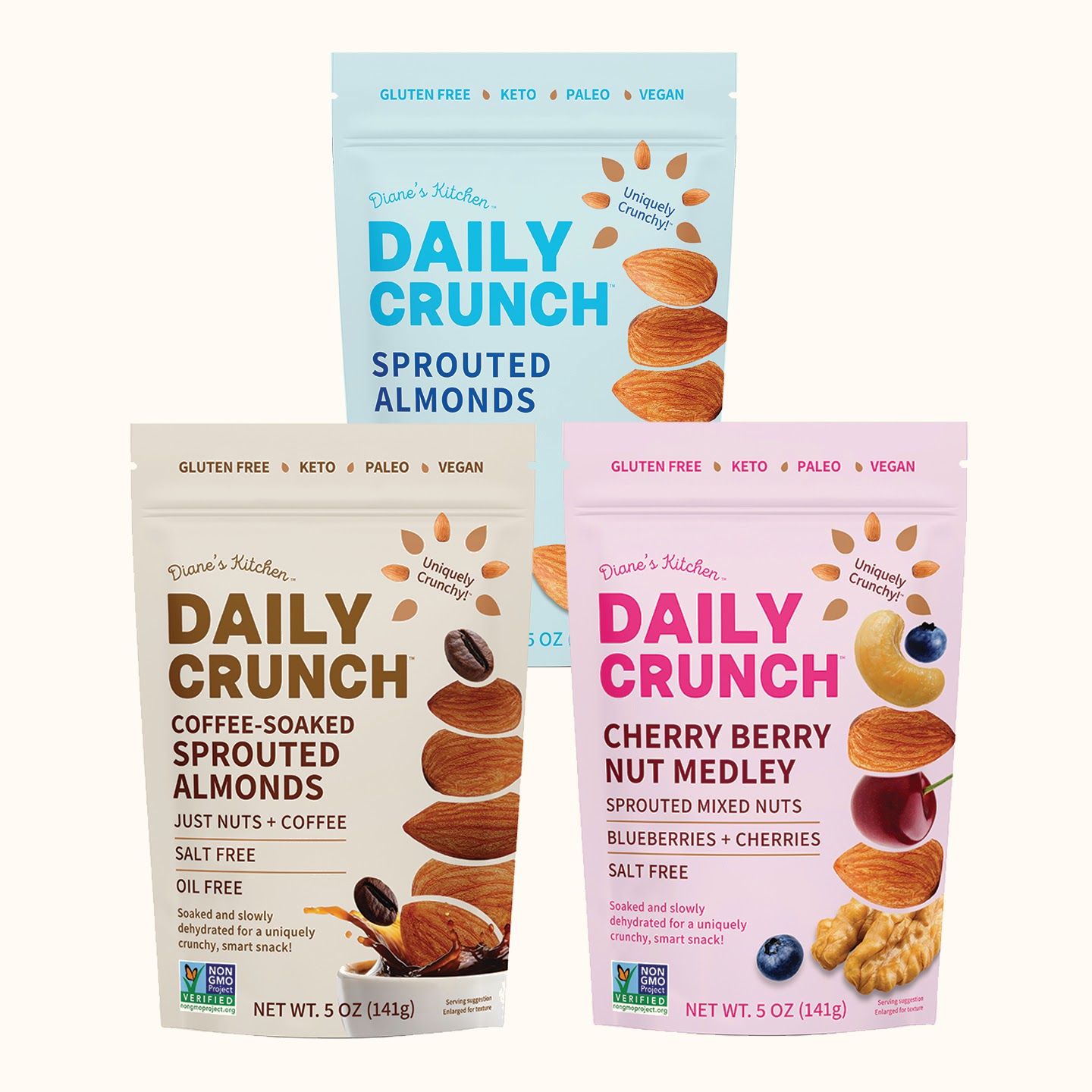 Separately, we trademarked everything EARLY and didn't just trademark the company name. We also trademarked descriptors such as 'Uniquely Crunchy' which describes our product.
What are the top 3-5 apps your business could not run without? Why are they essential?
The secret to a successful brand is to make sure you have the right operations in place. As a start up, you need to make sure that each person has their own roles & responsibilities and that you are all constantly communicating with each other. As CEO, I cannot be in the weeds of everything but need to make sure we all are on the same page. We have team status meeting every Monday and then a 'happy Hour' brainstorm zoom on Thursdays to recap the week. Working with interns, we made sure to carve out each person's roles into the following:
Social Media and Influencer Intern who plans and executes all social.
Nutritionist to help with marketing and social materials on educating the benefits of sprouted.
Operations Intern who helps with sourcing cost of goods, forecast modeling and analytics.
Marketing intern who is currently overseeing our Amazon launch and getting us set up with the KEHe Elevate program, which we were just selected into.
Sales - the entire team is responsible for sales where we split up different regions.
We also outsource a lot of areas, such as working with a graphic designer, PR agency, bookkeeper, tax attorney, LLC attorney, trademark attorney and much more. Also, you need to set up your operations to ensure you have the right apps helping you track everything and keep you accountable. A few critical apps for us have been quickbooks, shipstation, google analytics, slack to speak to our team and shopify. You need the right tools for automation and to make the ship go faster!
What are your favourite books and podcasts?
I just read Untamed by Glennon Doyle for my book club which I highly recommend. It's important to have a life outside your startup where you can talk about other things aside from work. Aside from being in a book club, I'm also in a Young Presidents Organization forum with 9 other women. How I Built This with Guy Raz is my #1 podcast. I just listened to the episode with the founder of SUPER GOOP! 'How I Built this' inspires me where I learn something new from every episode. This most recent episode taught me that it will always take a few no's before getting a YES!
What are the next products you're working on? Are there any releases you can tell us about?
We have 2 new varieties coming out in the next 3-6 months: Golden Ranch Sprouted Almonds (dairy free) and Cocoa Dusted Sprouted Almonds with sea salt. They will be the first of our Savory and Indulgence lines, respectively. A larger size for club stores (Costco, BJs, etc.) is also in the works.
What is current revenue? If you don't mind sharing
As far as revenue goes, we just launched in March after 1.5 years in pre-launch phase so right now we are along for the ride and will see where we are in 12 months before thinking about the next phase (ie. selling, etc). I can tell you that our year 1 revenue projections are to be in the 6 figures and right now, especially after launching on Amazon Launchpad we will be meeting those projections. With launching during Covid-19, I wasn't sure we would meet these projections but we've pivoted to an ecommerce strategy and consumers still love snacking even at home!
Where do you see the company in 5 years?
If I had to place my bets, I see the company in 5 years as a mainstream product in all major retailers across the country where we have a revenue in the 7 figures. Right now our biggest challenge is keeping up with the demand and ensuring our co-packer can produce at the pace that we are starting to see lift from orders across the country. I guess this is a good problem to have, but we cannot afford to be out of stock.
| Company Name: | DAILY CRUNCH SNACKS |
| --- | --- |
| Founder: | Diane Orley + Laurel Orley |
Comments