Anyline grew out of another business I was working on with my co-founders. Initially, we were an app agency, but the idea for Anyline grew out of a specific project we were working on for a company called mysugr. They needed a way to make it easier for people with diabetes to record their blood glucose levels, so we developed our first mobile solution to enable them to scan the number of their blood glucose meters with their own cell phone. The moment we saw our mobile scanning solution in action, we knew we had something special.
On the back of this success, we got our first few customers through our own network and started creating prototypes. Our first really big fish was Red Bull, who wanted to scan serial numbers hidden under the 'pop tab' - the little part for opening the can, for promotional campaigns. When we pitched to them, they had already been looking for a solution for 6 months, and asked dozens of companies in Silicon Valley.
We were only seven people at the time, but our solution worked out the best! Having them as an early customer gave us huge credibility with other prospective customers.
Since founding Anyline in 2013, we have had a few rounds of seed investment that helped us get established. Then, back in January, we secured $12 million in Series A funding which will enable us to expand at a far greater speed. Today, we have 74 employees.
Who is your target demographic?
In short, our demographic is anyone who has a cell phone, which these days is basically everyone! If you can think of some analog information you want to scan to make your business more efficient, we want to talk to you.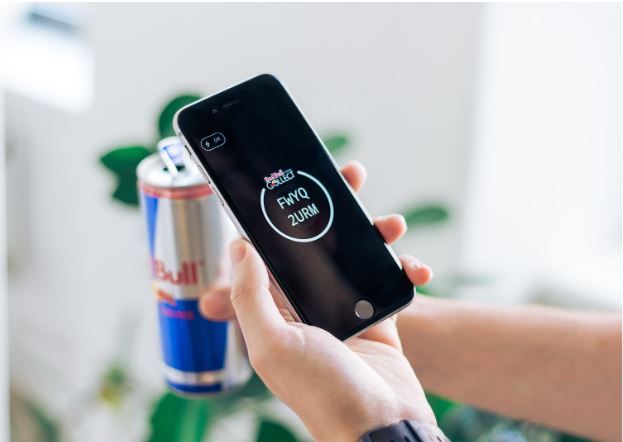 Our customers reflect the versatility of our product, and the potential for mobile scanning worldwide. We are working with energy companies to read utility meters, with police who can scan IDs, license plates and more on patrol, with logistics companies tracking their packages around the world...the list goes on, and we are creating new scanning solutions all the time.
We do sometimes get a really imaginative request from potential customers; in fact, we once developed a prototype for scanning cow tags for cattle management!
How did you fund the idea initially?
Like many founders, we got our start when we were still students. I was studying computer science at the Vienna University of Technology, and in 2011, I formed our first agency, 9Yards, with three classmates, Daniel Albertini, David Dengg and Jakob Hofer. We created Anyline 2 years later, and it soon became our central focus.
Aside from our own personal investments, we were lucky to get a grant early on from the Austrian Research Promotion Agency, who fund innovative projects, and saw the potential of our idea. Another pivotal figure in our early development was Johann 'Hansi' Hansmann, one of the most important 'angel' investors in Austria, who invested in us early in our early growth stages.
It maybe sounds cliche, but the greatest hires we made were the most flexible, versatile 'get it done' kind of people. Remember, your business might pivot more than once before reaching viability, so having team members that are ready to wear a different hat every day is crucial.
What motivated you to start your own business?
Starting your own company is a powerful thing; you have the control, flexibility and creative freedom that would never be possible in an established business. I, and my co-founders wanted this space to make our own decisions, and be our own bosses. That was the first motivation for me.
Our families and friends were supportive throughout the early days, and once we got established in a co-working space in Vienna, we found a whole community of like minded startups and incubators who helped us take our first steps. Now that we have found success, we are still very much involved in these groups, hosting meetups for our local computer vision network and working closely with students in the local universities.
What motivates you when things go wrong? What is the end goal?
Starting out with a small team, mistakes can put a lot of pressure on individuals. Therefore, it's really important to nurture a sense of community; we rise and fall together, and there is no such thing as 'not your problem'. For things to work, honesty and transparency are key; when a problem is identified, everyone needs to feel safe to share the issue as soon as possible so it can be resolved quickly.
What has driven the most sales?
As a B2B tech company, we are driving our sales everywhere you would expect: trade events, strong inbound and outbound channels, newsletters and the full range of social media platforms, especially LinkedIn.
No matter what channel we choose, we take advantage of the fact that we have a very visual product. People just haven't seen a tire number - written in black on a black surface - being read in an instant from a cell phone, so showing off our technology gives a real 'wow factor' every time.
What is stopping you being 3x the size you are now?
Our team has doubled over the past year, and now that we have secured our Series A funding round, we have opened a US headquarters in Boston. We are certainly aiming to grow more in the future.
At the same time, the current coronavirus will have huge effects on businesses and the economy around the world. We can already see the impact on sectors like retail, travel and tourism. Right now, every company today should be reassessing its strengths and weaknesses to adapt to the new reality.
For our part, we are currently focusing on supporting our community to get through this crisis. We all need to play our part to ensure this terrible virus is controlled. In the tech world, we have many tools that can support our frontline services and make their vital work easier and safer. That is why we have offered police, border security, health workers and logistics companies the opportunity to use our technology free of charge during this pandemic.
How do you protect yourself from competition?
In my opinion, there is no other company on the market with the same breadth and depth as Anyline when it comes to mobile scanning. In competitive markets such as ID scanning, we are producing world-class products that are trusted by national governments and even the United Nations.
What's more, we are developing new products every day, and even an AI Platform for our customers to build their own mobile scanning solutions - without any knowledge of machine learning!
Our core mobile OCR technology is patented, and our name is trademarked.
What are the top 3-5 apps your business could not run without?
For my own life admin, I use Fantastical every day. In the office, we probably make the most use out of Slack for daily communication, and many of the teams plan their projects with Airtable.
But when I'm meeting prospective clients, the first thing I reach for is of course our own demo app for showing off our latest solutions!
What are the next products you're working on?
One thing (among many) that I am excited about is our development of products for logistics. In our current situation, the importance of keeping our supply chains moving around the world is more visible than ever.
Even small delays can have huge consequences, so both businesses and consumers want more information on every step of their product's journey, from manufacture through to end-delivery. We already help companies to scan shipping containers numbers, documents and delivery information, but there are dozens of other serial numbers and codes which can be recorded to keep deliveries on track and on time. We see real potential in this market.
Where do you see Anyline in 5 years?
To be honest, I don't think we've scratched the surface yet of what is possible with mobile scanning. In spite of digital transformation all around us, there are still so many aspects of life where people are still using paper-based processes, or making mistakes when typing in basic information. I see Anyline very much at the forefront of this challenge, helping businesses to bridge the dozens of 'digital divides' that hold them back.
| Company Name: | Anyline |
| --- | --- |
| Founder: | Lukas Kinigadner |
Comments