Starting Qüero Shoes was a lightbulb moment! Three years ago, while participating in a global thinktank based in Madrid, my wife and co-founder, Monica, and I discovered, just steps from a park, a newly established shoe business offering beautiful, handmade shoes, but at a fraction of the price offered just down the street! We were so taken with the idea that we had to meet the owners right away. That's how we found Uge and Alvaro, two young Spanish entrepreneurs, who had decided to flee traditional corporate careers in finance and disrupt the shoe industry. Within a matter of days all four of us agreed to take this concept global with a simple credo: offer high quality shoes at an affordable price and treat customers like family.
Since embarking on this journey we have been very busy, finding the right factory, honing the styles, acquiring the best leathers and getting direct feedback from customers through pop-up stores in New York City, Los Angeles (Abbot Kinney in Venice Beach) and Boston. Monica, who spearheads retail pop up outreach, heard directly from customers that besides getting great quality at a fair price, they wanted the most comfort and best fit so that they could wear their shoes like they were slippers. The Qüero team has taken those comments seriously, investing in new designs and materials to create the best, and most comfortable, shoes in your closet.
How did you get your first three customers?
We opened for business with a pop-up in the Garment District in NYC. All four founders were on hand as we opened the doors on a beautiful spring day in May. It was an immediate hit. Customers loved the shoes and were expecting prices of $350-500 or more, not mostly at or below $200. Besides travellers at the nearby hotels, we had local New Yorkers, who like us, were tired of paying too much for quality shoes, or buying poorly made ones for too much too!
How did you validate the idea?
We're offering quality that would generally cost 2-3 times more from luxury leather shoe brands and with a bias towards comfort that few shoe brands, if any, offer. Similar shoes that cost $200 at Qüero are $400-$600 at any other brand. For example, the Madison Glove loafer uses Bologna construction, a unique design that needs no break in and allows the foot to move naturally rather than fighting against the sole….an immediate hit.
Did you have any experience/expertise in the area?
Despite my corporate background, I have experience in the startup space. Prior to pivoting to the fashion business, I spent 25 years driving growth and strategy at MasterCard Worldwide, helping the company to go from turnaround to successful IPO and Fortune 100 company ($5Bn to >$300Bn market cap since IPO). I fulfilled key roles globally in Marketing, General Management, Product Development, Innovation and Strategy in the US and globally. Reporting to the CEO, I also led the crafting of MasterCard's strategy and growth plan post-IPO in conjunction with the Board and C-suite.
After Mastercard, I pivoted to and now serve on several boards and advise CEOs, mostly in the start-up or middle stage space (>50MM revenues), but also for large corporations looking to think differently or facing market disruption. I have a long history of bringing transformative ideas to market, and working in diverse sectors, but particularly in Financial Services, E-commerce and SaaS solutions. I help CEOs and entrepreneurs develop and re-boot business plans and strategies with a common-sense approach. I also am currently both a Startup Lab mentor and competition judge at Columbia University.
Have you raised any money? How much?
Qüero Shoes is self-funded and boot-strapped. This allows us to manage our own destiny, but also engenders more care in spending funds. Many startups have a big capital raise and feel like the money will never run out. The days are ending when just growing was enough. Now the expectation is growth but with current or near-future profitability.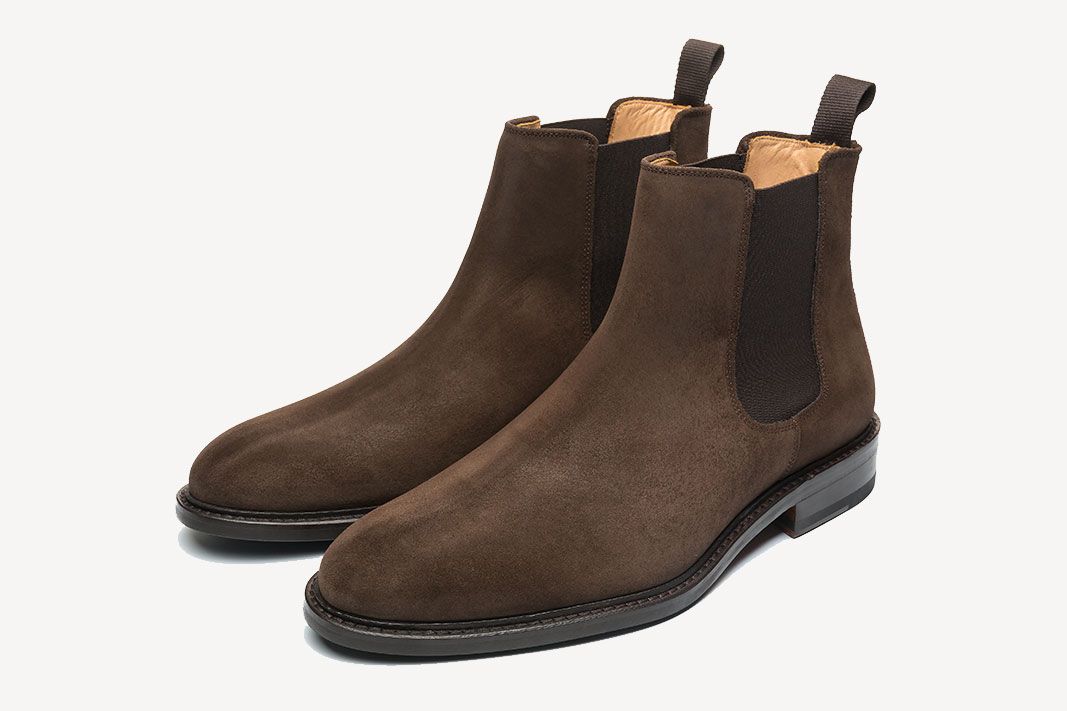 Our target demographic are mostly urban, 35-50 years old. Generally people who appreciate quality and comfort with style. We have fans that have ordered over 15 pairs. One customer asked us to copy his favorite boots with a metal tip! He sent pictures, we made inquiries, and found a solution that was exactly as requested.
Did you run any companies prior?
I ran Regions for Mastercard (Canada, Caribbean, Southern cone (Latin America) and later Latin America and Caribbean region (as General manager for all roles). Was Board chairman for BizEquity, sold this summer (cloud business valuation SaaS business).
My motivation to start my own business is the idea of working with people I like, creating a physical product that makes people happy when they wear it.
When finding your first employees, look for passion and potential. Experience can create bias and bad habits. Look for people with the right instincts and willingness to learn and take on responsibility.
What were your family and friends first thoughts on your company?Really? Shoes? With a name like "Shuken" (Shoe-ken) what took you so long?
What motivates you when things go wrong? What is the end goal?
There is a natural negative bias in humans...things will go wrong, but appreciate how much goes right. It's inevitable that mistakes will happen, it's just how you react and pivot. There are two kinds of mistakes: preventable and just fate. Reduce the first by learning and adjusting.
Do you have any advice for someone just starting out?
Start with customers, what they want, their ideal product and experience and build from there (at Mastercard we started with what banks wanted).
Have direct contact with customers. Get real feedback and adjust frequently. That's why we do pop-ups around the US.
Don't skimp on quality, ever. Getting and keeping a great customer is the goal. We have customers that have bought over 50 pairs of Qüero Shoes. One Italian customer (yes Italian), a hotelier, has bought 10 and won't go anywhere else.
Be fanatical about customer satisfaction. You will make mistakes, and encounter problems, but be focused on how you treat customers and find a solution. When we did our first NPS survey (net promoter score), we did pretty well for a new brand, but we contacted any responders who gave us under a 7 score to find out what they were unhappy with. Almost all converted back into fans, and nearly half purchased a new pair!
Consumers buy products based on multiple touch points; social media, press mentions, paid ads and reviews. If you do all of them in the right balance it will take less clicks to get them to buy.
What has driven the most sales?
Social ads have been the principal driver online, primarily IG then FB. But we have constructed the brand with much better CPA by doing pop-ups. The CPA (cost per acquisition/customer) is much lower with pop-ups than digital, the brand experience is much better, and the knock on advertising and brand awareness drives online and later sales.
What is stopping you being 3x the size you are now?
We are building a solid foundation: product, tech, logistics, team, digital...and when all are working correctly, then we can scale.
How do you protect yourself from competition?
We compete against big, slow brands that have inferior quality at a higher price. The other disruptors like us have ample room to grow and are not stealing share from each other….We take from dissatisfied Cole-Haan, Allen Edmonds, Church's, etc. customers.
Our name is trademarked in the US and Europe and select other countries. It covers both shoes and other related leather products.
What are the top 3-5 apps your business could not run without?
Slack. Many apps on Shopify but more tailored to our business, many to improve conversion, targeting, loyalty, etc. Slack lets us address issues by type and only include those who need to know. It is like texting but searchable...and has the power of longer form email.
What are your favourite books and podcasts?
Most books are based on one lesson…..I don't rely on any one. A general favorite is by Srikumar Rao (Are You Ready to Succeed) which addresses deeper behaviors and working on the space between your ears to improve your life and business performance….
I'd rather read than listen. I don't have a commute to kill time.
What are the next products you're working on?
We are currently impacted by the Coronavirus as our factory is located in Almansa, Spain, but we will eventually debut our Spring/Summer collection ineye-catching color ways that make a style statement. With the mission "An old way of making shoes; a new way to buy them," Qüero Shoes combines age-old methods of shoemaking and teams of artisans who have passed on the shoemaking tradition for generations, with a fresh, sleek aesthetic. Unlike Qüero Shoes, many shoes today are made in far-flung factories paying low wages, featuring poor conditions, and employing workers without dedicated shoemaking experience, causing these shoes to look worn and tired after 4-6 months. Qüero Shoes sought to change that. Its shoes feature soft, resistant leathers that maintain their shape and look, beautiful dyes that provide rich and pleasing colors, suedes that stand up to water and dirt and clean easily with a brushstroke, patterns and shiny finishes to provide a fashionable edge, and absorbent and cushioning insoles. The brand's leathers come from Italy, France and Spain where the tradition of tanning goes back centuries. We are experimenting with new materials, both sustainable and vegan, having made several current styles entirely in cork, and now working on other materials.
Are there any releases you can tell us about?
Right now we're working on a launch with the food community as all of the Qüero founders are big foodies. We're aligning with a well-known, NY-based chef and incorporating a philanthropic tie; we've actually worked with a couple of chefs on some small projects. More to come on that.
Where do you see the company in 5 years?
The plans for the future is to expand our online community, to get more and more supporters, to try to align with people who believe in the brand, like real brand ambassadors. The influencer market is very very broad and some people are good at what they do and some people are just looking for free products; we want to find people who are real brand ambassadors and want to really own the brand and become part of us. We want to do partnerships where the influencers design something that we can then sell with them and give them a percentage of the action. That's our goal, to use influencers to help drive the brand up. We would like to ramp up efforts, besides early work with City Harvest, to ensure people don't go hungry, especially where there is abundance around them.
Would you ever sell?
For any venture, it's necessary to have goals for growing or selling. We would sell, but keeping in mind that the company and brand vision is not quashed by the acquirer. Besides making money, we hope to employ people who are passionate about their jobs and look forward to coming to work every day.
| Company Name: | Qüero Shoes |
| --- | --- |
| Founder: | Randy Shuken |
Comments