OneSignal was a pivot from our earlier business, which was a mobile game studio. A big issue we faced when building games was that we needed a good way to re-engage users and to send personalized messages to bring them back to our games, like deals on in-app purchases or announcements about new levels being released. A large portion of people who downloaded our game and only played once or twice was both a challenge and opportunity to find a way to re-engage them. Our team became really frustrated with existing push notification and other messaging tools that were not developer-friendly and didn't meaningfully help us solve our challenges due to their limitations. It all felt more difficult than it needed to be, so that's when we discovered the opportunity to build the service ourselves.
Originally, we built our push notifications for the team's own needs, combining automation with analytics tools to avoid overwhelming users to the point where they delete an app. We then moved to solve the user retention issue. After analyzing different metrics, the service would schedule messages for in-game deals or events at times when players would be most likely to engage with them and come back to the game.
Through our experience building games we realized what people really wanted and needed. OneSignal really took off faster than we could manage it, and the number of big apps and games was more than we could handle at the time.
Our first three customers were friends from other small game studios that we personally knew or had worked with. Eventually we realized the huge market opportunity in the space, and that we could build and scale for any size companies. Soon we were at 10,000 users relying on us for push notification delivery and eventually this became the OneSignal platform.
OneSignal is venture-backed by SignalFire, Rakuten Ventures, and YCombinator, and we've raised $34M over three rounds.
Who is your target demographic?
One thing we are proud of is how we've built our product to appeal to both marketers and developers, by making it easy to integrate and deploy no matter your area of expertise. We've had huge success getting developers on board, SMBs across all industries, and large enterprise companies to help grow and retain their digital audiences.
Think about the companies you see push notifications from, whether it's from a food delivery service alerting that your order is on the way, an e-tailer reminding you of an item in your cart, or a media outlet sharing breaking news alerts to your phone. We have customers across all industries seeing the benefits of increased user engagement and being part of the personalized customer experience using our platform.
Where did you meet your cofounder/founding team?
I first met my cofounder, Long Vo, while searching for a new business idea and seeking to build connections with mentors and advisors. After we began working together, we raised our first round of funding from Y Combinator. Later, we had the pleasure of bringing on early angel investors like Justin Kan, the co-founder of Justin.tv and Twitch.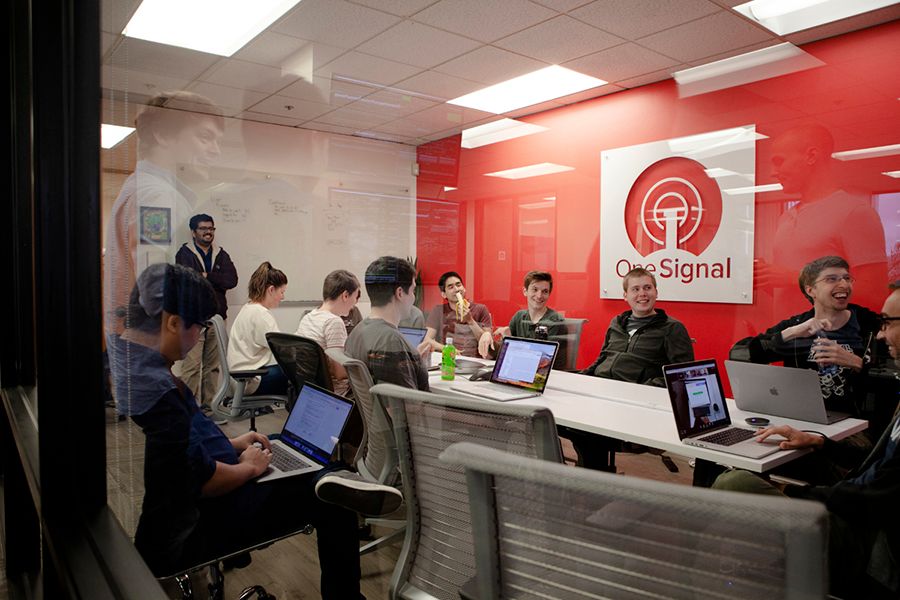 It's important to hire early employees that are going to bring a founder mindset to their work, and to be able to attract people that bring that kind of mindset. Part of this means giving employees generous equity stakes in the business, since they are taking on a risk by joining something so early. Recruiting is a key skill for a founding team since you need to sell the company to candidates just like you would to customers or investors.
Did you run any companies prior?
Both of my parents had engineering careers which inspired me to study computer science at UC Berkeley, but I ended up dropping out of school to start my first company, Uversity, at age 19.
Being just out of college, I was building a product I wished I'd had as a student. Uversity's mission was to help connect students with classmates and peers online through roommate-matching, campus clubs, and social groups through a private social network for their school. The platform took on a lot of features Facebook was starting to downplay as it moved beyond their original university user base. Uversity raised $12 Million in venture financing from Founders Fund, Retro Venture Partners, and the Bill and Melinda Gates Foundation (their first venture investment). It was a blast, thanks to us having a great founding team and great investors. The company was acquired after I left.
Overall, my family has been very supportive. No doubt a lot of other people's parents would give them a hard time about dropping out of school to start a business, but mine understood that this was something I was very passionate about and it was the right path for me to take.
Do you have any advice for someone just starting out?
My advice for fellow entrepreneurs is to understand who you are building for and why, and make sure you are going after a market need that is large enough. It's also really critical once you have early customers to take the time to talk to them to understand what makes your product valuable to them. Early feedback is essential when first building out your product.
As a company scales, it becomes important to spend your time hiring the right people to help you grow, and to make sure your time is focused on the most important tasks to grow the business. You should also always be mindful of your own health and wellness, and understand there's a long road to success.
From a business model, our "freemium" model has been incredibly powerful in driving sales. Our customers can try and use the product for free, and then have the opportunity to buy our more advanced capabilities. This comes with the challenge of making sure we provide a great free product for hundreds of thousands of users, but it's something we value since most of our paid customers started out as free ones.
Being at an early stage company can feel like a roller coaster, and I strive to stay mentally prepared for challenges that are sure to come up. Things are never quite as good/bad as they seem, so even when jumping in to solve tricky problems it's important to keep the big picture in mind. It's also incredibly motivating to know that we are solving a problem for so many customers, so no matter what challenges are ahead, we can be confident in the incredible impact that we have.
More recently, a challenge has simply been keeping ahead of demand for our product, and how quickly we're growing. We're always looking at ways to more effectively build a strong team to support our continued growth.
How do you protect yourself from competition?
We found that we're building a better product and have a better team than anyone else out there. This has been true for long enough that we've built a tremendous lead over anyone else on the market. Beyond the quality, ease of use, and powerful technology we've built, we're now serving nearly one million developers, and we're always top of mind for people looking for products like ours.
What are the top 3-5 apps your business could not run without?
Collaboration tools like Slack and Zoom have been absolutely critical to our business. The nature of what we do is operating at a scale that is unusual for a small company, so we have to be really good at communicating across the team to make sure we are able to all move quickly. For our product team, Figma has really helped us empower our design team to collaborate with the rest of the business to make sure our product is beautiful and easy to use.
What are your favourite books and podcasts?
I'm always looking to improve my own skills and knowledge, so I enjoy reading books on building businesses. A couple of my favorites include High Output Management by Andrew Grove,Good to Great by Jim Collins, and What You Do Is Who You Are by Ben Horowitz.
I'll shamelessly say I love our own OneSignal podcast, we've had some really interesting guests like Google Chrome's Product Manager PJ McLachlan, and Pasha Sadri who has been involved in major innovations like Google Maps, Polyvore and WhatsApp. Also I regularly listen to "You're Wrong About", and I enjoy "How I Built This" podcast from NPR that dives into the origin stories of many amazing companies around the world.
What is OneSignal's current revenue?
I can say that last year brought some huge successes to OneSignal, we added over 250,000 new accounts and increased our SaaS revenue by 500%. We hope to continue this momentum, and one of the things we are looking forward to this year is providing a better user experience around messages. We have some upcoming releases in the form of providing deeper analytics on what is working and what's not, and giving guidance to customers on best practices for messages to hit their mark.
In 5 years, I see OneSignal as the de facto platform for delivery and optimization of messages across channels, and serving millions of companies around the world, small business to enterprise. Selling the company is not top of mind for us, what we really care about is better serving the needs of our current customers and helping to greatly improve the user experience around messages that all businesses send to their users. The team and I are incredibly excited for the journey ahead.
| Company Name: | OneSignal |
| --- | --- |
| Founder: | George Deglin |
Comments