After sleepless nights trying to figure it out (I am not an engineer) I remember being in the gym and all of a sudden the idea of 'finger stickers' came into my head. I knew that was it. As soon as I got home, I started cutting duct tape in different designs to come up with a better prototype, which I did.
Once I had my prototype, I contacted manufacturers all over the country literally every night after work. Email after email after email. Mostly no responses. The difficulty finding a manufacturer for Wingerz was that I knew people would be putting these on their fingers (skin) and touching food with them, so they had to be medical grade which made the list of manufacturers who can make my product very short- but I kept trying. Also, during this entire process I was in contact with my IP team to ensure I was protected.
Finally, one manufacturer was interested in helping me with my product- they believed in Wingerz. I hired them and a R&D team helped pick the materials and design of Wingerz. I'll never forget the day I flew to the facility and saw the machine that was dedicated to making Wingerz. Really unbelievable.
Was it a gradual decision or lightbulb moment to start Wingerz?
Light bulb moment for sure. My wife and I were leaving a restaurant in Rhode Island after having buffalo wings and I remember complaining while driving home that the sauce was still on my fingers after I washed my hands. When I got home, I started searching the internet for anything that prevents this and I couldn't find anything at that point. I just really started thinking about it, but still not really seriously.
A few days after I really started playing with the idea and decided to try my best to make some kind of prototype to get it out of my brain. The first prototypes were hysterical, and I laugh every time I look at the photos. I laugh because I actually approached manufacturers with the prototype and wondered why they kept saying 'no'. Finding a manufacturer was definitely one of the hardest parts of the journey. I kept getting 'no's' and couldn't figure out why. I reached out to other inventors for help and actually heard back from Todd Greene who invented Headblade and he basically told me that I need to re-think my design as it's too complicated to make, he was absolutely right.
How did you validate the idea?
Once I had my MVP (Most Valuable Prototype), logo etc. I understood that I needed to validate Wingerz as family and friends don't count. If you are going to really get behind an idea/business, you need to get off your cloud and make sure it's something worth sacrificing for. I reached out to Bryant University here in Rhode Island and specifically contacted their Entrepreneur department to see if I could come in and present to their students- they agreed.
I presented Wingerz and my business plan to the business students and told them not to hold back. After presenting to multiple classes and students I received great feedback which I am still grateful for, but the biggest take away for me was after I finished presenting I could hear the students telling one another ' Why didn't I think of that' that is the phrase every inventor wants to hear and to me the best part was that they weren't telling me that, they were saying it to each other.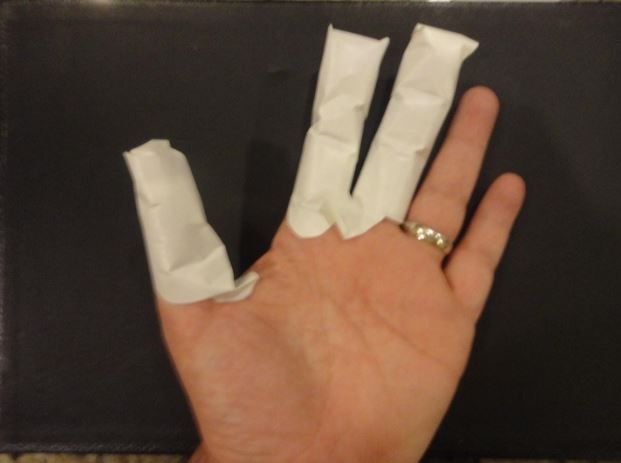 First Prototype
After meeting with the Bryant University students, I had confidence that I had 'something' and that I should keep pushing further. When creating something from nothing you really are building something 'brick by brick'- I tried not to look too far ahead- I made a 'to do' list and really just focused on the next task that needed to be done. If you spend too much time thinking of the big picture, I believe you miss the smaller steps that are crucial to getting you to the next level.
Once I had confidence in Wingerz I decided to officially launch (softly)- we created a Facebook Page and I also told my friends and family about Wingerz at a gathering to ensure that word of mouth and social media would slowly start spreading the word about Wingerz. Putting on social media was also a validation tactic as some people on Facebook are more brutal than any human ought to be. I can honestly say for the most part we get very positive feedback- Last week I received a message from someone on Facebook who told me that they request latex gloves from the kitchen at their wing place because they don't like the mess- I love hearing stories like that and I hear it all the time.
How did you get your first three customers?
Social media. I believe at this point we have sold to every state, but the first three was to New York, Rhode Island and Kansas. The person from Kansas ordered 12 rolls and I remember thinking "people are actually buying something that I started on my kitchen table." After being on The Today Show we have continued to sell online with revenues being $20,000 to $65,000 a year with very limited marketing. Also, on the day we were on the Today Show our website crashed, that was fun.
Have you raised any money? How much?
I haven't tried raising any money. I bootstrapped everything. I think by funding everything ourselves we really thought hard about the choices we made. I think if someone handed me one million dollars back then I wouldn't have thought so hard and would have made more mistakes with money. We figured it out.
Who is your target demographic?
Anyone who loves buffalo wings, but doesn't like the mess. Our research/interviews have shown that people would order wings or go to wing restaurants more frequently if it weren't from the mess. Our product is not for everyone as some people like licking their fingers.
What happened in the early stages?
The early stages were tough, no doubt about it. When you invent something, you have this 'thing' that no one has seen before and no one can tell you the steps needed to take it to market as most people haven't brought an invention to market before. The best analogy I can think of is being in a canoe in the middle of the ocean with waves coming from every direction. In the early stages there will be numerous obstacles that get thrown at you and you have to figure out how to survive them.
I remember when designing Wingerz the materials that were first chosen were very expensive and would never be at a price point that would make sense to the consumer. I kept pushing the R&D team for different material types and had to change my design a little, but it all turned out well in the end. Also, before I found my manufacturer I had someone from another company tell me that wherever I end up I'm definitely going to be paying for the machine that makes Wingerz and it could cost around $1 million dollars. That was not true, but imagine being told that when you're first starting the journey. Obstacles are inevitable, you just need the persistence and passion to push through. If there's any holes in your sail, you're done.
Another interesting thing I learned was that when you invent something you think 'of course someone is going to manufacture it for me' and of course someone is going to market this thing for me'- that's not true. You not only have to find the company that can do what you need- but they also have to believe. We were fortunate to find a manufacturer and a marketing firm that believed in Wingerz.
Background
When I first started Wingerz, I was 28 and had no experience in running a business, inventing, or engineering. It was 'self-taught' by just really thinking hard about what the next steps should be and taking action. The most important part of the journey was to 'execute and take action' no matter how big or small the task is. You have to build 'brick by brick' as one brick leads you to the next brick. There are no shortcuts.
Wingerz would not be here if it weren't for my family and friends, especially my wife. Our friends and family were always supporting us, and I can never thank them enough for that. They loved the idea of Wingerz since day 1 (at least that's what they say).
What motivated you to start your own business?
My son Michael. In October of 2011, we lost our first child Michael to Spinal Muscular Atrophy at 4 months old. He was born perfectly fine, but after two months we began to notice something was off which was then confirmed by his pediatrician. We went directly from his doctor's appointment to Hasbro Children's Hospital in Providence where we were given his Spinal Muscular Atrophy 1 diagnosis and were told he wouldn't make it to his first birthday. We went from being first time parents to hospice providers, which was absolute torture.
The day Michael passed away, I remember walking out of Hasbro Children's Hospital and thinking 'That's it'? At 28 years old, I learned how fragile life is and how unfair life can be. Seeing my son go through all of that dramatically changed the way I looked at life.
Why not go after something extraordinary or chase a dream? If it's not reckless, why not? If it weren't for my son, the idea of Wingerz would have just passed. I would have played it safe. Everyone has ideas and things they would love to do, Michael gave me the courage to take action. Go after what you want in life. Don't be afraid of life because life is certainly not afraid of you.
When things would go wrong or things got heavy, I would just think of my son. The passion behind Wingerz is that I'm doing this for him. You'll do anything for your kids.
Competition/Protection
We have our full patent (that takes a lot of time and money) and Trademarks. We have a great IP firm here in Providence RI that has helped us throughout the process.
What are your next steps?
We need a Superbowl Commercial, trying to figure that one out.
I see Wingerz being found in most restaurants that have messy foods (ribs/wings) as an option. People are asking for them, it's just a matter of time.
| Company Name: | Wingerz |
| --- | --- |
| Founder: | Michael Lefrancois |
Comments