Plastic straws take hundreds, sometimes thousands of years to actually break down. Every plastic straw ever used still exists today. They pollute our waterways, oceans and landfills every single day; here in Australia and around the world. They are unrecyclable and do not biodegrade leading to long-term pollution of our land and oceans. When they do go to landfill, they release harmful toxic gases such as methane, ultimately contributing to climate change. This has led me to co-found theotherstraw - to make a sustainable difference in the world's single-use plastic consumption. theotherstraw is a social enterprise replacing single-use plastic straws with reusable, compostable, sustainable, ethically-sourced bamboo straws.
Since we launched, we've sold over 60,000 reusable bamboo straws and prevented over 5 million single-use plastic straws from entering our landfills, natural environments and oceans. We've also hosted over 5,000+ conversations about plastic waste and pollution with businesses and individuals and educated over 11,500 individuals and businesses on the impacts of single-use plastic straws and their plastic footprint. In addition, we have supported over 45 ocean cleanups and provided 50 fair and sustainable jobs to the Hmong Ethnic Minority Group in Northern Vietnam.
We serve both B2C and B2B markets. We sell our bamboo straws directly to consumers via our eCommerce store and also sell our bamboo straws in bulk wholesale to the B2B market. As businesses are the biggest users of plastic straws, they are our main focus. Some of our current B2B clients include Johnson & Johnson, Hilton Hotels, Ko Olina Marriott Hotels, University of Missouri, Deakin University and Alterra Home Loans amongst others.
We were fortunate that our growth has been organic since day one. A few months before launching, we created an Instagram page where we built up an engaged and like-minded community. Once we launched (in October 2018), we had a community of individuals and businesses in front of us who trusted our brand and were ready to convert, they were our very first B2B and B2C customers.
Who is your target demographic?
For B2C, our target audience consists of conscious, green consumers, both female and male aged 18 - 45 years old with interests in sustainability and zero waste living. For B2B, our market is quite broad. We sell our bamboo straws to a variety of fast-food chains, retail stores, cafes, bars, restaurants, events, festivals and corporations.
Our customers are our biggest advocates, and their values are very closely aligned with our brand values. One of our most memorable moments was when a customer from our eCom store wrote us a personal letter in the mail to describe how much she loved our brand, the founders (myself and Jamie) and wanted to thank us for the work we are doing. It's a great feeling to receive these sorts of notes and encouragement letters from your customers.
How did you fund the idea initially?
Jamie, my partner and I founded theotherstraw together. We're fortunate to live close by the beach and we've seen firsthand the damaging impacts single-use plastics such as straws have on our natural environment and wildlife. We're both passionate about sustainability and the environment, which led us to start theotherstraw.
We are a boot-strapped company. The initial funding for the theotherstraw was with our personal savings (which was meant to go towards our house). However, we knew this business was more important and would have such a significant impact.
Did you run any companies prior?
theotherstraw is my first startup. We started theotherstraw when we were quite young in our career. Jamie and myself both studied business and worked in the for-profit sector; however, we wanted to seek an opportunity that was more fulfilling and purposeful.
We're fortunate to have a really supportive network of friends and family who have been our biggest advocates. When starting a business, it's really important to have an honest and supportive community around you.
What motivates you when things go wrong? What is the end goal?
Our why is pretty simple, we started this business with the goal to eliminate single-use plastics, and this is our biggest motivation. We've seen many businesses fail, and predominantly this is because they start their business with the wrong motivations or intentions. It's important to be true to yourself and know exactly why you are starting your business, as this will keep you going on those tough days.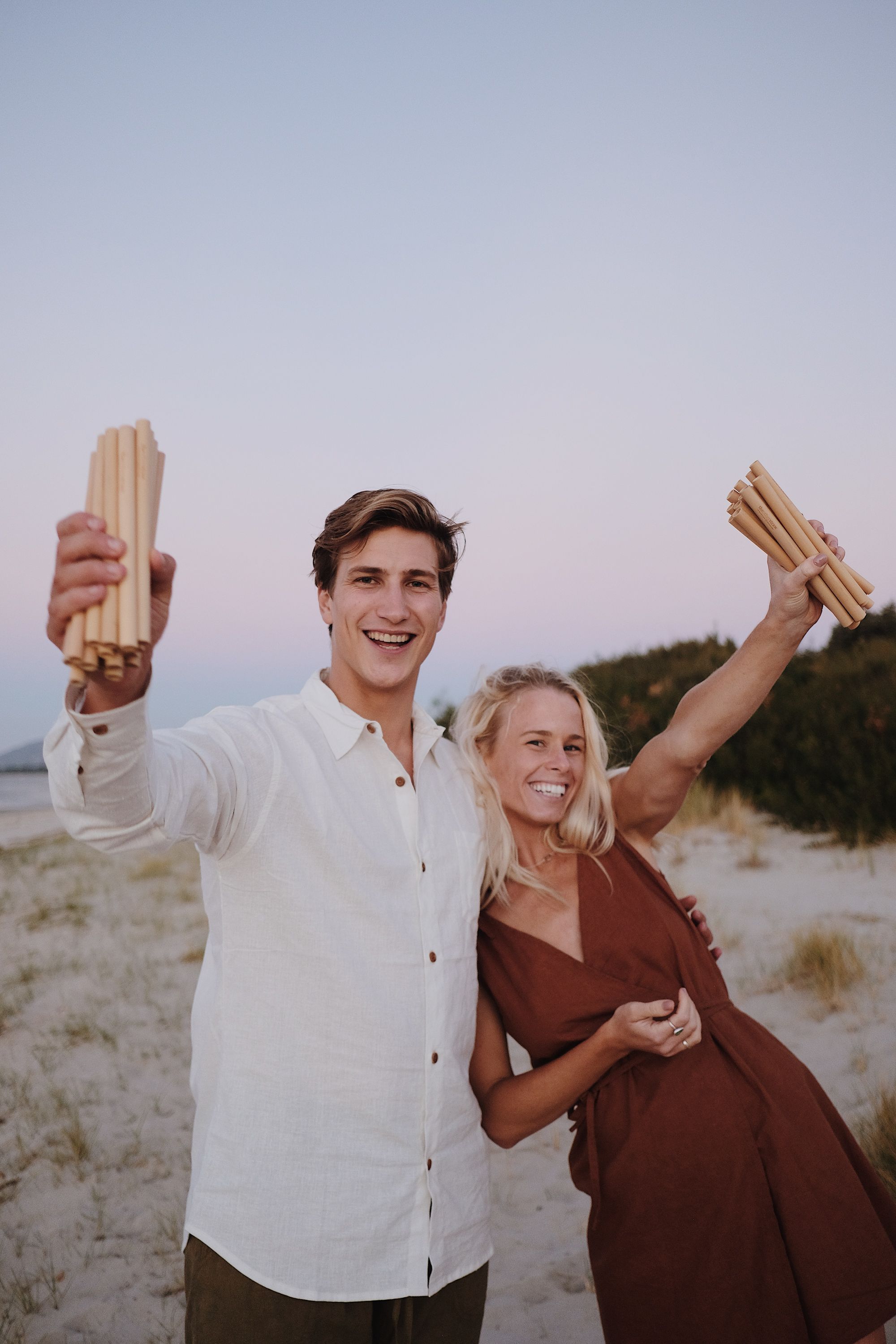 How do you protect yourself from competition?
We like to think of theotherstraw as a brand - not just a supplier or manufacturer of bamboo straws. We differentiate ourselves by our strong, embedded brand values which align closely to our customers.
We are a social enterprise and donate 50% of our profits back to ocean cleanups and ethically source our straws in Northern Vietnam. Our business operations and practices are sustainable and carbon neutral, this is something really important to our customers which helps differentiate our brand.
What are the top 3-5 apps that theotherstraw could not run without?
Trello - Our team uses this for all our project planning and task allocation to keep us organised and on track.
Ahrefs - If you're looking at scaling your SEO strategy, Ahrefs is a must.
Pipedrive - Pipedrive is favourite CRM and helps us manage all our B2B sales leads.
What are your favourite podcasts?
Personal Mindset and Growth: Impact Theory with Tom Bilyeu
Marketing: Small Business Big Marketing Show with Timbo Reid
Sustainable and Purpose Driven: One Wilde Ride
What are your next Steps?
To further our impact, we will be launching new products (which we can't reveal yet) within the next few months. We want to replace other single-use plastic products with more sustainable alternatives.
Below are our next steps.
-Finalise R&D of new products
-Develop a working prototype of a new products for Australian, USA and Europeans markets
-Launch MVP of new products
- A public beta
- Official launch in July 2020
For the next 3 years, we've set some impact milestones which I'd love to share:
- Prevent over 30 million plastic straws from entering our landfills, natural environments and oceans by 2020
- Educate over 20,000 individuals and businesses educated on the impacts of single-use plastic straws and their plastic footprint
- Support over 150 ocean cleanups in Australia and around the world
- Provide over 100 fair and sustainable jobs to the Hmong Ethnic Minority Group in Northern Vietnam
Keep an eye out on our Instagram @theotherstrawor website to stay in the loop!
| Company Name: | theotherstraw |
| --- | --- |
| Founder: | Lennart Meijer |
Comments