The Travel Secret gives you access to pricing on travel that is not available to the public. Once you become a member, you get access to our platform where you can book hotels, cars, cruises, flights, vacation rentals, homes, activities and even travel insurance at a discount. We also have access to unused timeshare inventory that is made available to our members where you can book weeklong stays for pennies on the dollar at more than 500,000 different properties around the world.
Our program is great for anyone really, from single travelers to families and retirees. Since you can basically book anything that you book right now, even business owners are now starting to use the platform to save money on travel.
Was it a gradual decision or lightbulb moment to start The Travel Secret?
Lightbulb moment. I was on a trip in Puerto Vallarta, México when I got invited to sit through a two hour timeshare presentation and, in exchange for doing that, they gave me a $2,000 discount on my hotel stay. While the discount was nice, the whole experience of sitting through the presentation and the sticker shock I got when they offered me the timeshare for $60,000 was not. When I left I thought to myself, wouldn't it be nice to get the same $2,000 discount on EVERY trip I take without having to sit through these presentations? I mean, if the hotel can discount the stay that much, they must be offering discounts that we might just not be able to see right?
I had some experience and contacts in the hospitality and travel industry so I reached out and I decided to do some research and that is when I learned about Rate Parity and all the different ways in which travel is priced. Then I got access to those prices and launched our own portal.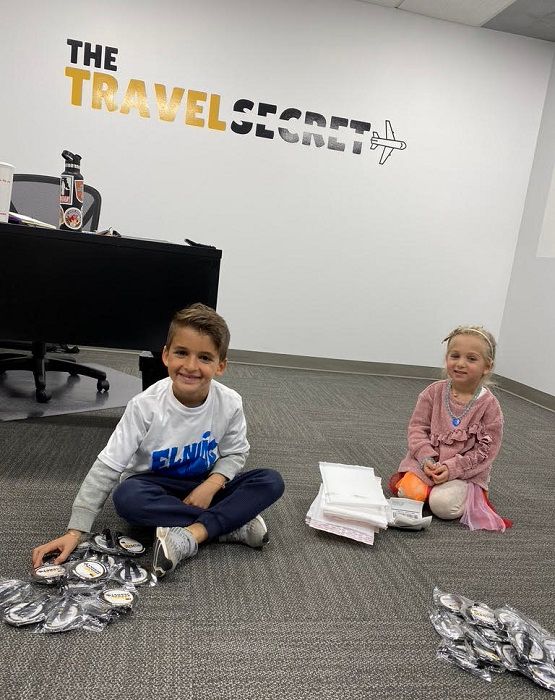 I really started using it myself and I shared it with some friends and family and most of them came back saying it was legit. Some of the deals we were able to get them saved them thousands of dollars, in just one trip! I myself had taken my family of 5 for a full week vacation (again to Puerto Vallarta) for just $500 for the whole week (not including flights), a trip that would've otherwise cost me close to $9,000! So I knew I was on to something.
Our first sales came from friends and family but then we started advertising on Facebook and that is when things started to happen.
At the beginning I still had my other business so I was balancing both businesses and using some of my savings to fund the idea, but then I saw the potential in The Travel Secret and I closed my previous business and went full time on The Travel Secret. I want The Travel Secret to be the one-stop-shop for everything related to travel and more than anything, I want to enable people to travel more and do it for less. Because at the end, those amazing memories you make while on a trip with your friends or loved ones are way more valuable than anything else you can buy. They are memories that last a lifetime!
Who is your target demographic?
We serve anyone who likes to travel, so really it's a service for anyone. We have found; however, that families with children or retirees really enjoy the platform from the get-go. They love being able to book trips for a lot less, especially when they can start tackling those trips on their bucket list! More than anything, people really enjoy the platform because they can see the value right away, which allows them to recoup their investment right away and then keep the membership for years and years of savings.
In the two years since the company was created, we have gained close to 1,000 members and booked more than 4,500 reservations on our system.
Where did you meet your cofounder/founding team?
My partner is a life-long friend of mine with whom I had lunch with right when I got back from the original Puerto Vallarta trip. When we met, I shared the story of what had happened to me and he told me he had had the same experience some years before. We discussed the plan and the idea clicked for both of us immediately so we got to work right away. I still had my business and he was in transition, so it was a perfect moment for us to launch.
Did you run any companies prior?
My previous business was a consulting business for companies looking to outsource their call center operations. It was a good business but was always hard to find and retain clients. Also, it was never a "passion" of mine, I never felt like I was making an impact so I was always on the lookout for something greater that would be more meaningful for me and my clients. What I had always wanted was a business that could really change peoples lives and hearing stories from our clients now when they come back from their trips really feels good, especially when you enable someone to make that trip of a lifetime or a dream trip they had always wanted to do with their kids. That feedback is really what keeps us going and what we live for every day.
At the beginning nobody really thought it could be done… and we encountered a lot of doubt, even from people in the industry. But, as I learned throughout my entrepreneurial career, you have to keep going. You have to try and you have to take that step. If you let comments from others bug you, you will never make it and you won't accomplish anything. You have to believe in your dream and in yourself and push, push and push some more!
What motivates you when things go wrong? What is the end goal?
When things go wrong the first thing I say to myself is that you have to "fail" to learn and you have to go through failure to come out the other way. Nobody built a business that was perfect from day one, but every time something happens, you and your business are taking a step forward. Our job as CEO's is to solve problems. Every problem you solve gets you closer to the goal, so changing your mindset to welcome "problems" makes a big difference in how quickly you can get to where you want to be. In my case, I want to help people to create more memories with their loved ones, so that is the goal I keep in mind and what I focus on during difficult times. I remember those trips I took with my family as a kid or think of the ones I'm doing now with my kids, and I can't help but smile. That's what I want for our clients.
My advice for someone just starting out would be to just do it. Thousands of ideas get forgotten because the person didn't take the first step. You have to at least try. How do you know if it works or not if you don't even try it? We live in an age where very quickly you can get validation from your customer base to see if the idea has traction or not, so there is no excuse for at least doing that initial research. And… please don't wait for the idea to be perfect. Nobody has the perfect business idea or business model from the get-go. The game is an adaptation. You will figure it out as you go, but you need to get started. Take the first step.
Our biggest sales today come from Facebook Ads, but we are going into other marketing channels as I type this. My advice is to always look for new ideas for ads and to work on several different channels. Yes, it will be difficult and yes, you will lose some money trying them out, but one of them might be the key to unlock your exponential growth. So don't settle and always look for new ways to drive traffic to your business. Also, you don't want to have all of your eggs in one basket, so always diversify where your traffic is coming from and never forget to work on the long-term organic traffic sources as well.
At this point we are in growth mode, I am learning to delegate work, hiring more people and trying to focus on the "bigger" things so that we can take our business to new heights. When you start you want to do everything yourself, but it's just not possible. You are not the best at every aspect of your business, so finding good reliable people to support you in those areas will make a huge difference. Now i do want to be clear, I don't mean delegate and forget, in fact, I like learning how to do it myself and then passing it on to someone who can do the work for me. That way I always know what they are doing and how to help them. This was an expensive lesson I had to pay when I tried to hire an agency to handle my Facebook Ads. Now that I've learned how to do it myself, I have someone in-house who handles it, but I have much better control over our spend because "I've been there and done that", which if you think about it, also helps when you are looking to hire someone for the job!
What are the top 3-5 apps your business could not run without?
Our favorite apps are :
Slack: We handle all team communications this way, we have a "paper" trail of everything and all communications are organized in channels which comes real handy. Also, it integrates with EVERYTHING, so you can use it for thousands of things.
HelpScout: This is an amazing ticketing/customer service platform which we use for all of our customer service tracking. They have an AMAZING on-boarding process (the best i've seen so far) and would highly recommend them.
AirCall: This is our business phone system and is great for remote employees because you can coach agents remotely and even whisper into their ear to help them on calls. Great for sales and customer service calls.
Zapier: This is my number one all time. The best invention ever. If you like automation, this is your thing. It is the connector between all your operations and helps you automate hundreds of mundane tasks that you would otherwise have to do manually. We have automated 80% of our processes and the system is flawless. Highly recommended x 10.
What are your favourite books?
Some of my favorite books:
The Four Agreements - Don Miguel Ruiz
10% Happier - Dan Harris
Predictably Irrational - Dan Ariely
Never Split the Difference - Chris Voss
What are your next steps?
We are currently working on expanding to new marketing channels so that we can continue with our growth. We want to take the company to 10,000 active users in the coming years and that is going to need a ton of work from everyone in the team. We are all very passionate about what we do and we love coming to work every day. We work hard to make sure we always provide superb customer service for our clients but we also work hard to make sure everyone within our company is happy as well. This is more than a job for us, we consider ourselves a family and we treat everyone as such. We need everyone's support to get to where we want to be and having a unified team with clear goals will help us get there much quicker.
| Company Name: | The Travel Secret |
| --- | --- |
| Founder: | David Adler |
Comments