Mammoth Creameries was founded by Tim and Susan Krauss in their home kitchen in Austin, Texas following Tim's Type 1 Diabetes diagnosis. They founded a low-carb, low-sugar, high-fat frozen custard— the perfect freezer staple for diabetic or sugar conscious consumers.
Mammoth Creameries was born out of an ice cream craving and a desire to keep Tim's sugar intake down.
Was it a lightbulb moment or gradual moment to start Mammoth Creameries?
The idea to make ice cream was a lightbulb moment. However, the build up to the building the recipe and truly becoming Mammoth Creameries happened a bit more gradual. In hindsight, everything still seemed to happen overnight.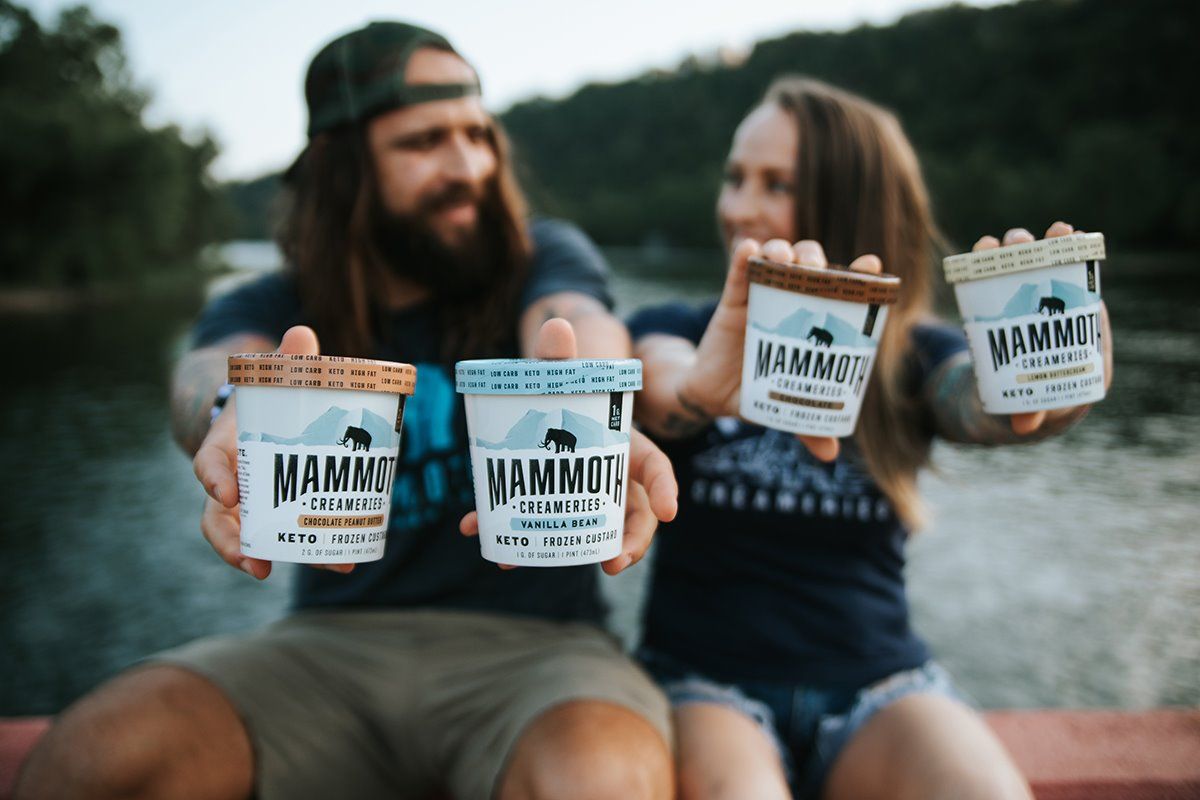 I vividly remember where I was when I came up with the idea to make Keto ice cream. My husband—and co-founder—Tim and I were in the frozen aisle at Whole Foods. I was thinking about how much we missed ice cream and decided to do a quick recipe search for some ideas. I saw that most homemade recipes were basically heavy whipping cream, a sweetener, and some kind of fruit or vanilla extract. Moving to the sweetener aisle I stood there completely overwhelmed. There were so many options! I had no idea where to start so I grabbed a bag of erythritol and went for it. In my mind, when anyone asks how we came up with the idea to start our own business, this moment in time stands out. I had no idea then that it would later become what it has, but it definitely started in that Whole Foods here in Austin.
How did you get your first customers?
Our first customers were actually friends and co-workers of Tim's. He worked for EPIC Provisions at the time with some really amazing people. Through my trials—or experiments—at home, we always had a ton of ice cream in our freezer so I would send it with him to work. That office shared everything. They were a tight knit group of people that liked supporting their friends as well as eating things that fuelled their bodies naturally without loads of junk food. A few asked if they could buy ice cream from us and we obliged.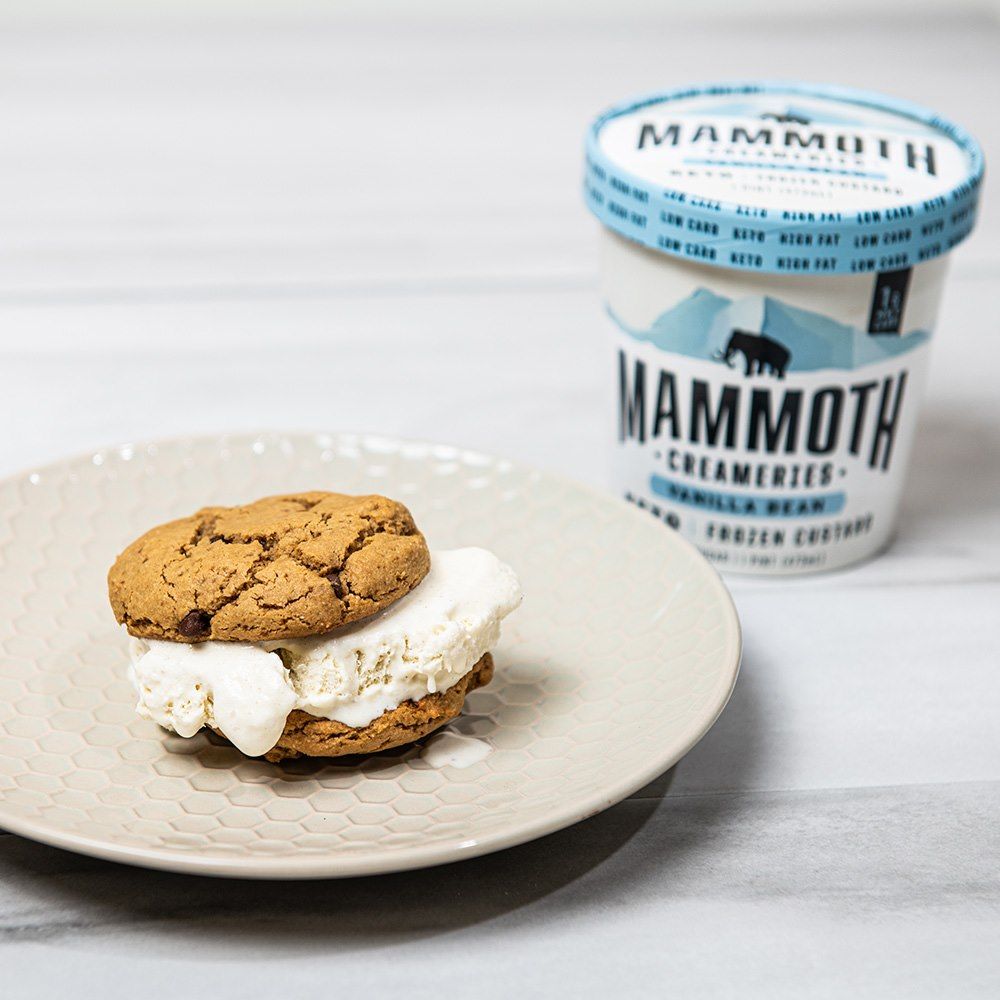 Our first big order came just four or five months later. One hundred 4oz cups of Vanilla Bean Ice Cream for the EPIC Christmas party. I stressed, I worried, I made ice cream for days in a counter top Cuisinart ice cream maker, but I got it done and the feeling I had seeing so many people try my creation for the first time is something I hope I never forget.
How did you validate the idea?
A few years prior to all of this, Tim had been diagnosed as a Type 1 Diabetic. A diagnosis that came as a complete shock to the two of us as well as his family which had no history of the disease as far as we all know. After doctors told him that he could continue to live a normal life and eat basically the way we did in the "before", he did just that… and his weight ballooned out of control. He was tired, cranky, and generally just not in good shape. After trying other things, we finally stumbled upon the Ketogenic Diet and it worked. He lost weight, his blood sugar was finally under control for the most part, he felt better, had so much more energy, and thankfully for our marriage, was way less grumpy. After some convincing, I gave it a try myself and could not believe how I felt after getting over the first two weeks of cravings while my body switched from burning carbs to burning fat. It was unreal!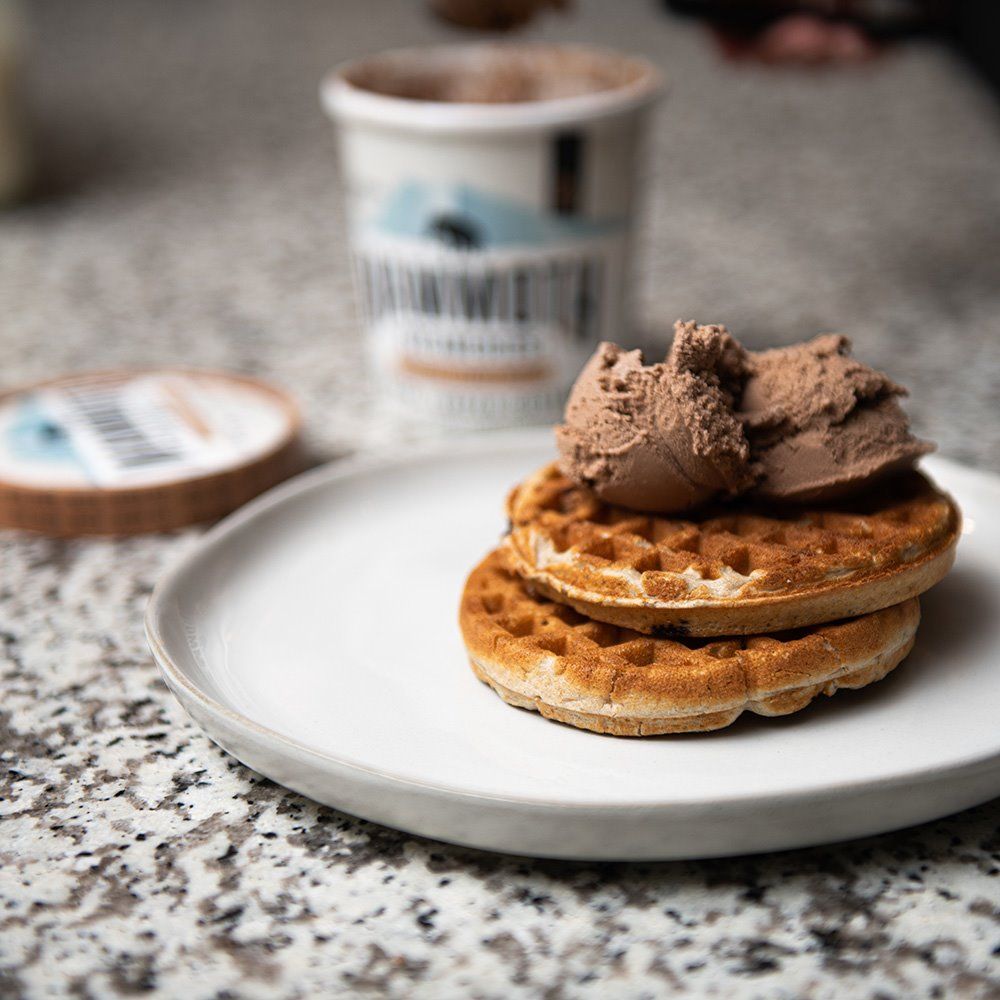 The downside to this, back then, was that there were very few options outside of homemade recipes. It's fine to make things every once in a while, but if you've ever made your own ice cream, you know it's not something you want to do every time the craving hits! With some gentle pushing from some very close friends, we decided to make the leap and bring Mammoth Creameries to retail so that other people who had discovered the magic of living on a high fat, low sugar diet could enjoy ready to eat ice cream as well.
Did you have any experience/expertise in the area?
Neither of us had a clue as to what we were doing. We just did one thing at a time, one day at a time. We quickly figured out our strong suits regarding the business, and we divided up the work. Every day we seem to face new challenges, and we learned early on that there would rarely be a time that we both knew what to do.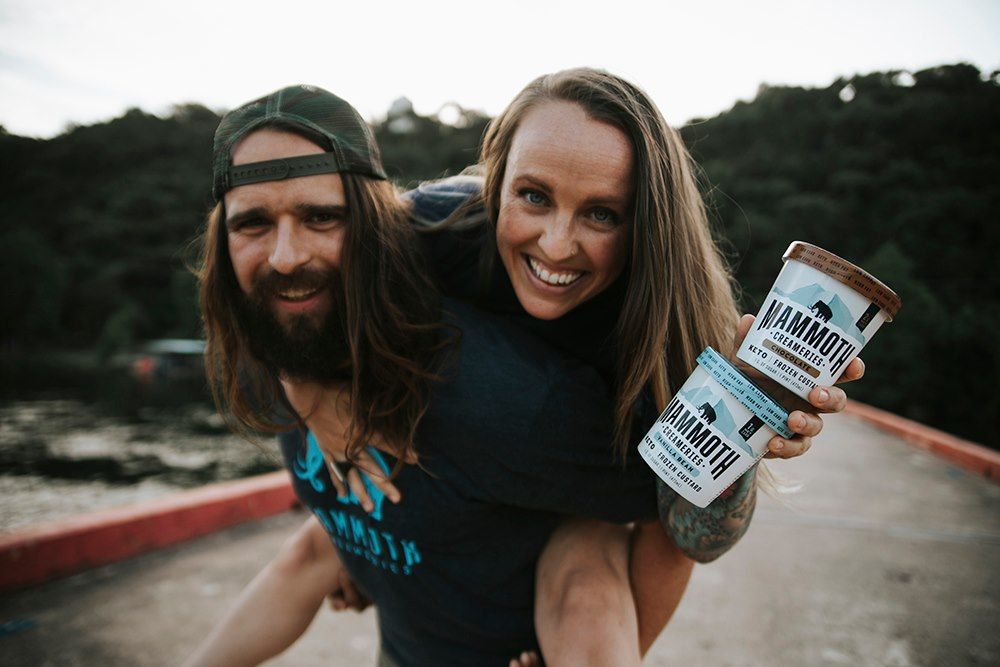 We made a pact that we would do business together with blind trust. I trust that Tim will make the best decisions he can, and he trusts me the same. Looking over each other's shoulders would have doomed us from the start, I don't know that any partnership would ever benefit from that.
Have you raised any money? How much?
We are currently in our second round of fundraising. Our first round was pre-revenue and came to us partly through the very friends who encouraged us to do what we're doing. Without them and their guidance, we would have never seen the potential we had to do something this amazing, and I'm forever grateful to them for many reasons.
One of our first-round investors was not a friend at the time but is now and his insight in this natural food world has proven to be priceless. He saw something in what I had created and came to us. The first meeting we had with him; I was terrified. We hadn't prepared anything, and we didn't have to. He showed us what we could do with what we had and how far it could go with the right people behind it. We haven't stopped giving our everything to this since that very meeting. It was exactly what we needed and again, I'll never forget that defining moment.
Who is your target demographic?
When we first began, we assumed that our customers would be made up of diabetics and those following the Keto diet. We were so wrong. We have since realized that we are a part of a huge movement taking place in our world. People are seeing what sugar and processed foods are doing to our bodies and brains. The days of being afraid of fat are long gone. It has become clear that for a long time, we blamed fats for what sugar was doing and as more people realize this, more people are making the switch and kicking the sugar. We have customers of all ages and demographics, anyone who wants to live longer and BETTER!
How did you fund the idea initially?
We bootstrapped the entire endeavour from the beginning: Savings, 401K, and lots of credit card debt. Thankfully, that didn't last forever.
Where did you meet your co-founder/founding team?
Tim and I met nearly 16 years ago in college. It took us 7 weeks to build up the courage to speak, and I'm happy to say that I'm the one who broke the ice. It was one of the best decisions I've ever made.
Some things happen for a reason and maybe our destiny was this all along—that and making amazing little humans that look kind of like us.
Any tips for finding first employees?
Don't try and make it work, and don't be afraid to let go of anyone that isn't a good fit. Some of the best people out there just don't vibe with what you're trying to do, and when you're an early stage start up, every penny and everyday counts. You need a team that is behind your cause, will work hard and require very little guidance. When you as a founder are being pulled in a million different directions, you need someone that knows what they need to be doing without constantly needing to be told. This is because there will be days when you yourself don't know what the hell you're doing. Coming back to that phrase, blind trust—you need to be able to trust your team. For us, we didn't have to look far. Our best employee found us, and he wouldn't take no for an answer.
Before we had the money to hire him, he was willing to work for free because he loved our products and believed in what we stood for. Don't worry, he is no longer working for free, .
What motivated you to start your own business?
The faith others, our children and ourselves had in our ideas and our success.
What were your family and friends first thoughts on your company?
Our friends and family supported us wholeheartedly from the very first pint. When we told them what we wanted to do, not one batted an eye lash or advised against it. Our ice cream is that good.
What motivates you when things go wrong? What is the end goal?
Knowing that there is no other option probably motivates us the most. We are a family of six—we have four kids with one in her second year of college. Failure just isn't an option. As long as we are moving forward as a business, I'm not super stressed about the speed. Just as long as it's forward and never backwards. So far so good! Our end goal is to be a huge part of normalizing sugar free lifestyles. Providing options that kiddos love and parents can feel good about is so important to us. We are still a niche product right now, but as people become educated in the importance of food, we would really like to see more and more people welcoming the concept of high fat low carb as everyday living.
Do you have any advice for someone just starting out?
Celebrate the victories—no matter how big or small. Some days it feels like you're climbing an impossibly high mountain and when you get to the top of that mountain, make sure to take a look back at where you were before. That is, before you glimpse the next even bigger mountain ahead.
What has driven the most sales?
It's probably a pretty equal split among all mentioned with lots of our growth in sales happening organically on the spot. Our packaging is pretty eye catching, and I suspect that when someone picks one up and reads the ingredient panel it's pretty hard not to want to give it a try. We have the cleanest ingredient list of any ice cream out there, everything that goes into our ice cream is something most people are already familiar with.
What are the top 3-5 apps your business could not run without? Why are they essential?
Shopify, Slack, Dropbox.
Shopify is what we use to track our online sales which are surprisingly substantial. You wouldn't think that people order ice cream online, but they do, and they do it a lot. I feel that we would be lost without all three mentioned, especially while we work remotely during the pandemic and Shopify allows our customers to keep their supply up without having to venture out.
Slack and Dropbox enable us to communicate easily with our team from our home office.
Spring of 2020 we saw our greatest spike in online sales to date, and I fully believe that having that option available was a huge advantage and service to our customers.
What are your favorite books?
Tim loves reading true survival stories. Anything where people must push super deep into the red zone to come out the other end. He doesn't really read any "business" books.
I love all things Stephen King. Favorite of all time is 11/22/63 and I think I have read it three (maybe four) times. Love that book!
What are your favourite podcasts?
Tim listens to Crime Junkie and Ultrarunner Podcast. Again, he doesn't subscribe to business-focused podcasts. They give him a bit of anxiety.
For me, between working from home and now homeschooling three kids, it's not easy to listen to much of anything. But when I'm in the car or traveling, I definitely go straight for Crime Junkie or How I Built This. How I Built This holds a special place in my heart. In our earlier days we use to make and package all of the ice cream ourselves. Those nights were long and hard. Listening to how other entrepreneurs pushed through and overcame their own obstacles definitely motivated me to keep pushing through the really hard times.
What are the next products you're working on?
Right now, we have some amazing new flavours in the works.
Where do you see the company in 5 years?
We are on track to be global brand delivering the healthiest, cleanest, and highest quality ice cream ever seen at retail.
Would you ever sell?
Maybe yes, maybe no. That's one mountain that is still in the distance for us and before we would even consider that we'd need to make sure that we grow our brand to a point where we are available for anyone and everyone who wants to enjoy ice cream all the time without having to compromise their health.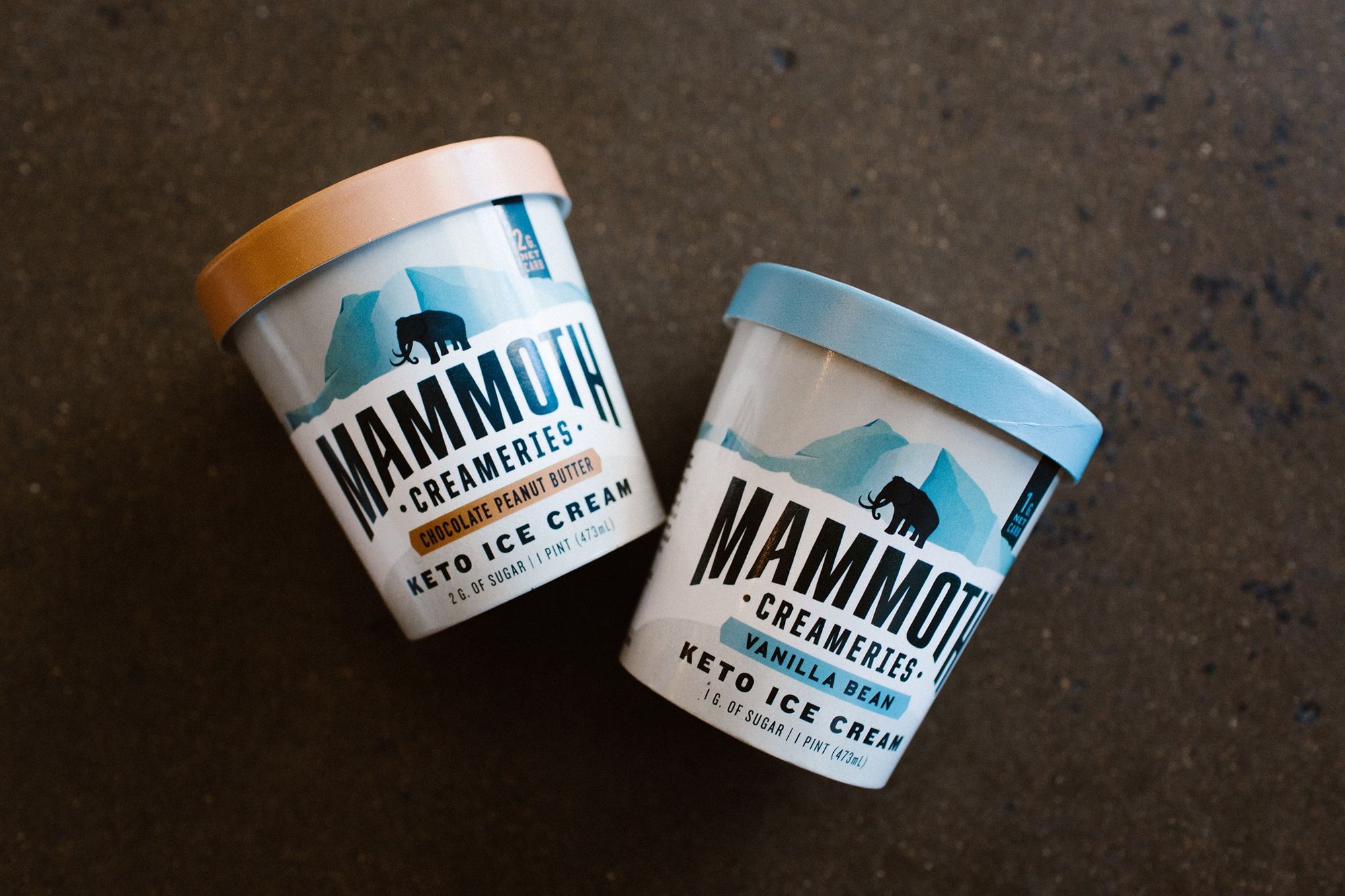 Some people view founders who sell as "sell outs," but you really must look at the bigger picture or end goal. If the right people were to approach us one day and give us the opportunity to reach more people, raise more awareness, and deliver more ice cream, it would make sense. It's not about keeping this to ourselves, we want to offer what we've got to everyone in the world and sometimes that can only be accomplished with the support of someone behind you with resources we could not possibly have on our own.
| Company Name: | Mammoth Creameries |
| --- | --- |
| Founders: | Tim Krauss + Susan Krauss |
Comments