Organic Initiative (Oi) is led by a team of passionate, holistic women who aim to make big changes in the feminine hygiene marketplace. It is essential that any new business founders are completely and utterly passionate and almost radical in their views, approach and beliefs in what they are embarking on. There has to be true purpose to start and grow a company.
Organic Initiative (Oi) started its "revolution in a box" to inspire change for our world, one tampon and pad at a time, in New Zealand in 2015. Today, Oi is the fastest growing mainstream feminine hygiene product in the New Zealand market, according to AC Nielsen reports. Since launching in the U.S. market in 2018, Oi has seen unrivalled growth, now expanded to more than 10,000 top retailers, including Walmart and CVS, as well as availability via major online sites, including Amazon.
Was it a gradual decision or lightbulb moment to start Organic Initiative?
It was a gradual process to the incorporation of Organic Initiative (Oi). My primary introduction into environmental matters was in helping to set up the world's largest environmental markets registry (now www.markitenvironmentalregistry.com). As we focused on ensuring transparency and integrity in these new unknown environmental markets, I was incredibly blessed to spend considerable time in countries that have been drastically affected by climate change and human-led environmental degradation.
How did you get your first three customers?
It was both heartwarming to meet with stoic communities trying to survive, and heartbreaking to see the splendor in the world devastated by garbage dumped in our most pristine locations and vital oceans. You can go to beaches that were breathtaking just a few decades ago and now find all manner of refuse. And in the oceans themselves at current rates, plastic is expected to outweigh all the fish in the sea by 2050.
How did you validate the idea?
It's frightening how the world is groaning under the weight of toxins, plastics and chemicals. Research shows the enormous impact menstruating people have on the environment—primarily because conventional products are made from plastics and synthetics filled with toxins and chemicals.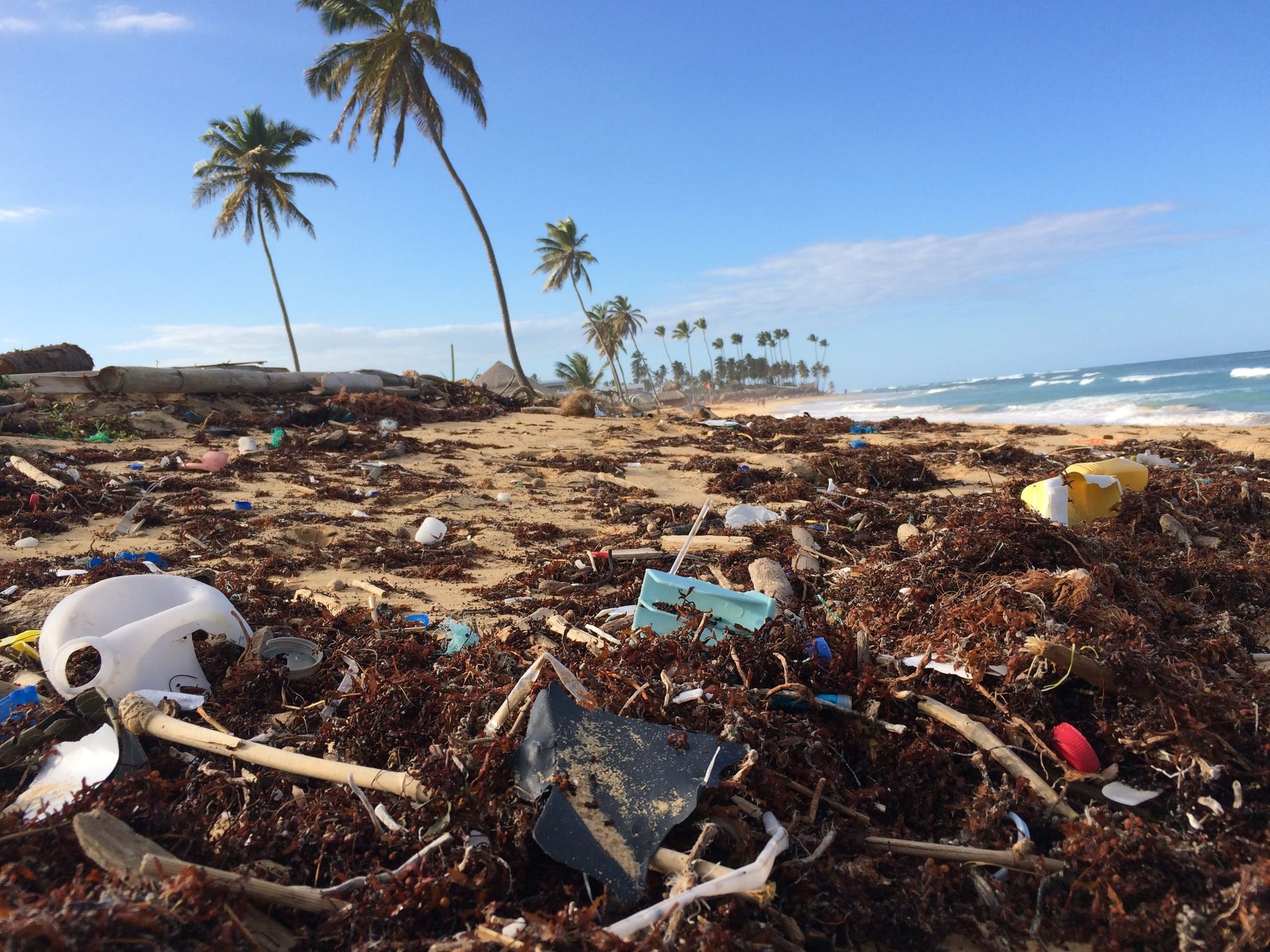 We recognized this was not only bad for the environment but that the chemicals and dyes in these products were not ideal for the people using them. Leveraging leading medical advice showed that there was not just a "save the planet" opportunity but a significant health improvement play as well.
Did you have any experience/expertise in the area?
We have just one earth—there is no Plan B. My new mission became to remove plastic from hygiene products, beginning with menstrual hygiene. I have decades of experience running businesses—mostly tech—and working with governments to improve economic performance, so I understand the significant role business plays to help drive change.
Who is your target demographic?
Our target demographic for Oi period products is anyone who has a period.However, to uniquely meet the needs of young girls, we recently introduced Oi Girl™, the first-of-its-kind line of smaller hygiene products made from 100% certified organic cotton for girls starting their periods. It taps into the growing interest from women of all ages in being healthy and reducing waste. The product line provides engaging information and features friendly drawings of animals such as dolphins, penguins, and polar bears, reinforcing the earth-friendly message of the product.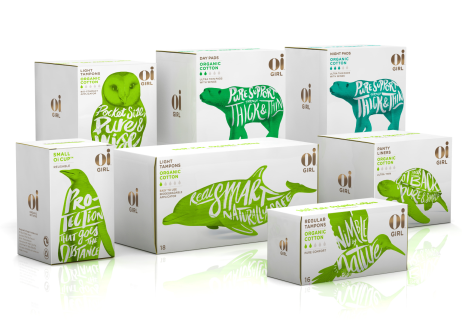 Oi Girl was created specifically for girls to help them feel confident and more in control of their periods with sizes suited to their younger bodies, and the comfort of naturally absorbent, non-irritant and chemical-free organic cotton.
How did you find the idea initially?
From its outset Oi was recognized by so many people as a desperate need to bring life back into a boring, unhealthy and environmentally disastrous category. Conventional, stodgy players in the market hold the consumer ransom with cheap, synthetic products and most people in the early years were astounded and horrified to learn about what was really in their tampons and pads.
Where did you meet your co-founder/founding team? Any tips for finding first employees?
This meant that whenever friends, family and business connections learned what I was up to they were quick to suggest they invest. This made that early stage funding relatively easy to come by. Having a history of successful business ventures helped of course! Oi is led by a team of passionate, holistic women who aim to make big changes in the feminine hygiene marketplace. It is essential that any new business founders are completely and utterly passionate and almost radical in their views, approach and beliefs in what they are embarking on. There has to be true purpose to start and grow a company.
What motivated you to start your own business?
My lifelong professional and personal mantra, "Do good at scale," became my singular mission about 15 years ago. It fully reflects my belief that one person, and one organization, can truly drive change in the world. This was a guiding principle when I decided to go all in and become a founder of Oi. My primary areas of focus have been environmental impact, social good and technological change and I have a 30-year background leading many innovative organizations. Positions held include Chair, Board Director and CEO in various organizations and companies. Former executive roles include CEO, Microsoft New Zealand and VP, Pivotal Corporation Asia Pacific. As I noted earlier I helped found and was the inaugural CEO of the world's largest environmental markets registry, including the facilitation of its sale to Markit (MKT).
What were your family and friends first thoughts on your company?
My family and friends are not surprised when I start something new or try to take on the world. They understand that this is, and has always been my style. Small and slow are just not words in my vocabulary.
Do you have any advice for someone just starting out?
Starting businesses is not for the faint-hearted. Huge hours and sleepless nights are the norm. There is no-one but you to do the groundwork, the hard slog, the pounding of streets. Oi is designed for all women, and we wanted to create a product which was good for bodies and good for the world. It had to be affordable and available everywhere. In the beginning I would drive for hours and days visiting stores one by one to ensure that Oi could be found in the most remote areas, not just in the cities. Building scale does not happen by itself. It takes guts and determination, and just old-fashioned hard work.
How do you protect yourself from competition?
Oi is an environmental game changer for feminine hygiene products and women. Oi is the only product in the world which is certified organic by both GOTS and BioGro. Not just the cotton itself is certified organic but the products themselves. Oi's initial emphasis has been on making tampons and pads made with 100% certified organic cotton. Organic cotton is biodegradable when compared with synthetic cotton which takes up to 500 years to biodegrade.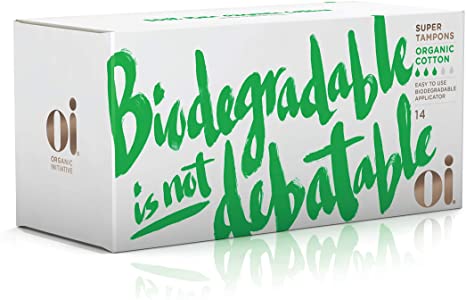 The key to our company's growth is our commitment to ensuring that Oi is affordable for women and available where they do their regular shopping. Periods don't discriminate, and neither does Oi—we are seeking to be a mass-market leader. Because Oi is affordable and available where women shop, we give them the chance to make a simple switch in products for their health and as a personal contribution each month to reducing environmental waste.
Do you have any trademarks or patents?
Oi has trademarked all of its slogans and branding. It is very difficult to patent a tampon or pad.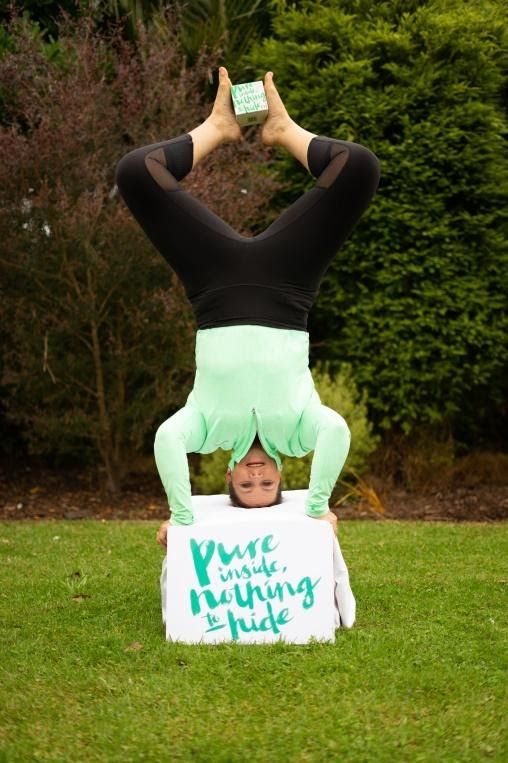 However the difference of Oi is our provocative positive brand designed to help educate girls and women that they have a choice, and it's a simple choice with massive impact, not just for them but for our world.
What are the top 3-5 apps your business could not run without?
Having run tech companies for about 25 years technology still plays a critical role in my life and business. Oi uses Microsoft as its core technology and therefore while deeming to be basic all of Microsoft Office is critical. Given that our team is widely spread around the world we could not function without the instant messaging function of Microsoft Teams and use Zoom for all external meetings. At the heart of every business is infrastructure and modelling. Proudly New Zealand, Oi uses multi-billion dollar Xero as its central finance and reporting tool.
What are your favourite books?
Fortunately (or unfortunately) I am a prolific reader. When Amazon says it's okay you have a great record with us with thousands of orders you gulp and then realize it's all the books bought! To relax I love a good murder mystery but for business there are many great baseline books to help navigate the complexities of business. In the early years working in China I scoured over and over "The Asian Mind Game" by Chin Ning Chu which helped enormously in how best to engage in this market. "The First 90 Days" is a great book when starting a new role as CEO, and Tom Hopkins' "How to Master the Art of Selling" is an all-time favorite. I do believe that sales as a profession is under-rated—few businesses can succeed without amazing sales people. Lastly, "The Entrepreneurial State" by Mariana Mazzucato is provocative and insightful on the role of government in wealth creation and entrepreneurship.
What are the next products you're working on? Are there any releases you can tell us about?
Oi has an incredible Product Roadmap with products not available anywhere in market ready to be launched imminently. Watch this space!
Where do you see the company in 5 years?
Oi is only at the start of our journey—in 5 years' time I hope that we have extended our rapidly growing scale to change the world one tampon at a time, removing plastic and encouraging the whole market to do the same. In business it is absolutely impossible to predict the long-term outcomes—who knew where Apple would land, or that some major retailers would close, that we would have a world pandemic affecting everyone everywhere. You can only manage by ambiguity, making decisions with what you know now and based on years of experience around you and lots of gut feel! If it made sense that another organization could grow Oi more quickly or help achieve our mission better than we can then that's what should happen.
| Company Name: | Organic Initiative |
| --- | --- |
| Founder: | Helen Robinson |
Comments