You are planning to be out in the sun all day, so you pop on your favorite shirt and apply sunscreen to your arms, neck and face. But, what most people don't consider is the sun protective qualities of the shirt itself. Did you know that UV rays can penetrate fabrics, and most t-shirts provide well below the recommended level of UV protection? What good does it do to apply SPF 50 sunscreen on your face and neck if the covered areas of your body are only getting the equivalent protection level of SPF 5? It's not a thought that ever crossed my mind growing up, but something I now think about every day.
In 2019, I decided to pay a random visit to the dermatologist for a routine skin check - an event that ended up changing my life. It was during that checkup that my doctor found a spot on my back which turned out to be Melanoma. Fortunately it was caught at an early stage so the doctors were able to completely remove the tumor, but it was an eye-opening experience for me. It was around that time that my doctor also recommended I start wearing sun protective apparel - the type of apparel I should have been wearing all along.
Was it a lightbulb moment or gradual moment to start Rayward Apparel?
I love the outdoors, so staying cooped up inside for the rest of my life was never an option. I'm an active member of the volleyball community and a current CrossFit Coach and athlete, this translates to a lot of hot days in the sun. After my melanoma diagnosis I had to find shirts that provided proper UV protection, but were still comfortable and breathable enough for New Orleans summers. This proved to be harder than I thought. I purchased a variety of sun protective shirts from about 10 different companies, and couldn't find any that I actually enjoyed - so I decided to create the exact type of shirt I was looking for. This is when Rayward Apparel began.
How did you validate the idea? Did you have any experience/expertise in the area?
UPF rating is similar to the SPF rating of a sunscreen, but specifically for fabrics. While the average t-shirt has a UPF rating well below the recommended amount (generally about UPF 5), most sun protective fabrics have a UPF rating of 50+, as do all of Rayward Apparel Products.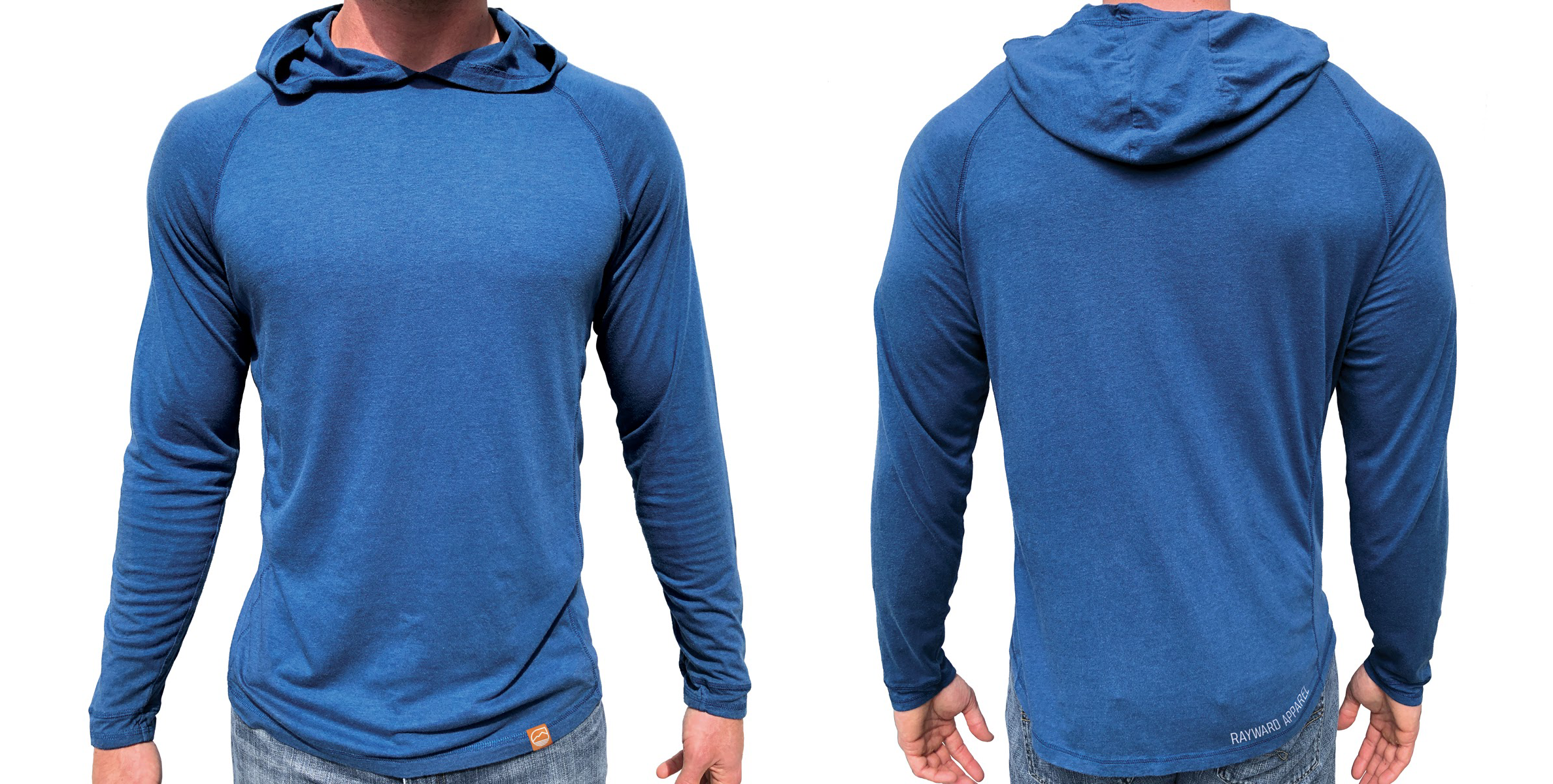 This means they are providing 10x the protection from damaging UV rays. But to achieve a UPF 50+ rating does not mean you need to sacrifice the comfort or quality of the apparel. After months of testing various fabrics, we were able to create a unique fabric blend that maintained a UPF 50+ rating, but was also soft, lightweight, and breathable.
Who is your target demographic?
Rayward Apparel is committed to skin protection, and not just for those that are at high risk. We are committed to developing clothing that looks and feels like the other high end options, but just with the additional value of keeping your skin protected. We are also dedicated to helping the fight at a much higher level. 5% of all company profits, now and forever, will be donated to non-profit organizations dedicated to the research and treatment of skin cancer.
Did you run any companies prior?
At the time of my melanoma diagnosis I was the Co-Founder and CEO of a virtual reality events business which I started back in 2016. I was able to grow it from a small local provider to one of the largest in the nation. We had a team of brand ambassadors who handled all of the event operations while me and my business partner focused on growing the business. I decided to sell my VR company in 2019 and use the profits as the capital investment to get Rayward Apparel off the ground.
Have you raised any money? How much?
As of now Rayward Apparel is completely self-funded. As mentioned previously, I sold my previous business which provided me the capital to be able to invest in Rayward Apparel without having to sacrifice any of my ownership share.
I understand the value an investor can bring, and is something we may consider in the future. However, I feel like a lot of new businesses seek investment capital too soon in the process which can potentially undervalue the company and cause founders to lose some creative control of the business.
What regulatory approvals did you have to go through?
Fortunately there are not too many approvals needed to get an apparel business started. As is needed with most businesses, we first needed to set up an LLC in our home state of Louisiana. Because we sell tangible goods, we also needed to retrieve a sales registration certificate to stay in good standing with the state and pay the applicable taxes due on our product sales.
From a product standpoint we needed to secure a registered identification number ("RN") with the FTC to properly label our products. Additionally, because we sell sun protective apparel we secure UPF 50+ certification for all of our products through lab testing per AATCC 183 standards.
How do you protect yourself from competition?
Honestly, I've never been too concerned about our competition. There are certain elements of the business that we look to see what our competitors are doing and where they seem to be achieving success (pricing, keyword statistics, marketing channels, etc…), but I don't worry too much about protecting ourselves from them. There is endless opportunity, I believe if we continue to do the right things and focus on providing value to our customer rather than protecting ourselves from our competition we will ultimately be in a better position for success.
Do you have any advice for someone just starting out?
Just start doing something! Most people spend so much time thinking about possible businesses and the possible issues they never actually try to do anything. Once you get started, things seem to fall into place. Even if you are working a full time job, carve out a few hours every day and start working towards setting up a business. You can offer your services for free to get started and get traction, it will naturally grow. If you provide a great service or great product, there will be opportunities. But start doing it now, and worry about everything else later.
What are your favourite books?
The Four Hour Work Week by Tim Ferris is one of my all time favorites. It is well written and provides clear and actionable steps to better utilize your time. However, I think it's a dangerous mindset if anyone takes the title literally and wants to only work four hours a week. If you are starting your own business, you should spend as much time as you can growing it. The book is simply about how to use your time efficiently and intelligently.
Also, Getting Things Done by David Allen has some amazing snippets which I use every day. Specifically, how to manage tasks throughout the day and maintaining "inbox 0" to minimize decision fatigue and get the most out of the day. These lessons have not only helped me in my business, but my personal life as well.
What are the next products you're working on?
Our initial line of products, The SUN BOUND Collection, was aimed at solving my immediate need - a comfortable shirt for everyday and athletic wear. In addition to this collection we will be releasing a second line of products in the coming weeks focused on keeping other exposed areas of your skin protected, your head and your face. This will include mens and womens sun hats, along with a variety of UPF 50+ lightweight face shields. We are also currently working on a line of UPF 50+ polo shirts utilizing a similar fabric as our SUN BOUND Collection.
If you are interested in sun protection tips, updates, or special access to new Rayward Apparel products and coupons, please subscribe to our newsletter. And if you have any questions or would like to reach out to us directly, please contact us here.
| Company Name: | Rayward Apparel |
| --- | --- |
| Founder: | Devin Regan |
Comments