Workstream is an end-to-end recruiting and onboarding software built for local businesses. We cut the time to source, screen and onboard people, via texting and automation. We increase applicant flow via text-to-apply and automated job postings on Indeed, Google, Craigslist and more, and reduce the time to screen and onboard employees via automation, scheduling, and mobile workflows.
Both my parents were hourly workers who only finished 4th grade. Also, I used to run my own Thai food restaurant and a logistics startup where I needed to hire hundreds of hourly workers. Throughout my career, I had hired, managed and worked with hourly workers. I saw that there was a lack of good pieces of software built for hiring and managing hourly workers. Therefore, I wanted to start Workstream to help local businesses and hourly workers.
How did you validate the idea?
The idea for Workstream was validated while Max and I were taking a class at Stanford Business School's Startup Garage in 2017. As part of the class, we were asked to go out to speak to many business owners and address whatever pain points they might have. After talking to many people, we identified the top two pain points - increasing sales, as well as hiring and managing people. So we went about trying to solve these pain points.
How did you get your first three customers?
I recall clearly sending my first cold-email to Camelia, the owner of Coupa Cafe asking for a meeting. Within a couple of hours, she replied saying she was open to meet and connect. I quickly responded within the next minute and asked for an in-person meeting the following day. I met Camelia and I was truly intrigued and impressed by the amazing business she had built. Coupa Cafe is known to be the most popular place among Silicon Valley superstars, and yet here she was, taking time out to meet me. During our chat, we spoke about our experiences. I also had the opportunity to learn about the challenges she faced while running the business. This in turn translated into an opportunity for me. In the last 15 minutes we had, I pulled out my laptop and showed her our product demo. She was clearly impressed, but said she will get back to me.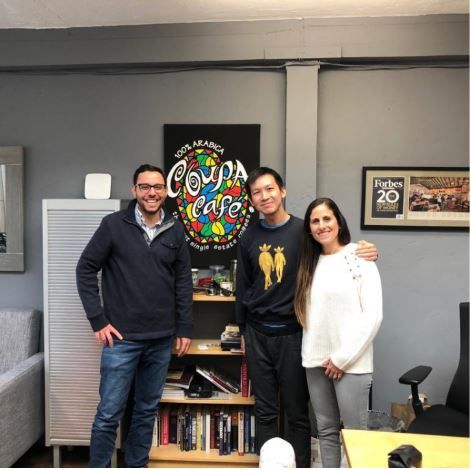 A couple of days later, Camelia wrote me back saying "Desmond, I'd like to get started on Workstream!" Bam! I closed the first deal in Workstream history - an indescribable adrenaline rush rushed through my veins and I was overjoyed.
Once I got traction with cafe chains in Palo Alto, I just went on to hit the streets - going door to door at Downtown Palo Alto. Next, we met with Jamba Juice at Palo Alto and I also pitched to him face to face. Managed to close him after showing him a demo of the software.
Did you have any experience/expertise in the area?
I started a Thai food restaurant and I was the first HR manager. I needed to post on job boards and follow up on the postings. It was quite a lot to do. I spent tens of hours every week posting on job boards, scheduling them, using Google sheets and paper to onboard.
Who is your target demographic?
Today, we focus on US-based local businesses who hire hourly workers. We focus on the middle market customer who has a constant hiring need every week or month. Industries we support well include food and beverages (cafes, fast food, quick service, restaurants), hospitality (hotels) and retail. Some of our clients include Jamba Juice, Westin, Marriott etc.
Our software has the ability to send an automated message to reject applicants immediately should they not pass a certain step in the hiring process. But customers and businesses wanted it to be delayed by at least 5-10 hours so that people don't think that it's a bot and that it's not sincere.
How did you fund the idea initially?
We raised money from a couple of seed funds and angel investors including Eric Yuan, CEO and founder of Zoom. He was our first cheque in. Eric has been my mentor for the past few years. And when I was coming out to start this idea, Eric hand wrote a cheque for me. He has been very helpful ever since. We also raised from a series of other funds like Basis Set Ventures and Peterson Partners, Joe Montana, COO from Yelp, CEO from Logitech, CMO from Hubspot and more.
Where did you meet your co-founder/founding team?
In late 2017, Desmond and Max were looking for a Product Manager to join the team; hence, Desmond called up his friend Lei whom he had first met at a Xoogler event in Dec 2016. Lei agreed to join the team, and we started to go out meeting many potential customers together. Some of the early customers we met included the Jamba Juice at Stanford University, Coupa Cafe at Palo Alto, and Utah Maids.
Workstream was officially launched on January 3, 2018 when Coupa Cafe signed up as our first client!
Any tips for finding first employees?
Fun fact about Workstream - we have more than 10 ex-founders (founders who started their company before) in our team. We have 3 former y-combinator founders in the team (Lydia, Rob and Lei). All entrepreneur networks, early stage founders who understand the mission that we have.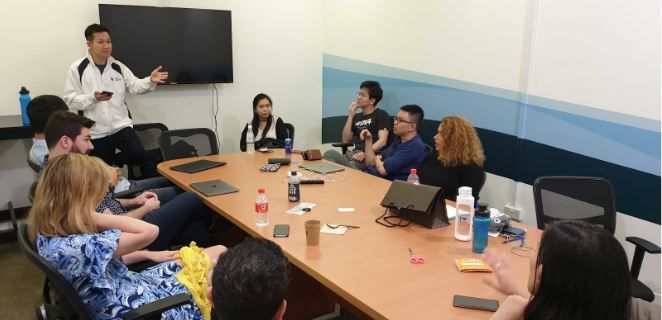 Second fun fact - many of us went to the same school - alumni of each other e.g. John Hopkins, Berkely.
A company becomes the people it hires. (read more) Recruiting and hiring people is the most important thing for a company as a company becomes the people we hire. We are still very early, and every additional hire has a huge impact on our culture, so it's important to focus on this aspect.
The first 150 people of a company are the cultural co-founders for the company. You will play a role in hiring the next 1,500 people in Workstream history and play a very important role for the company.
As a team, we look for excellence over experience. We like people with a chip on their shoulder, and look for undiscovered talent. When interviewing people, think about whether or not you can see yourself learning from him/her or spending a lot of time with him/her.
It is important to hire people with a good alignment to the stage that we are at. We strive to hire someone who is senior and junior at the same time. This means we need to look for someone who has a strong bias towards action, for getting things done and yet can plan ahead.
We have chosen to align our interviewing framework with our team values and culture.
Essentially, we hire people who embody our values of -Humble and Hungry,Everyone does customer success,Direct feedback is a gift,Don't lose the human touch, and Be frugal.
Interviewing for specific domain skills will of course be necessary. For example if you are in engineering or sales, there will be a need for specific domain skills that you should also look out for while interviewing.
Did you run any companies prior?
Prior to Workstream, I started a logistics company, QuikForce. QuikForce helped connect hourly workers to those who had a need for home services such as moving, cleaning and driving. It was named after my father's one-van operation back in Singapore. My father barely finished school and did not know how to use technology to do his job well. Growing up, I watched him deliver packages and realized the inefficiencies of the logistics industry and wanted to transform it. I also noticed that the industry was antiquated and that it was difficult for consumers to easily find the right movers.
Even before that, I founded my first business after high school to pay for college. I started out teaching maths and science. And as my client base grew, I started to match tutors to other students. I ultimately started a tutor matching service to pay for college right after high school. That was my first experience in starting a business to pay for my college.
In college, I started a Thai Food Restaurant. When I was in Singapore, I wanted to start a business that was similar to DoorDash in Singapore. I got a grant of $50k from Spring Singapore and I worked on it, but it was too early. Singapore wasn't ready for it yet - it was back in 2010, there wasn't FoodPanda and all that yet. When I was in the US, I started working on QuikForce. All my ideas are linked to local businesses.
What motivated you to start your own business?
I think to other founders, starting a business is something that is very cool, or something that is like a dream for them. I started my first business because I needed to do so to pay for college. Through starting my first business, I learnt so much from it and I really liked doing it. And I thought it really aligned with how I wanted to create impact in this world. And this was what really drove me to move things forward.
What were your family and friends first thoughts on your company?
Both my parents never completed school, so they didn't understand what I was doing. Probably even till today. So I just told them it's a HR software company and they were like "ok! That's great!", but they actually don't know what I'm doing specifically.
But I think they are happy that I'm focused on my passion and what I love to do. For my friends, they are very supportive. I am very touched by the support of my friends. Many of my friends who own businesses actually came with the intent to help. They would either want to be our client, or just enquire about how they could be helpful.
What motivates you when things go wrong? What is the end goal?
One of the things I learnt in this startup journey is that things go wrong every week, if not everyday. It is the norm. You just have to stay positive and move things forward. I cherish the small wins and stay positive and every day I'm very thankful that I'm healthy, I'm able to work on something I have strong faith and passion for. And I'm very thankful for that. So everyday I celebrate small wins. I often tell my sales team (cause sales is really hard) - in life, we actually struggle well. Just learn how to struggle well, there's always so much ups and downs.
There are 70 million workers in the US and more than 2 billion hourly deskless workers in the world. Yet, in today's world , very few software services them. Most programs are built for people working in the office. I want to create impact in this space - to create software that can help hiring managers in terms of hiring, managing and more. This will in turn help them save time, and enable them to do their work better.
Our mission is to create a world where work empowers a better life for the deskless workforce and local businesses alike.
Do you have any advice for someone just starting out?
I've been helping to mentor a lot of new founders these days. One thing is to build something people want, or rather, build something that people love. It's very easy for founders to fall in love with the idea of what they think is a great idea. It's rare that great ideas work. It's more about whether or not it is something that someone would want.
Try to look for something that is a deep and narrow pain. For example, facebook started by focusing only on students at Harvard, that's a very good case of finding a very deep and pain point and serving that deep. If the pain is a very big and wide pain, someone is probably already trying to solve it. Look for that wedge on what is the pain point that you can solve and talk to clients - we must talk to a few hundred clients about the pain point before we can try to solve it.
I firmly believe in the importance of sincerity. When the Founder and CEO of Zoom, Eric Yuan, left Webex, 35 other engineers left to join him. People follow people because of their sincerity.
I also believe that it is essential that you "find your tribe" instead of trying to blend in. It is ok if you are constantly around people who you don't 'blend in' with. It is more important that these people whom you surround yourself with are those who not only share the same drive and enthusiasm, but also amplify you.
Lastly, it is important to have a voice and mission. I was driven by his mission and voice to give back to the blue-collared workers' economy that has been a huge part of my identity growing up.
What has driven the most sales?
Sales were driven mostly via email and LinkedIn. (You can read more here on how Desmond fell in love with sales). We've been doing mainly outbound email and calling - that has been working well for us. We tend to reach out to businesses based on the right fit and talk to them about their pain points and see how we can be helpful.
What is stopping you being 3x the size you are now?
Today we serve hundreds of customers, from Jamba Juice, Westin, Subway and more. We have a great growth plan put in place. There isn't anything specific holding us back. We're building our team out and infrastructure so check back with us in 6 more months? HAHA
How do you protect yourself from competition?
We focus less on the competition. We believe that as long as we have something that people want, we should worry less about competition and focus more on addressing peoples' wants. We spend more time with our clients and talk to them to understand what they truly want.
What are the top 3-5 apps your business could not run without?
Google Calendar - used to set up meetings with our clients
Hubspot - It has a great marketing tool and automated workflows here are powerful
Zoom - because we are a remote team, we don't get to see each other very often so Zoom is one of the best ways we stay in touch with each other and made work collaboration a lot easier. We get to see each other too
Loom - Great for screen and video recording to convey messages through email to both clients and our own team members
Workstream - we use our own software for hiring too!
What are your favourite books and podcasts?
I really like reading a lot but here are the top three books that I really like. In no order of preference, the first book that I like is The Score Takes Care of Itself by Bill Walsh. It talks about the former coach of the San Francisco 49ers football team and how he built a team. I also liked Powerful byPatty Mccord which discussed the building of a culture and building a strong team. Lastly, I really like Shoe Dog by Phil Knight. It is an entrepreneurial story of how Phil Knight started Nike - a journey that actually took him over 20 to 30 years. For the first 7 years, he was just buying shoes from Japan and selling them in the US. It nearly failed 5 times.
Podcast
What are your next steps?
Up until now, we've helped many businesses including Jamba Juice, McDonald's, Subway and many more. We want to further impact more local businesses as we move forward. I think there are millions of local businesses in the US that we can impact in the next 3-5 years. That's what we want to focus on - to build these businesses up even more, to understand their needs and solve their pain points.
We want to build a career out of it. We want to be able to be here for the long term and we are committed to serve these clients and help them to hire and manage their teams faster and better.
| Company Name: | Workstream |
| --- | --- |
| Founder: | Desmond Lim |
Comments