I always knew I wanted to run my own business, so I received a degree in Business Administration with a specialization in Entrepreneurship. But after college, I still didn't know exactly what I wanted to do yet, so I started working for an eCommerce startup in San Diego, Tower Paddle Boards, that got its success from Shark Tank. While there, I learned a lot about running a business and in my free time I started getting really into meditation and mindfulness. I eventually knew that was the industry I wanted to work in and I launched BLOOM Mindfulness to fill a need I saw in the meditation pillow (aka zafu) marketplace. All the zafus out there were hippie-granola prints or solid colors that were pretty boring. So I decided to test the market and see if people wanted meditation pillows with modern prints.
I launched the company on Amazon with a few hundred zafus - 1/2 solid colors and 1/2 prints. The prints sold out faster than I could have thought. With that insight, I continued to produce the prints and launch new styles on Amazon and eventually the website.
BLOOM is completely self-funded; I took what I learned from Tower and used it to build a company of my own in a niche I love and I grew in a way that worked for me. We live in a hustle culture that makes people feel like if you're not working 18 hour days and growing your business 0-100 overnight you're failing. I believe the complete opposite to be a sustainable approach to business - take your time, make calculated decisions, know your numbers, and trust your gut. I keep my values at the forefront of all that I do personally and with BLOOM and I think that's what pays off in the long term.
Who is the target demographic of Bloom Mindfulness?
Anyone who wants to live a simpler life.
To me, a simple life is one that makes you feel happy, at peace and fulfilled. So many people are stressed-out and unhappy with their lives and I want more people to realize that doesn't have to be the way. You have a choice to look at every situation in a positive or negative way, an accepting or rejecting way. It's up to you, I truly believe that. We can make it a messy, anxiety-packed life or we can make it simple, fun, fulfilling, etc. We all have the power to choose how we go through life.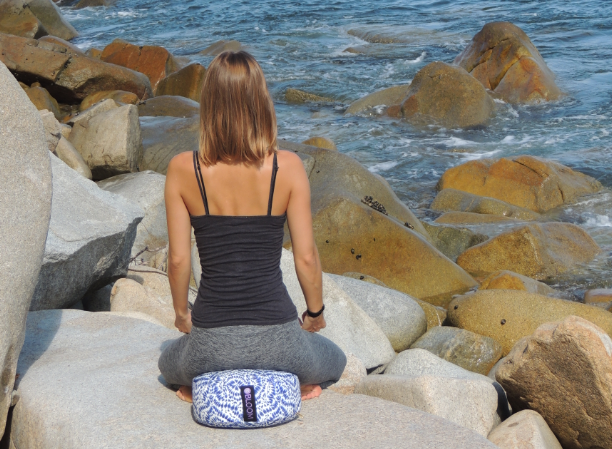 And in order to realize how powerful you really are, you need to be aware. Awareness is such a huge component to meditation and BLOOM. Awareness is the beginning of pretty much everything we do, but so many people go through life in their heads, thinking of the past or the future, with a total lack of awareness of what isactuallyhappening right now. We waste so much of our lives this way. Which is incredible because we only have one life! So, BLOOM zafus are for anyone who wants to live in awareness and have a simpler life.
How did you fund the idea initially?
BLOOM is entirely self-funded. I started small and kept reinvesting profits and savings while working as an employee, then later as a consultant for my own agency when I moved to Mexico. I am very privileged in that I graduated from school without any debt and I had a well-paying job in San Diego for years that allowed me to save. So I used some of my savings to start BLOOM and put the initial PO through. Having eCommerce experience allowed me to be really smart with supply chain management and forecasting and all the POs that have come since the first one. As someone with 100% ownership and my personal money in the company, I stay scrappy.
Why did you focus on meditation?
BLOOM's focus is currently on meditation because I credit meditation for helping me become who I am. I found meditation when I was feeling really stuck and uncertain in life. I didn't start meditating with any particular goal, but over time it opened me up to new ways of thinking and it made me feel awesome. I got clearer on what I wanted in life and making it happen. I want to share that with as many people as I can. And because my expertise is in eCommerce, meditation pillows were a natural progression. Especially because I saw that there was a hole in the marketplace for more modern designs.
What motivates you when things go wrong? What is the end goal?
My ultimate goal is to be in a position to help people understand their power and potential and to help make their path to happiness easier. I see that happening through BLOOM and eventually a philanthropy associated with BLOOM. I come from a position of privilege that has allowed me to run my own company at a young age and I intend to grow BLOOM to maximize my potential of impacting people in a positive way. This is what motivates me. It's not about selling a lot of zafus to sell a lot of zafus.
Do you have any advice for someone just starting out?
I had always been an employee or even an intern at startups, but I didn't run one until I started BLOOM. For anyone interested in starting their own company, I highly recommend spending some time on the team of a small startup. You will likely wear many hats and learn how so many positions function. In my time at Tower, I was responsible for: customer support, digital marketing, conferences/events, supply chain management, Amazon management, analytics, general management, and probably some other things I'm forgetting. I learned so much without the risk of spending my own money, so by the time it came to do my own thing, I had the experience and I knew what I was good at and what I wasn't.
The best thing you can do is start. Start yesterday. No one knows exactly what they're doing, but they do it anyway. I used to do a lot of research and then get paralyzed when it came time to implement what I learned. It seemed like too much, too overwhelming and too many steps! I needed to shift that way of thinking and encourage myself to just do something small each day. And, eventually, if you're consistent, there will be a compounding effect. Just start.
"In order to kick ass, you must first lift up your foot." -Jen Sincero, fromYou Are a Badass
What are the top 3-5 apps your business could not run without? -Moz (or any other similar keyword tool) - SEO is important for a business and it starts with knowing your keywords. These tools are great for building your target keywords and SEO strategy.
-Amazon Seller App - I love this app because I can be in Seller Central while out and about.
-Helium 10 - An Amazon optimization tool that is magical for pretty much every element of selling on Amazon
What are your favourite books and podcasts?
Self-help books that I recommend everyone read even if they aren't into woo woo stuff. Other recommendations include: Start With Why, Think and Grow Rich, Atomic Habits, The 5-Hour Work Week, The Power of Habit, Flow, Big Magic, Secrets of Closing, Little Red Book of Selling, Behave, The Hard Thing About Hard Things, Tools of Titans
For Podcasts: Impact Theory (business motivation), Super Soul Conversations (big ideas), Business Schooled (analyzes businesses through interviews), Grownups Read Things They Wrote as Kids (purely hilarious), RadioLab (a personal favorite - not business-related, but anyone can learn from their storytelling)
What are the next products you're working on?
We will be launching a sustainable line of zafus in 2020 that I am extremely excited about. I currently live in Mexico and have found a sustainable manufacturer here who uses organic cotton and natural dyes who is going to make us loom-woven zafus inspired by Mexican designs. We're tweaking the filling as well to be even more sustainable (than the current eco-friendly buckwheat hulls). I am so so excited about this project as it helps our products to be even more aligned with our values and it's something I've been working on for a while here in Mexico.
Until this point, we have mostly focused on organic growth without much marketing efforts. This year we will also be launching an influencer/ambassador program with people who are inspiring people in a way we value and want to promote.
The 5-year plan is to be internationally recognized as a company that not only sells meditation pillows but promotes a simpler way of life.
| Company Name: | BLOOM Mindfulness |
| --- | --- |
| Founder: | Allison Dundovich |
Comments