Dr. Ashie Bhandiwad, the founder of StemChef, officially started her company two and half years ago. The philosophy is delivered to kids in a highly interactive and engaging Escape Room. Kids are given a challenge based on different themes and they solve puzzles while collecting clues to different science concepts. They use the scientific learning to make a secret dessert and escape!
StemChef's escape room is geared towards groups of 8-10 children in the age range of 8 through 13. It costs $35/pp for about an hour long experience. In the current COVID-19 situation we have made available online escape rooms for continuing children's science enrichment and it is priced at $10/pp. There are various science concepts that get learnt through each of the experiences ranging from acid-base chemistry to crystallization to thermodynamics. All while solving puzzles to make sweet treats!
Was it a lightbulb moment or gradual process to start StemChef?
It was a very gradual organic process. The journey started in my kitchen with an unlikely accomplice - my three year old daughter. Like any child her age, she was just a normal curious child and she would hound me with questions. She had learnt early on that her mom's a scientist and understood the meaning of "scientist" [I'm a bioenergy scientist by training and back then I used to work at UC Berkeley]. So she expected me to answer any big or small question that came to her mind. Her child-like questions ended up having scientific and logical explanations and the 'scientist' in me would answer her questions with hands-on demos in the kitchen. The science at the dinner table became a weekly ritual and exploring answers hands-on and eating the result became the norm. It was only after a multitude of such scientific cooking experiments that I realized the powerful technique that can be used to get other kids hooked on to science. That is how StemChef formally came into being.
How did you validate the idea?
Soon after I decided to launch StemChef as a company (about three years ago), I rolled out summer camps, after-school enrichment classes, demo classes, and visited schools. For about a year and half I did the unscalable and reached over 2500 kids. The initial test was beyond encouraging. I mean kids got to cook as a scientific endeavour, and then eat the result! What's not to love? The scientific concepts were soaked up by their little brains and they actually got the implications because they applied those in the recipes. Kids were happy and so were the parents.
How did you get your first customers?
Before, officially launching StemChef, I wanted to test the waters to see if the idea had any legs. So without any prior plan or marketing I attempted to start a summer camp and published it in an informal manner on parent groups. It was received with a lot of enthusiasm - it was clear to me that the market had been waiting for a product like this. I got my first 20 customers (and they are customers for life!) this way.
Who is your target demographic?
The core vision of StemChef is to realize STEM education for every child on the face of this planet.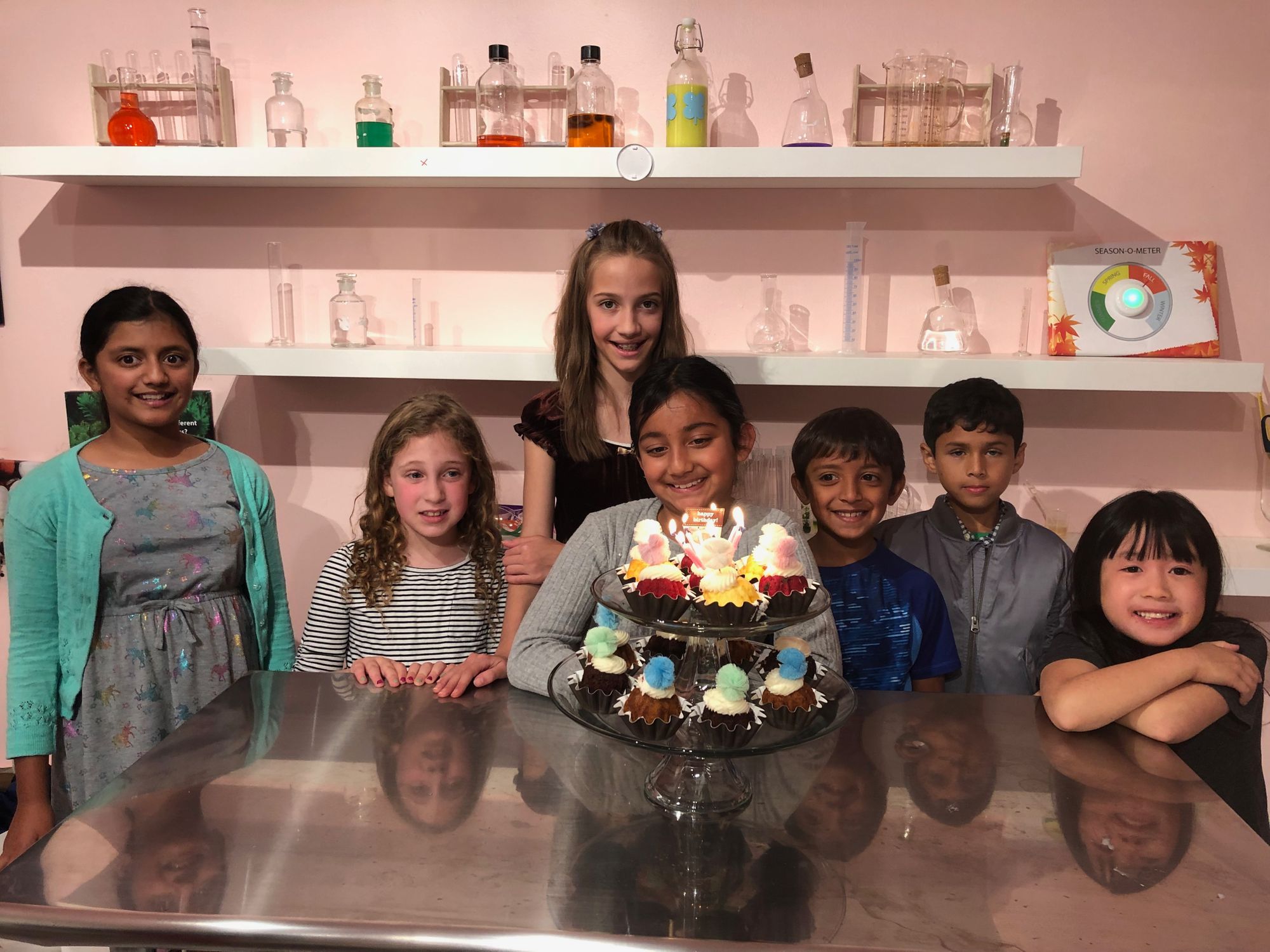 That being said, the target demographic of StemChef are parents, teachers and educators who want STEM literacy for their children.
What is the funniest/most strange customer request you've had?
Our 'customers' are children so that should give a hint. There is one particular child(Age:9) and his family who is completely loyal and devoted to StemChef. As an extension he's become part of StemChef's family. His parents were educating him on stocks and the stock-market. And he comes up to me and says he loves StemChef so much and sees that the future is very bright and asks if he can buy StemChef stocks.
How did you fund the idea initially?
StemChef is completely bootstrapped. A lot of elbow grease, blood, sweat and an insane amount of passion has gone into substituting outside dollars. The very first product launch of StemChef took the shape of enrichment camps. These were to be piloted in two target towns.
It took sheer grit and time to get the value of the idea recognized by city officials. Once, I got the Parks and Rec of one town onboard, going to the others was an easier path. The business model was profitable from day one of launching. Since then, StemChef has been progressively building iterated products, and each gets funded from the previous products' earnings.
Any tips for finding first employees?
The number one thing you need to look for in hiring employees are if they are passionate about your company. The first hires will be like family riding out the storms with you. Typically your own network works best to hire people who you can trust, however just being open that talent can be anywhere helps.
I hired StemChef's first employee in an elevator after an alumni networking event. I was giving my "elevator pitch" quite literally and as I was headed out, this guy came to me and was so interested in the mission that he was hired (almost) on the spot.
Have you been involved in the industry/started your own company before StemChef?
No, I was not involved with the Education "industry" at all. Even though I had been in an academic setting for so many years of my life, I was never involved with the education system. In all honesty, I think that was the special outside perspective I could bring to the table. I did not view the problems within the set parameters of the system. I approached them from a completely unintuitive angle. Before StemChef, I was involved with two other startups both in the biotechnology space with different founding teams. Both had their strengths but in the end we realized we did not have product market fit. The lessons learnt and the connections I made were invaluable.
What motivated you to start your own business?
As I mentioned before, my daughter was the very inspiration for starting StemChef. The mission for StemChef was very clear - educating the next generation. And I literally had/have skin in the game because this affects my own daughter.
I was at a very different stage in my career and I knew it was a life changing decision to take the plunge. But I also realized that you can put everything else in your life on hold except your children growing up. I wanted StemChef to matter to my own child and I knew right then it was now or never.
What motivates you when things go wrong?
Each mistake is a learning lesson. In fact that is the very mantra at StemChef, because we encourage children to make mistakes - the learning that comes out of it is so extremely powerful!
The second thing is to accept the mistakes rather than defend them. There was a scheduling issue with one of our customer's group class and rather than go back and forth, and prove it was their mistake, we just accommodated them and went that extra mile to deliver a wonderful experience. They are now our life-long promoters!
Do you have any advice for someone just starting out?
If you have the passion to really cause a change, don't spend your time planning the perfect plan to execute. Jump in and you'll learn the ropes. You can't be good at everything so have the humility to hire people that are 10x better than you.
What has driven the most sales?
Direct emails and Facebook networks. We are all about organic growth. We want to make sure the "funnel" we are accruing are actual interested customers. There is some truth to accruing a large number at the top of the funnel. But we are in the school of thought of "Quality vs Quantity". The people we reach out to are genuinely interested in what we have to offer and this in turn makes them promoters for us.
What is stopping you being 3x the size you are now?
Absolutely nothing! We just want to approach growth in a systematic way. From my experience, many of my fellow founders want to grow their startups at a manageable rate to manage the risks and the downsides of fast growth. The growth is real and far more sustainable.
Take for example this current COVID situation. We had to shut down operations. If we had grown to many multiple locations, the financial burden would have probably put us out of business. Instead we were able to pivot to an online offering very quickly and hit the ground running.
How do you protect yourself from competition?
The sheer value prop of our company sets us apart. We are extremely nimble and innovative in creating solutions. But the main thing that sets us apart is how customer-focused we are. We strive to delight our customers with every little interaction. Our NPS is off the charts with a 9.78 from our thousands of customers. Additionally, as legal means of protection, we copyright all our lesson creations.
What are your favourite podcasts?
I absolutely cannot live without Guy Raz's 'How I built this'! In fact, I have successfully connected with many of the guests on his show to get more personalized pearls of wisdom from them! Another one I'd recommend is Reid Hoffman's 'Masters of Scale'. This one is for the kids but done very well - 'Wow in the World'
Are there any releases you can tell us about?
As a matter of fact yes! As we approach summer vacations for kids and most of the camps canceled for obvious reasons, parents are looking for some enrichment programs to engage their children.
I'm going to launch an Online Summer Science Escape Room series for children to embark on a separate adventure every week and learn from the comfort of their homes (and kitchens).
Where do you see the company in 5 years?
My vision is to see StemChef reach as many children as possible globally. We are already working with partnerships with schools, large parent organizations and teacher associations.
Since we have two arms of the business, we will continue to grow the online rendition by 5% MoM. Additionally, for our physical footprint, we will be growing nationally to include 15 states and anchor in 5 countries worldwide by the end of 2025.
Would you ever sell?
Would a mom sell her child?
| Company Name: | StemChef |
| --- | --- |
| Founder: | Dr. Ashie Bhandiwad |
Comments