You, like most people, don't think about your belt, unless we direct your attention to it. Once you start to think about it, you realize how uncomfortable belts are. Your favorite part of the day might even be coming home and taking it off. Siblings and founders of Better Than Belts are betting on it. They have designed a modern, genderless suspender to seamlessly join your wardrobe, and comfortably hold up your pants. Now the best part of your day can be the compliments your suspenders receive.
Deciding to launch Better Than Belts was a gradual process. My brother, Tyler, and I both studied Entrepreneurship at Northeastern University, so starting a company was always a shared interest.
In Tyler's last year of college, he was dealing with weight fluctuation due to illness. Belts were uncomfortable to wear so he decided to copy his dad and try suspenders. As someone who was a huge sneakerhead, passionate about fashion, and 6'3, he needed quality suspenders that he could wear every day. After searching in the typical places (Amazon, Google, department stores), he realized the US market was mainly formal wear (weddings) and cheaper costume goods (halloween). Excited by the opportunity to create something truly new, he started researching manufacturers here in the USA. Samples were made to his specifications and he started wearing them. The response from friends and family was overwhelmingly positive.
When he graduated, he approached me to be his partner. I've never felt like I needed to 'have the idea' for my startup, I just wanted the opportunity to work on a founding team. Seeing a unique opportunity, I left my position at a prominent Boston healthcare startup to work on Better Than Belts full-time. We launched our first products on Kickstarter at the end of August 2019.
How did you get your first three customers?
The short answer is Kickstarter. However, crowdfunding sites rely on you to drive all of your friends and family to their platform. Those first customers outside of our immediate circle were actually from Hubspot's INBOUND Marketing Conference. Tyler, his good friend from college, our sister, and I attended this very popular multi-day conference in Boston. We all wore suspenders each day. Naturally, we stuck out. It was a great place to refine our pitch and network in a low-expectations setting. Everyone was so positive and even open to trying on the suspenders we were wearing! We took silly boomerangs of attendees wearing suspenders and tossing away their belts to add as 'user-generated' content to our Kickstarter page. In the end, more than three people from INBOUND backed our campaign and others became good friends and mentors.
One of my favorite early customers actually purchased the suspenders I was wearing at an event because she wanted them immediately.
How did you validate the idea?
It feels like we're constantly validating ourselves because the product is so unique in the 2020 fashion scene. Step one was to do many customer interviews before launching the product to determine demand. Feedback was positive and we felt comfortable moving forward. Then, we launched our first Kickstarter campaign. In the first twelve hours not only were we 64% funded, but Better Than Belts was in the top nine fashion Kickstarters in the world. We reached full-funding in two weeks.
There were (read: are) skeptics, but we kept pushing. One month after we shipped our Kickstarter orders, Better Than Belts was featured on the front page of The Boston Globe's Good Life section. This article drove more than 60 orders in the first week with a <2% return rate and many five-star reviews. Being brand new, I believe true validation will come over time with brand awareness. I'm excited for the day when the new people I meet have already heard of us.
Did you have any experience/expertise in the area?
Most of my experience has been in early stage health/tech startups. I've also spent some time in fashion at Anthropologie, The TJX Companies, and Raising Wild. Tyler started a dropship apparel company and had a background in Shopify and design, which helped us launch the e-commerce side ourselves. He has always had a passion for fashion and keeps up with new trends, small businesses, and local haberdasheries. As business majors and startup veterans, most aspects of starting a business were within our skill sets. Not needing to outsource anything was key to our launch.
Who is your target demographic?
Our target is any person between 25-40 years old who has never worn suspenders before and wants to add some flare to their wardrobe. We have also found another strong market in men buying for themselves or women buying for men ages 65+.
How did you fund the idea initially?
We are happily bootstrapped. Our few early expenses were funded from personal savings. The beauty of running a crowdfunding campaign is you get a large sum of money before the product is complete (or started) and you're able to use these early 'sales' to fund your initial rounds of inventory and other starter expenses.
Where did you meet your cofounder/founding team?
I met my cofounder in my home when I was four years old. I had asked my mom to have a baby and when she brought home my brother I told her "I said I wanted a girl!". I'm now very glad it was Tyler. As we start to consider outside help, our conversations are limited to first and second degree connections that we know are reputable.
What motivated you to start your own business?
We have always been quite independent and interested in starting our own businesses. I'm very risk-tolerant in my career which was helpful when taking the plunge from employee to self-employed. It helps that our family and friends have all been crazy supportive from the start.
Most of all, it is absurdly fun to make things that solve problems for yourself and others.
What motivates you when things go wrong? What is the end goal?
We just want to do our best. If something doesn't work out we both have a desire to learn from it and move on. Some of it is intrinsic. External motivators are satisfying our customers and my desire to be a role-model for female founders.
In the end, we make suspenders. If we mess up, we can fix it. It's not heart surgery.
Do you have any advice for someone just starting out?
Look into what resources your alma-mater offers! Support from Northeastern professors and student groups has been instrumental in getting us off the ground. We applied and were selected to work with multiple student groups who offer pro-bono design, web development, and trademark work. We've also been connected to mentors in key areas and have opportunities to pitch for educational grants. Even my headshot was taken by Northeastern photographer Ruby Wallau!
What has driven the most sales?
Our Boston Globe feature has been our best growth driver. Simply put, two more articles in reputable print newspapers would help us become 3x the size we are now.
More seriously, to reach our growth goals this year we're focused on increasing our press coverage and building brand awareness through in-person experiences at a few local shops and markets.
How do you protect yourself from competition?
We protect ourselves by having the highest quality product, and building a brand we think will inspire people. Our domestic manufacturing and product inputs are the secret sauce.
We also have a trademark in process :) It's important for small businesses to trademark their name before spending time, money, and effort on building their brand.
What are the top 3-5 apps that Better Than Belts could not run without?
Shopify makes it easy. Our whole business runs because of it. BuiltWith is a great free tool for competitive research. It helps you see what software tools other ecommerce sites are using that you might want to leverage. Judge.Me is a Shopify plugin that allows people to add reviews to our products. They also email our customers after purchase to prompt reviews.
What are your favourite books and podcasts?
I had to tap Tyler for this one, because I'm a big fiction reader. Tyler's top business books:
This is Not a T-Shirt - Bobby Hundreds. The importance of culture and community here is insane. Spoiler: The Hundreds sells T-shirts, but that is not active how they've amassed their following.
Shoe Dog - Phil Knight. Nike's history reads like a suspenseful underdog story constantly on the brink of failure. Tyler's favorite part is that Phil had a layover in Hawaii and then stayed for over a year as the surf was so good. It delayed the actual start of Blue Ribbon Sports (Nike's first name).
Let My People Go Surfing - Yvon Chouinard.
"Our goal is to build the best company, not the biggest company."
Both Tyler and I have never been huge fans of podcasts. I do have a friend that started one for women owned, women operated stories and it's fun for me to listen to her. Plus, I love supporting female founders. Tyler listens to comedy / improv podcasts occasionally.
What are your next steps?
We recently completed our second Kickstarter for small-batch hand-dyed beanies, now available on our website. Suspenders are a unique product and they won't be for everyone. That said, we still have many people who want to support us and be part of our brand. We wanted to introduce a limited run of a new high quality product: the 100% cotton beanie made in Canada. We haven't decided if these beanies will become a brand staple, or if we will continue to introduce limited runs of different products to supplement our main staple, the daily suspender.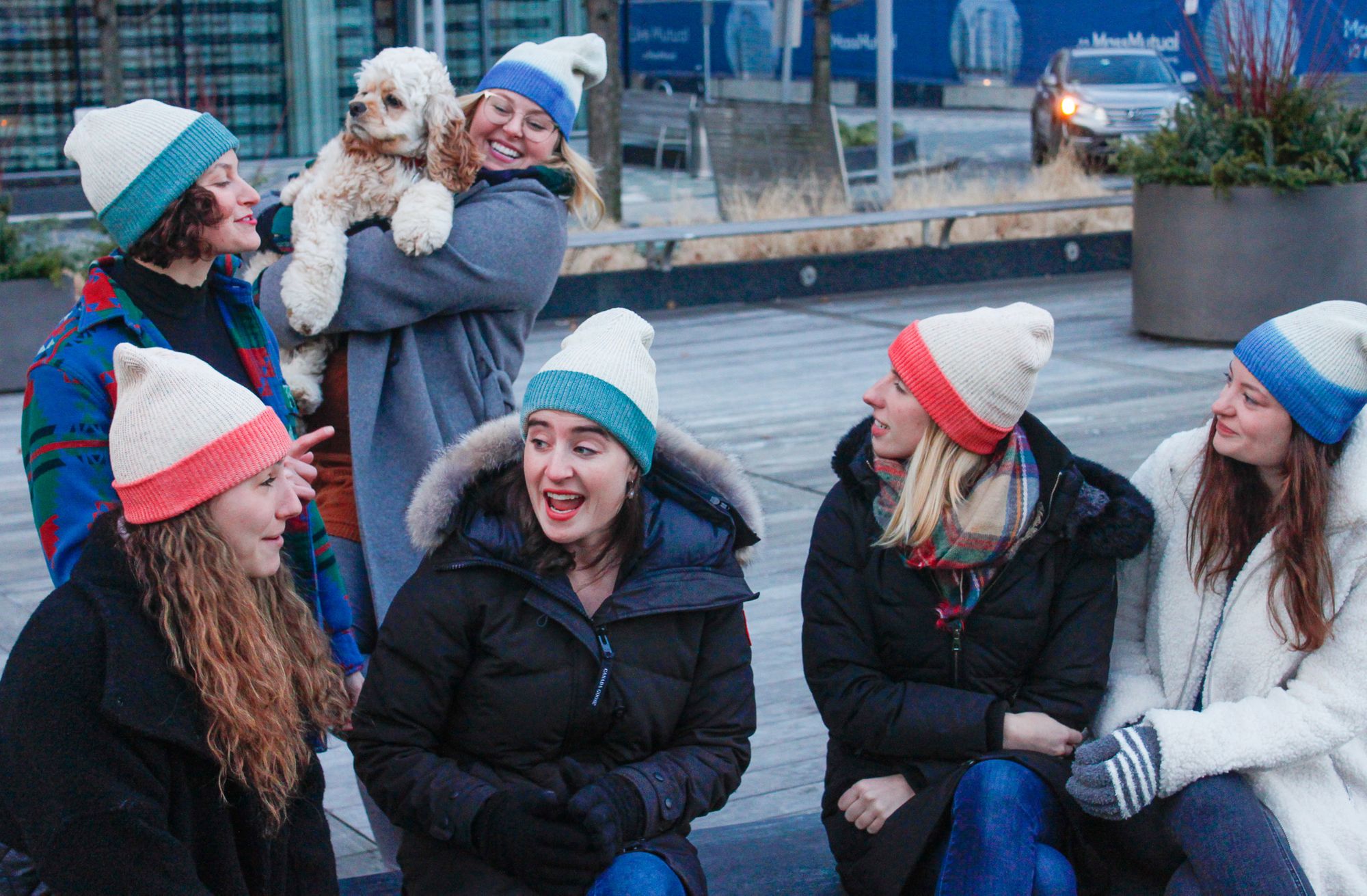 Better Than Belts makes the best suspenders in the world. New designs are definitely in our future and we're also kicking around a couple of ideas on more inclusive sizing. Lastly, while we are primarily an e-commerce business, we do have plans to start selling at local shops and outdoor markets like Boston's SOWA open market this summer.
What is current revenue? If you don't mind sharing.
Transparency has always been helpful to us, so we're happy to provide some insights. In just seven months after we incorporated Better Than Belts, we've had almost 400 orders. The timeline from idea to manufactured samples was just under three months. We've done $20K+ in revenue, of which half was the original Kickstarter. The Boston Globe article (print edition) drove almost $5K in sales (over a month). We think that was likely due to us being a full-feature on the front page of the second section.
| Company Name: | Better Than Belts |
| --- | --- |
| Founder: | Tori Farley |
Comments