| State | Alabama |
| --- | --- |
| Timezone | Central Time |
| Is Area Code 256 Toll Free? | No |
It can be confusing to see a new area code show up when receiving a call. Here is what it means if that area code is 256.
Where is Area Code 256?
Area code 256 is located towards the north of the state of Alabama. The covered region stretches along the state's northern boundary and cuts toward the center of the state on the eastern edge. Major cities covered by area code 256 include Huntsville, Florence, Madison, Anniston, Elkmont, Etowah, Hartselle, Stevenson, Athens, Fort Payne, Addison, Alexander City, Cherokee, Talladega, Jacksonville, Albertville, Gadsden, Scottsboro and Decatur which all operate within a single time zone, central time.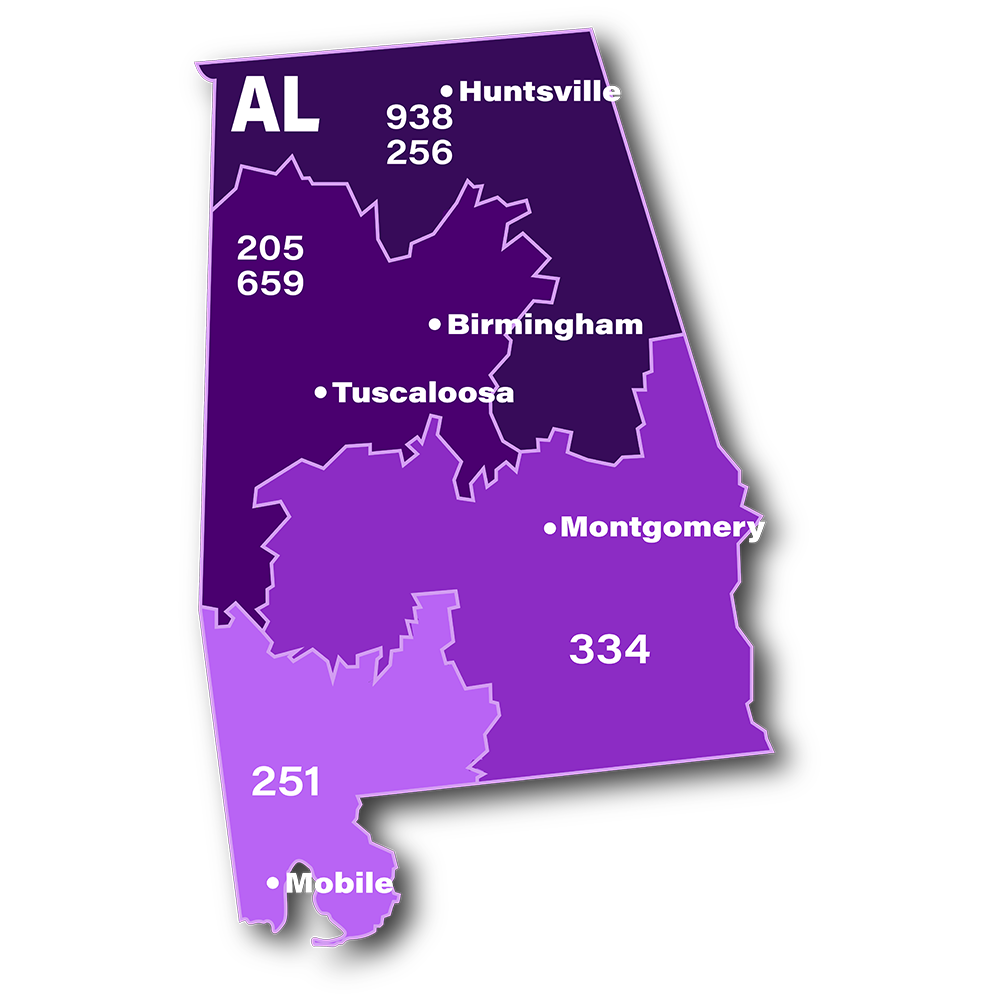 This area code was created in March 1998 through a split of area code 205. It extends into 23 counties including Cullman, Franklin, Jackson, Lauderdale, Madison County, Calhoun County, Tallapoosa, Winston and others in northeastern Alabama and covers a total population of more than 1.3 million residents. Area code 256 is part of the North American Numbering Plan (NANP) that encompasses 20 countries. The NANP was created by AT&T as a way to unify the various telephone numbering plans in use at the time. The plan went into effect in October, 1947.
Area Code 256 Overlays
Area Code 256 has a single overlay. On 10th July 2010, area code 938 was established to provide additional capacity for the north Alabama service area. The new area code currently overlays area code 256. To call, you will need the three digit NPA followed by the NXX or central office code followed by a four digit number.
Area Code 256 Scams
There are a few scams reported from area code 256 including robocalls and spoof calls. Residents in the 256 area code were regularly report robocalls. The call volume can fluctuate based on the time of year. Robocalls are phone calls placed with software that automatically dials hundreds or thousands of phone numbers without a live agent on the line.
A pre-recorded message plays when someone answers the phone or is left on voicemail if no one answers. The message often prompts the recipient to press a number to connect with a live agent or obtain more information about a product or service.
Many people end up on spam phone call lists after interacting with a robocall. That prompts a flood of unwanted incoming phone calls from businesses or individuals trying to sell the consumer something.
In some cases, robocalls are also spoof calls that display a local number on the caller ID screen even though the call wasn't placed from within the local area. We'll talk about caller ID spoofing in area code 256 next.
There have also been cases of spoofing where that make the consumer believe phone calls were from legitimate phone numbers with 256 area codes. They were uncertain as to why local calls would come through as "out of area" on a cellphone.
Further investigation revealed that the phone numbers were likely considered "out of area" because they were placed outside of the 256 area. It was determined that someone was using spoofing technology to manipulate data showing up on caller ID.
Spoofing technology allows marketers and potential scammers to place calls from one phone number while a different phone number is displayed on the receiver's caller ID. The goal is to make people receiving the calls believe the incoming call is from a trusted local phone number. In reality, the person placing the call is located outside of the local area.
When the phone number of origin and the area code displayed on caller ID are mismatched, many telecommunication companies now consider the calls spam. If you ever think a call is spam, make sure to get it checked by local authorities before picking it up.
Comments