| State | Alabama |
| --- | --- |
| Timezone | Central Time |
| Is Area Code 334 Toll Free? | No |
Do you want to learn more about what areas are covered by area code 334? Find out the history of this area code, the counties and cities it covers, and scams could originate from this number.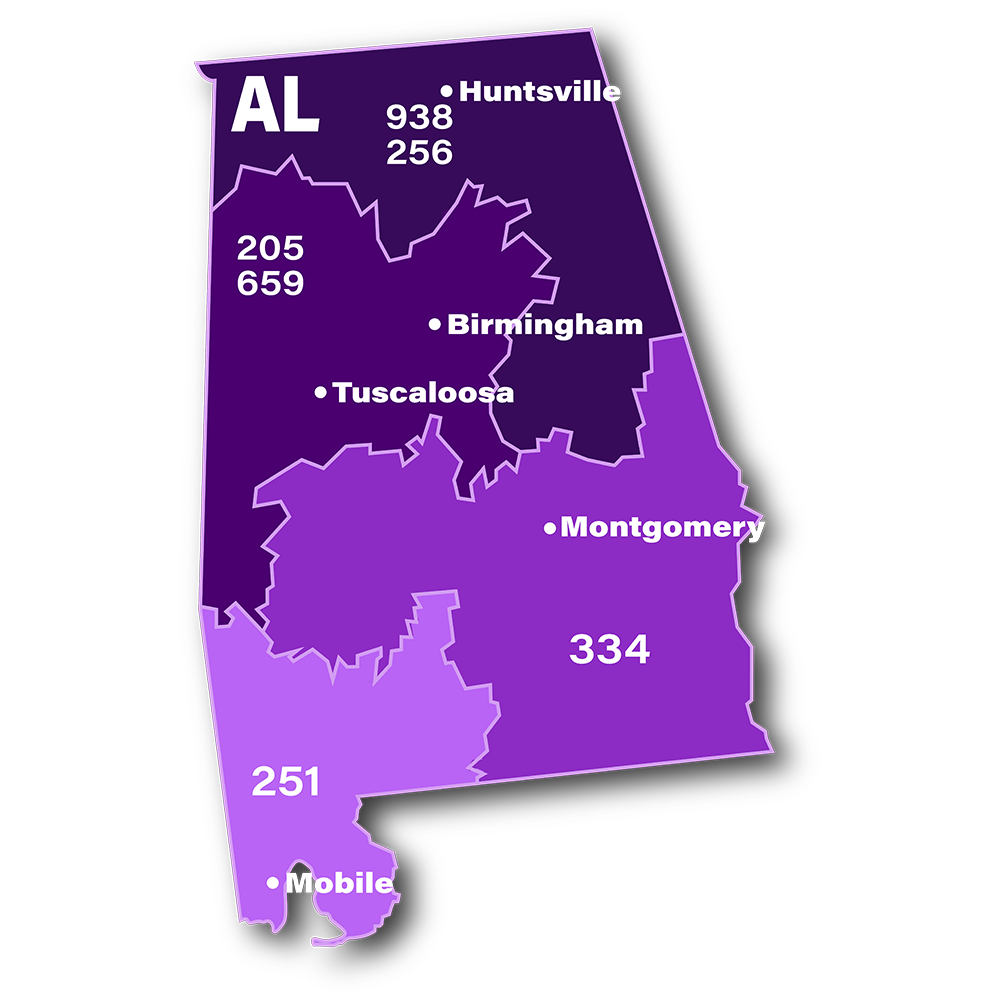 Where is Area Code 334?
The telephone area code 334 is located in southeastern Alabama and is part of the Central timezone. Some of the major cities and areas it covers (at least partially) include Montgomery County including Montgomery City (the state capital and largest city), Dothan, Auburn, Prattville, Phenix City, Enterprise, Opelika, Selma, Troy, Ozark, Lee, Houston, Elmore, Autauga, Russell, Dale, Coffee, Dallas, Covington, Samson, Andalusia, Demopolis, Tuskegee, Abbeville, Orrville, Roanoke, Eufaula, Millbrook, Greenville, Lanett, Houston County, Dale County, Henry County, Maxwell Air Force Base and Auburn University. They are all located in the central time zone.
It's included in the North American Numbering Plan (NANP) and is classified as a General Purpose Code. The NANP helped unify various local numbering plans and connect individuals without requiring the involvement of telephone operators.
Area code 334 covers major metropolitan areas such as Montgomery, Dothan, Phenix City, and Auburn-Opelika. It also covers the counties of Montgomery, Lee, Houston, Elmore, and more.
Origin of Area Code 334
Area code 334 originated on January 15, 1995 resulting from a split from area code 205.
The areas covered by 334 were previously covered by area code 205, which had been the only area code in the state of Alabama since area codes were implemented in 1947. Another code, area code 251, was split from area code 334 in 2001 to cover southwestern Alabama, notably including Mobile – the third most populous city in Alabama and the county seat of Mobile County.
Area code 334 does not have a middle digit of 0 or 1. This made it the first interchangeable NPA code when it started. However, a transition period between January 15, 1995 and May 13, 1995 permitted the use of area code 205 so that machines like computers and fax machines could be reprogrammed.
Dialing a 334 number is easy however if you are out of the country a country code +1 may be necessary. This is normally followed by the Numbering Plan Area (NPA) code, the Central Office Code or NXX and the four digit subscriber number.
Area Code 334 Scams
There have been scams reported that use the 334 area code. If you see a call from a 334 number that you do not recognize, do not pick it up. Look up the number, check with local government officials and ensure you are 100% sure who is on the other end before calling back and never give out any details over the phone.
Comments