| State | Texas |
| --- | --- |
| Timezone | Central (CT) |
| Is Area Code 469 Toll Free? | No |
| Major Cities | Dallas |
The 469 area code along with its overlays of 214 and 972 serving the Dallas-Forth Worth metroplex. 469 in particular was introduced on the first of July 1999 for the eastern Metroplex. Read below for more information regarding the 469 area code and all you need to know about it
Where is area code 469 located?
Area 469 is just one of the three area codes for Dallas, Texas and the Dallas-Fort Worth Metroplex, the other two being 214 and 972. 214 was one of the originally implemented area codes in 1947 under the North American Numbering Plan and it used to cover Fort Worth all the way to the Arkansas border and Louisiana. Tarrant County was combined with the east to form 915. This code was retained and its consistency remained so for the second half of the 20th century in Dallas in spite of the dramatic growth until 1990 when 903 was formed from 214. Another split was done to form 972 in 1995 as a means to combat the exhaustion from the rise in mobile phone usage.

On the first of July in 1999, 469 was added as an overlay plan. An overlay plan is being done by a telephone company in order to combat exhaustion by adding another area code to a place that already has an existing area code to service more phone users. The 214-972 boundary was erased hence resulting in 3 codes overlaying in the same location.
Area Code 469 Map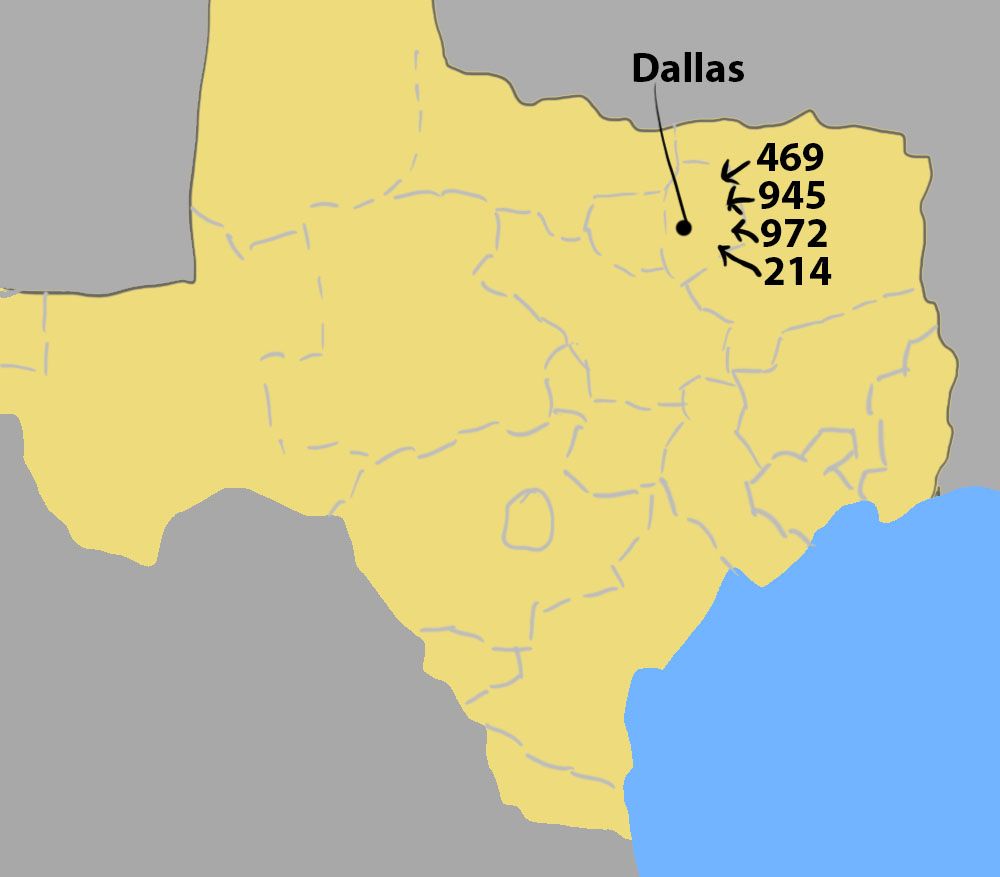 Where does area code 469 service?
Area code 469 services the Dallas-Fort Worth Metroplex namely the counties of Collin, Dallas, Denton, Ellis, Johnson, Kaufman, Navarro, Rockwall, and Tarrant. The towns and cities serviced by these area codes are Addison, Allen, Anna, Arlington, Avalon, Bardwell, Bedford, Blue Ridge, Carrollton, Cedar Hill, Celina, Cockrell Hill, Colleyville, Combine, Coppell, Crandall, Dallas, DeSoto, Duncanville, Elmo Ennis, Euless, Farmers Branch, Farmersville, Fate, Ferris, Flower Mound, Forney, Forreston, Frisco, Garland, Glenn Heights, Grand Prairie, Grapevine, Highland Park, Highland Village, Hurst, Hutchins, Irving, Italy, Josephine, Kaufman, Lancaster, Lavon, Lewisville, Little Elm, Lucas, Maypearl, McKinney, Melissa, Mesquite, Midlothian, Milford, Murphy, Nevada, Oak Leaf, Palmer, Pecan Leaf, Plano, Princeton, Prosper, Red Oak, Rice, Richardson, Rockwall, Rosser, Rowlett, Royse City, Sachse, Scurry, Seagoville, Sunnyvale, Talty, Terrell, The Colony, University Park, Venus, Waxahachie, Westminster, Weston, Wilmer and Wylie.

What time zone does 469 follow?
Area code 469 follows the Central Time Zone. Central Timezone is six hours behind the Coordinated Universal Time during all the other days of the year while it is five hours behind during the summertime in observance of daylight savings time.
How do I call a 469 number?
When dialling a 469 number a ten-digit dialing scheme follows. A ten-digit dialing scheme is a 1+area code+phone number.
Is 469 a toll free number?
No, 469 is not a toll free number. Toll free numbers do not have a particular location to which they are assigned unlike 469 which is for the Dallas-Fort Worth Metroplex in Texas.

Is 469 a scam?
It has been reported that Texas has been targeted by a slew of phone scams, namely in the 469 area. This can be quite terrifying especially if local numbers ring you up leading you to believe that it might be from someone you know nearby. The scams that have affected the area are social security fraud where the caller would ask for personal information and asking if the victim would like to increase their benefits; student loans where callers claim that the student's funds are open for refunding; and health insurance scams where callers persuade victims to sign up for insurance and benefits.

If called up by what appears to be a scammer, look them up to verify their word and once discrepancies arise, hang up and immediately block their number. Do not answer or entertain calls from people you don't know, even if it appears to be local and within the area. Report scammer numbers to the proper authorities for action to be taken.





Comments