| State | California |
| --- | --- |
| Timezone | Pacific Time |
| Is Area Code 657 Toll Free? | No |
It can be unnerving to receive a call from an unknown number, here is a little more information if that number starts with the area code 657.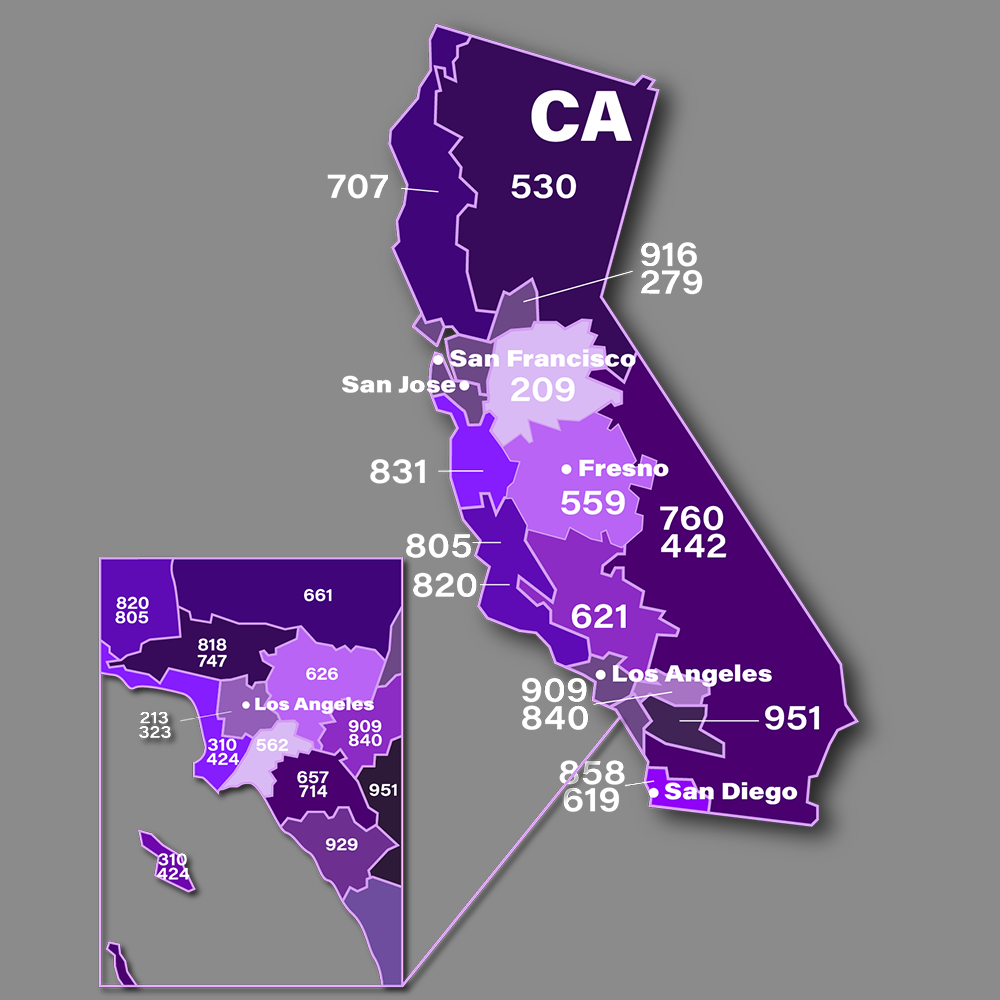 Where Is Area Code 657?
The 657 area code serves many residents in Southern California, including Anaheim, Buena Park, Cypress, Fullerton, Garden Grove, Irvine, Huntington Beach, La Palma, Los Angeles County, Long Beach, Ontario, Orange County, Fountain Valley, Torrance, Tustin, Placentia, Santa Ana, Westminster, and Yorba Linda. In some cases it only serves part of the city or region. Area code 657 was first introduced in September 2008 as an overlay to the 714 area code, which was first introduced in 1951. Area codes in this region go back a long way to about 1947 when the original 213 prefix was created. Since that time, many California area codes have been split numerous times.
Who decides when a new area code will be introduced?
Deciding when and where to implement area codes is a systematic process. As cities and rural regions grow, new development leads to the need for additional telephone numbers. The North American Numbering Plan Administration (NANPA) studies how regions are growing and monitors their area code needs in order to be able to predict when a new one may be required.
It's estimated that almost eight million different seven-digit phone numbers can be potentially assigned to a single area code. In practice, not all of these numbers are typically used, however. Companies such as wireless providers often purchase phone numbers in blocks of 10,000. This practice can push an existing area code to exhaustion before all the possible phone numbers are actually assigned to people.
Generally speaking, it is up to each state to decide when and how to introduce new area codes within their borders for each geographic region. Making calls a 657 number is simple, you will need the country code if dialing from outside the US, the Numbering Plan Area (NPA) Code, the NXX or central office code and the four digit subscriber number.
Phone scams associated with the 657 area code
Telephone scams occur when a caller pretends to be someone they are not in order to extract money or personal information from the person they are calling. This includes bank account or credit card information.
In 2020, people living in the billions to scammers, and many Americans have fallen victim to a criminal scheme over the phone.
The 657 area code is connected with numerous phone scams. Some criminals are asking for money with regards to the end of a "free trial offer". Others are linked with credit card scams offering lower interest rates, gifts, supposed Amazon purchases, fake job interviews, fake system warnings, bank scams, and those posing as the IRS.
As a general rule of thumb, if you do not recognize the number of the person calling you, don't answer it. If the information truly is important, a message will be left and you can call back at your leisure. Be sure to listen to the message carefully, however. Hang up if you suspect a scam and report it. Stay alert for scam calls, never give out information over the phone is another way many people prevent their details getting into the wrong hands. Some companies have software to help their telephone customers but many spammers still exploit vulnerabilities. It is also sensible to stay away from online scams and suspicious links.
Comments