| State | Texas |
| --- | --- |
| Timezone | Central Time (CT) |
| Is Area Code 945 Toll Free? | No |
| Major Cities | Allen, Dallas, Carrollton, Cedar Hill, Desoto |
It is quite disturbing when you receive a call from a new area code. Since it is unfamiliar to you, questions like who's calling? Where is the call coming from? Is the call safe to answer? Somehow, pops up into your mind. The area code 945 is a unique telephone area code created for a specific area across North America. To know more about this area code, below are some commonly asked questions about it.
What is 945 number and what location is it coming from?
The 945 number is one of the telephone area codes in the North American Numbering Plan (NANP) that can be use across North America. It is the fourth area code selected as an overlay, after Public Utility Commission of Texas approved it. The said area code is already available since January 15, 2021, however, it can only be use the moment all existing area codes will be exhausted.
Calls from 945 number could be coming from the state of Texas and its cities. The said area code was put in service on January 15, 2021.
Where is area code 945?
Area code 945 covers the state of Texas and its surrounding cities such as Allen, Dallas, Carrollton, Cedar Hill, Desoto, Bardwell, Bedford, Celina, Cockrell Hill, Colleyville, Combine, Copeville, Coppell, Crandall, Duncanville, Elmo, Ennis, Euless, Glenn Heights, Grand Prairie, Grapevine, Highland Park, Highland Village, Hurst, Hutchins, Irving, Kaufman, Lancaster, Lewisville, Milford, Nevada, Oak Leaf, Pecan Hill, Princeton, Rad Oak, Westminster, Weston, and more.
Are calls from 945 numbers toll free?
The 945 numbers are not toll free. Both international and local calls applies charges. The rate of the charge may vary from the company where you are receiving your telecommunication services and other mobile data services. You may ask the company to know more about this matter.
945 Area Code Map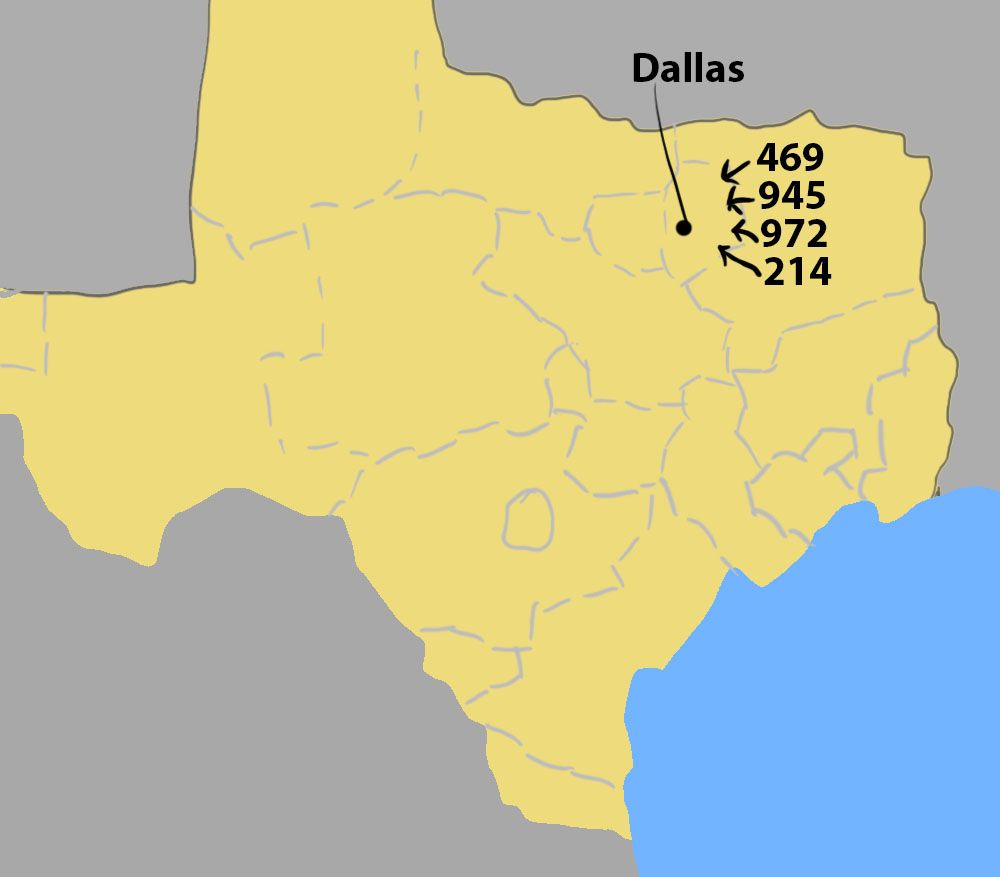 Are calls from area code 945 a scam?
Since a large number of 945 numbers are also being used by companies and other businesses, scammers might be also using one. In some situation, they claim that they are calling from a company's customer service team in order to gain your trust and for you to stay on the other line. There are calls that may cost you some charges just by connecting.
If you receive this kind of calls, look up on the internet to see if the company they are claiming is using the number they are calling from. If you do not find it, hang up the call and block the caller right away, for it might be linked with scammers.
How do I block unwanted calls from 945 numbers?
If you keep on receiving unwanted calls from 945 numbers and would want to block them from your device, here's how:
iPhone
Go to your recent calls and click "i". Scroll to the bottom and click "block this caller".
Android
Go to your recent calls and click "details". For the last step, click "block number".
Comments