| State | California |
| --- | --- |
| Timezone | Pacific |
| Is Area Code 669 Toll Free? | No |
An area code in North America is a three-digit number that sits at the beginning of a ten or eleven digit phone number as an identifier. This code is associated with the telephone service in a particular geographic area, making it distinct.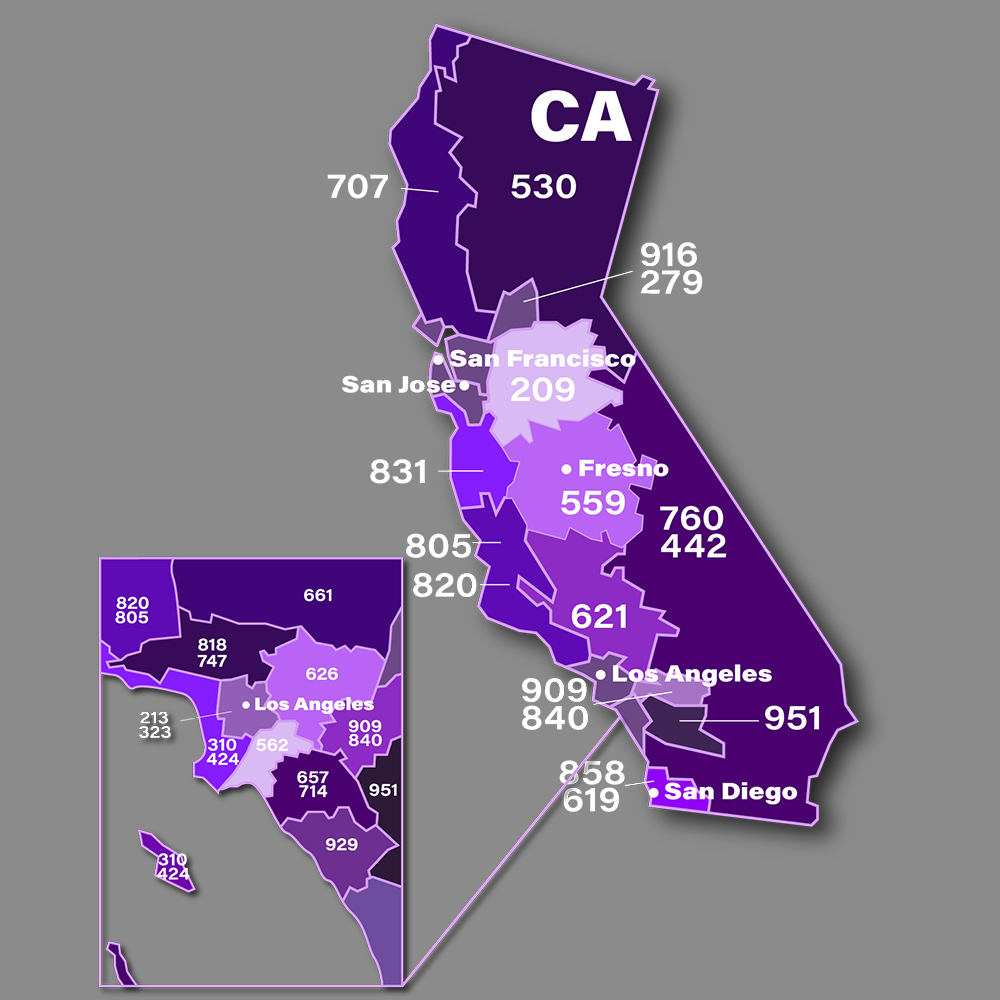 Where is Area Code 669?
The 669 area code covers part of Northern California, including San Jose, and its surrounding cities and locations. These include parts of Campbell, Fremont, Gilroy, Los Gatos, Morgan Hill, San Jose itself, San Martin, Santa Clara County, Burbank,  Milpitas, Cupertino, Saratoga, Sunnyvale and a few other surrounding areas. All counties and cities within this area code are in the pacific time zone.
International calls need to include the country code +1 before dialling area code 669. Local calls can start with the Numbering Plan Area (NPA) code, then including the central office code or NXX followed by the subscriber number.
History of the 669 area code
The 669 area code came into required use in California in the fall of 2012. This code is an overlay area code, meaning it sits on the geographic area of another pre-existing code, the first of its kind in the San Francisco Bay Area. In this case, 669 overlays the 408 area code. While overlay codes may be a nuisance for some people to adapt, some experts say they indicate the presence of positive economic growth. There is generally a grace period when new area codes are introduced to allow fax machines, alarms and voicemail systems to be updated.
Who decides when to create a new area code?
The North American Numbering Plan Administration (NANPA) is the organizing body that is the source of all telephone numbers used in the US, Canada and some parts of the Carribean. Notably, Mexico is not a part of it. This organization studies historic growth in geographic areas, and makes predictions around when new area codes might be necessary due to consumer demand. When an area has nearly exhausted its current area code, the NANPA notifies the California Public Utilities Commission (CPUC), or some other body in charge of phone numbers in a particular state, that a new area code is needed to create bandwidth for new customers.
Each state can decide on its own when and how to introduce new area codes when they are needed.
Known scams associated with the 669 area code
Telephone scammers are an ongoing problem throughout North America. These criminals call your home posing as government agents representing bodies like tax departments and family members who are suddenly in jail and need bail money to get out. These scams are often elaborate and multifaceted and have the aim of getting you to give the perpetrators large sums of money.
Telephone scammers create scam phone numbers by pretending to call from certain area codes, hiding their true origins. The 669 area code has been associated with numerous phone scams. Scammers using the 669 area code have claimed to be from banks. Other criminals have tried pretending to be from online marketplaces, insurance companies, lotteries, and many more.
This is just a sample of the scams associated with the 669 area code. If you do not know the caller or recognize them, it is often a good idea to hang up. Call display features can help to eliminate your chances of answering elicit calls and being drawn into a scam.
Comments