It can be worrying to see a new area code show up on your phone. Is this unknown call that you need to answer? Or is it an area code more commonly associated with scammers? The 844 code is a unique one, it came into service in December 2013. Here are some commonly asked questions about 844 numbers...
Are calls from 844 area code a scam?
While there are a large number of 844 numbers used by customer service teams and legitimate businesses, scammers also use them. Scammers know that a lot of people will legitimately think they are being called by a customer service team. They use this trust to claim they are from a wide range companies; law practices, banks retail stores and tech support teams.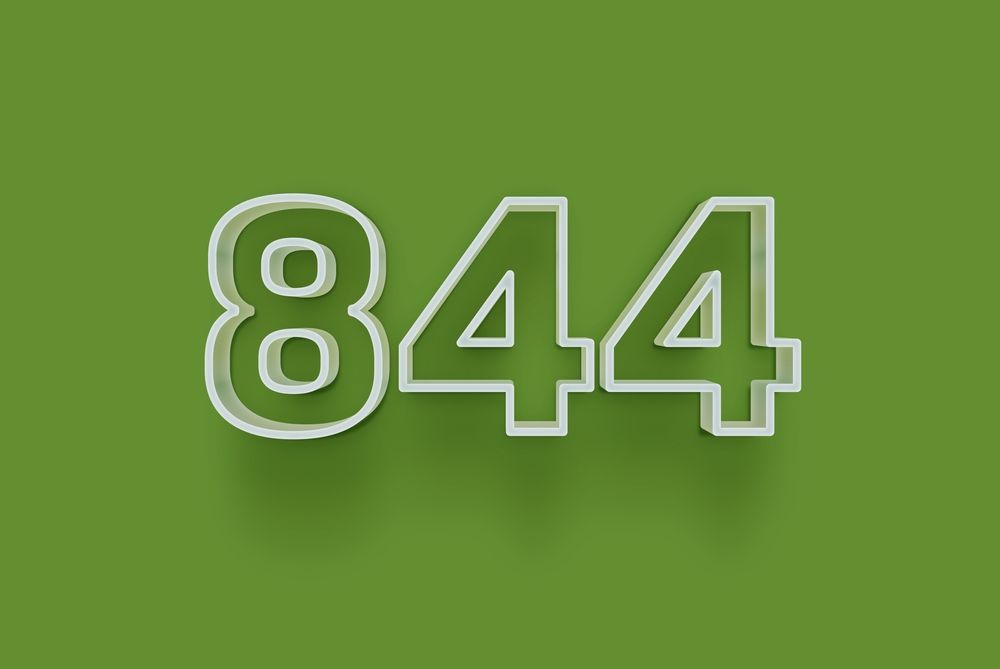 Look up the company on the internet to check that the company they are claim to work actually use the number they are calling on. If you don't find out that it is a legitimate phone call, hang up and block the number. A companies number can often be found on their official website. Verifying the number reduces the risk of getting caught up in an area code scam.
If you are unsure, do not pick up the phone. Let it go to voicemail. That way you can listen to what the caller has to say, do some research and receive advice before deciding whether to call them back. You can also preform a reverse phone search to see what company is behind the call. If you do receive any scam calls, block the number immediately to prevent further unwanted calls. You can contact local law enforcement, the FTC and the FCC. Legal issues arise for companies when the spam people with unwanted calls especially when the FTC step in.
Where does the 844 area code come from?
The 844 area code is used across North America so it does not allow us to see where the call is coming from.
There is no specific area that uses 844 prefix, it can be used from any location in the country. So knowing it is an 844 number will not give you much insight as to where the person is calling from or the location of the person you are about to call is. The call could be coming from New York, LA, Chicago, Houston or anywhere in between!
Area code 844 operates in countries in the North American Numbering Plan, including the following 25 North American countries, USA, Canada, Anguilla, Antigua and Barbuda, Bahamas, Barbados, Bemuda, British Virgin Islands, Cayman Islands, Dominica, Dominican Republic, Grenada, Guam, Jamaica, Monserrat, North Mariana Islands, Puerto Rico, Saint Kitts and Nevis, Saint Lucia, Saint Vincent and the Grenadines, Sint Maarten, Trinidad and Tobago, Turks and Caicos Islands and the United States Virgin Islands.
Are calls from 844 numbers toll free?
All calls starting with 844 are normally toll-free in the USA. They are commonly used by companies and businesses who want to provide you a customer service line free of charge. It allows clients and consumers who are outside the local the opportunity to call the business without being charged an out-of-state fee for the call. Wireless callers may be charged (can still be free on some unlimited plans). Charges for 844 numbers are generally incurred by the company who operates the line.
Can I send a text message to an 844 number?
You can send text messages to 844 numbers if it is registered as a "text enabled" number. Toll-free text messaging can be utilised to send out bulk texts, so make sure you know many other people may have received the same message even if it sounds personalized. Companies can also send individual text messages from 844 numbers so they allow one-on-one text messages too. Standard text message rates may apply when sending messages to a toll-free number.
What Time Zones Does The 844 Area Code Cover?
There are no set time zones that the 844 area codes cover. Unlike other phone numbers, toll free ones are not operated from a specific area.
What is the difference between 844 and other toll-free numbers?
As of writing there are 7 toll free numbers in United States, 800, 833, 844, 855, 866, 877, 888. Each allow for toll-free calling and make good toll-free number alternatives for each other. 800 was the original toll free number but it became so popular that additional prefixes were needed. The telecommunications industry asked for more and they were provided. Most of these prefix's are for the whole of North America however, a few are reserved for specific regions;
800-389 - Bahamas
800-534  - Barbados
800-623 - Bermuda
800-415 - Dominican Republic
800-751 - Dominican Republic
800-907 - Dominican Republic
800-271 - Trinidad
800-855 is for deaf or hearing impaired.
How do I block unwanted 844 calls?
If you keep getting calls from scammers using 844 numbers you can block them by asking your phone service provider to do so. Alternatively you can do it yourself. Here's how:
iPhone
Go to your recent calls and tap the "i" with a circle around it to pull up more information. Scroll to the bottom and click "block this caller". Confirm the number is blocked by going into the settings on your phone, clicking the phone app and select blocked callers. This will show you a full list of numbers that are blocked from calling you.
Android
The process is similar for Android users, go to your recent calls and click "details" and click "block number".
If you find that you are still getting unwanted calls from the same company or person, it may be time to call the FTC or FCC. Government agencies are able to take legal action against them.
The Do Not Call Registry is a list of individuals, who do not wish to receive telemarketing calls. It is administered by the Federal Trade Commission (FTC), in accordance with the Telephone Consumer Protection Act and other consumer protection laws. Telemarketers covered by the registry have 31 days to stop calling your number once you have been added to the list.
How can I get an 844 number?
To obtain an 844 number you will most likely have to go through the Federal Communications Comission (FCC). Often companies who seek to obtain a toll free number do so through a "Responsible Organization" who will claim a number and manage the records for them. This takes the hassle of maintaining the documents necessary to obtain and maintain an 844 number out of the equation.
A vanity number can be easy to memorise and so are generally preferred by businesses. It is far easier to remember 1-800-FLOWERS that it is to memorise a random 7 digit number.
Toll-Free Area Codes
As well as the 844 area code, the other toll-free area codes are 800, 833, 855, 866, 877 and 888. They are toll-free within the USA, Canada and all countries utilising the North American Numbering Plan including a few in the Caribbean and other territories. They are commonly associated with customer service lines for companies, but can be used by other parties.
What can you tell about a phone call from an 844 area code?
While there are some area codes in the 800s that are for toll-free numbers, this is not the case for every number, so do keep this in mind. This means that when you see an 800 number, it could be coming from a toll-free number, but it may not be.
You would not receive an 844 number as your landline within your residential home. Instead, these sorts of area codes are provided to companies and organisations.
Typically, the 844 area code would be a toll-free call. The original concept behind such area codes was to enable customers to get in touch with a company if they needed to, without needing to pay long-distance fees. This should also be the case if you are calling from a landline.
Nevertheless, on some mobile phones, you may receive a charge for a toll-free number, so you do need to make sure that you find out about the terms and conditions your carrier implements should you be concerned about the cost.
Area codes will typically indicate the location, yet when you see the area code 844, the only thing you know is that the call is coming from somewhere within the United States, Canada, or one of the many islands of North America, which includes Puerto Rico, Trinidad and Tobago, the Bahamas, and a number of the other Caribbean islands.
These days, telecommunications are in flux, with smartphones operating in a system that was designed initially to be location-specific. As landlines are becoming less and less common, the way in which toll-free numbers function is changing.
You need to know that an 844 area code will not guarantee that the call is coming from a genuine and legitimate company. There are sometimes scammers using this type of phone number in order to get the trust of individuals by trying to gain their trust by indicating there is a toll-free system. They spoof these numbers for malicious reasons.
Therefore, if you get a phone call from a number like this, you will need to check to make sure that the number is legitimate and is coming from a genuine company. Is the company who it claims to be? Usually, a search online will be enough to indicate whether or not this is the case.
Why do I keep on receiving calls from the 844 area code?
This area code relates to region countries within North America. Therefore, if you are situated in this part of the world, it is likely that you are going to get a number of different calls from various business services.
There is every chance that you are going to receive calls from legitimate callers, as well as receiving calls from scammers as well, as both can use these sorts of phone numbers. So, you do need to be mindful when answering any sort of call of this nature.
The good news is that it is pretty easy to search a number online today to see if it is legitimate or not. There are plenty of websites whereby people have left comments about phone numbers to help you get a better understanding. If you have received a call from a scammer and you do a quick search online, there should be plenty of comments warning you from answering the telephone.
If you feel that you may have fallen victim to a scam call or you are sure that a number is associated with a scam, our advice is to get in contact with the cybercrime department to report it.
Is it possible to send a text to a number with an 844 code?
So long as the number has text-enabled, you can text the number just like you would text any other number. Nevertheless, do keep in mind that standard texting charges may be applicable.
Can you pinpoint what part of the United States an 844 call is coming from?
Unfortunately, this is not possible. In fact, the 844 area code is used for the purpose of hiding the actual area code from the location the call is being made from. A lot of organisations and businesses that do not operate from one place use this approach, as well as businesses that have workers across various regions. The 844 area code can be used from any part within the U.S., and so it does not actually tell you exactly where the caller is ringing you from.
However, this does not mean you will not be able to get any sort of insight into the business that is calling you. You can use the 844 number and do a little bit of digging online to find out more about the caller. If it is a business that is calling you, they will have their number displayed on their website. Therefore, when you search the phone number in question on Google, you should easily be able to link the number with the company in question. This will help you to get a better understanding of who is calling you and whether or not you should pick up the phone.
Are there other toll-free area codes besides 844?
Yes, there are a number of different area codes that are toll-free, just like 844. Some examples include 800, 888, 833, 855, 877, and 866.
Should you opt for an 844 area code or choose another toll-free area code?
The 844 area code is one of seven different toll-free area codes that are available. All of the phone numbers, despite the code you choose, work in the same manner, i.e. enabling callers to reach you free of charge.
A lot of businesses like to choose 888 or 800 numbers because they were the very first toll-free codes that the Federal Communications Commission (FCC) introduced. This means they are the more recognizable numbers to customers out of all of those that are free to call.
However, you also need to consider the availability of these numbers. As 800 and 880 were the first two area codes, their availability is very low, especially for 800 numbers. However, you can easily secure numbers with 844 or 855 area codes, so you will have a much better chance of getting the number you really want when going down this route. A toll free service can make a customer more likely to contact you because they will not be the ones having for the call.
Will area codes always have three digits only?
In the North American Numbering Plan, area codes always have three digits. Nevertheless, area codes in different countries can vary between one and five digits. Plus, different places within a country can have area codes of different lengths.
Why are there some 844 number listings that have letters rather than numbers?
You may see numbers such as 1-844-HEY THERE, which is called a vanity number. This is a clever way of making your phone number easier to use by ensuring it has the same name as your business or organization, or a phrase that is connected with your business.
With this approach, the letters will correspond to the numbers on the keypad. So, E would be the number 3, for instance. This is just a unique way of displaying your phone number and using it as a branding tool on your website and marketing materials.
Why should you opt for an 844 area code number for your business?
You may be wondering why it makes sense to select an 844 area code number for your business. Toll-free numbers are incredibly popular, so much so that the telecommunications sector has had to extend beyond 800 numbers in order to reach demand. So that the businesses around the country were granted more options, they decided that they would add 833, 844, 855, 866, 877, and 888 area codes. All of the numbers mentioned give your clients the ability to call free of charge, meaning that the business foots the bill rather than the consumer. If you would like one you can contact RespOrg.
Will 844 toll-free numbers attract new customers?
Corporations and businesses in the United States, Canada, and nearby countries can enjoy the use of toll-free numbers. These numbers are in high demand by call centres, multinational companies, large corporations, and more. The reason for this is because when calls are made to these numbers, the receiver is going to get the charge, rather than the caller. This means that potential customers can connect with your business free of charge, which will remove some of the barriers that are typically in the way in terms of people connecting with new businesses. Ultimately, it helps to make sure that your business is as accessible as possible.
Thriving businesses in North America
You will find some of the oldest, biggest and most successful businesses based in North America. Some of the enterprises that started out in this part of the world and have their headquarters here include Power Corp, JP Morgan, Microsft, Google, and Apple. Furthermore, these regions provide support for companies from each and every industry.
If you run a business situated in any of the regions mentioned earlier, it certainly makes sense to acquire an 844 toll-free number so that you can boost brand awareness while also creating an affordable way for clients to conduct business with you. If you have a virtual number, it will give you an excellent communication tool so you can control call volume and stay organised.
How are toll-free numbers assigned to businesses?
As a toll-free subscriber, you will need to select a responsible organization to purchase your toll-free number from. These authorized businesses are allowed to keep the correct record of toll-free calling that the business carries out. This is why you need to make sure that you choose an organization with care.
The FCC is the chief authority when it comes to assigning toll-free numbers. The FCC will serve people based on a first-come and first-serve basis. Toll-free providers get access to the most demanding codes. The code 833 was sold out via auction. The aim is to use competitive bidding for other area codes as well.
However, you should know that the FCC will not assign toll-free numbers direct to subscribers. You will need to find a phone providing service for this. So, make sure you choose a reliable and established company that can provide you with the phone number you need.
How do you choose the best number for your business?
If you have decided that you would like a new 844 number for your business, you need to think carefully about what number you are going to choose. It makes sense to use your business name if it is short or a related term. Make sure that you keep it simple. Do not use unique or odd sellings that will cause confusion. Instead, try to make it easy to remember. Using the same digits in a row or rhyming numbers is a good approach to take.
What time zone is covered by the 844 area code?
There are a number of different time zones that can come under the 844 area code because of the geographic range in North America. From West to East, the continent is divided into the following time zones: Chamorro time, Samoa time, Hawaii time, Alaska time, Pacific time, Mountain time, Central time, Eastern time, Atlantic time, and Newfoundland time.
The distinct advantages of using a toll-free area code
There are a number of compelling reasons why it makes sense to use a local area code. Let's take a look at some of them in further detail below:
Be a local - There is only one place to begin, and this is with the fact that a local area code gives your business that local feel. It makes your company feel like part of the local area and potential customers will feel a sense of familiarity, which is something a lot of people look for when connecting with a new company.
Market your business effectively - Not only can you give your business a local feel, but you can also market your business successfully as well. This sort of phone number can work wonders when it comes ot ranking from a local perspective. Not only this but a lot of the companies providing these sorts of services today will also offer marketing and analytics as well.
Build a memorable brand - If you choose a toll-free number, this gives you an excellent opportunity to select a highly memorable vanity number. Rather than just selecting a random number of digits, you can select a number that translates to a word related to your brand, for example, 1-800 AUTOS. If you have an 844 area code, you are going to have a heap of different numbers to select from.
Encourage customers to get in touch with your business - If you have a toll-free number on your website, possible customers will be encouraged to get in touch because they know that you are going to be covering the cost of the phone call itself. A lot of people avoid ringing companies because they feel like they are going to be kept on hold, all the while, the bill will be increasing and increasing because they need to foot the cost. Luckily, this is something customers do not need to worry about if you go for this option, and this will result in much more people getting in touch with you.
Display your professionalism - Another benefit when using an 844 number is that it can appear highly professional. This is why you will see more toll-free numbers when compared with standard numbers. If you use an 844 area code, it will make it clear that you serve a wide number of people rather than only focusing on those in your local area. Plus, when you consider the fact that scammers are increasingly spoofing local area codes, some customers may be more comfortable answering a phone call if they know it comes from a reputable business number. Toll-free numbers are also ideal for companies that offer 24/7 phone lines. This is because an 844 area code will reassure your customers that they are not going to have to fret about time zones prior to making a phone call.
Do many hackers use the 844 area code for malicious practices?
While we cannot give you an exact number regarding this, we can tell you that there are some scammers that do indeed use 844 area codes. At the same time, there are a lot of legitimate businesses with 844 numbers, therefore, it is all about being careful and acting with due diligence. You need to be careful when communicating with anyone on the phone, as a lot of people pretend to be someone they are not in order to try and scam people out of money. This is the last thing we want to happen to you.
So, no matter what number is calling you, you do need to act with care and caution. Remember, companies should never ask you for your personal details over the telephone. If someone calls you and claims to be your bank, you should always be wary. You should never have to give over any personal information or your password. Typically, a bank will ask you for two letters from your telephone banking password, or something of this nature. Be mindful of anyone who says that you have answered incorrectly and then asks for two different letters, as they could be trying to crack your password.
While there are plenty of businesses that use 844 numbers for legitimate reasons, in this day and age, being mindful of scammers is something that you always need to keep in mind. After all, all you need to do is turn on the news or browse on the Internet and you will read lots of horrible reports about people who have been scammed via telephone. This is why we all need to be more cautious than ever before.
If someone asks you to call a number back, make sure you conduct a reverse phone number search so you can make sure that the number is legitimate and that it is safe for you to call back. If you feel like your personal data is at risk or you start receiving threats, we would recommend that you report this to your local police as soon as possible so that you can stop the scammers from having more time on their side to gather information about you.
What is the difference between 844 area code numbers and other toll-free numbers?
As mentioned, there are seven codes in total in the United States that are used for toll-free numbers. Not only is 844 one of these but you also have 888, 800, 833, 877, 866, and 855 as well. These numbers are utilised across the United States. There are other toll-free numbers that tend to be used across the other Caribbean regions, for example:
Trinidad - 800-271
The Dominican Republic - 800-907, 800-751, 800-415
Bermuda - 800-623
Barbados - 800-534
Bahamas - 800-389
For hearing impaired and deaf individuals - 800-855
What area codes should you not answer?
As per the Federal Trade Commission, you should not be calling back calls from the following numbers:
Jamaica - 876 area code
Dominican Republic - 849, 829, and 809 area codes
Commonwealth of Dominica - 767 area code
Turks and Caicos Islands - 649 area code
Montserrat - 664 area code
Grenada, Carriacou, and Petite Martinique - 473 area code
British Virgin Islands - 284 area code
Antigua and Barbuda - 268 area code
Comments